Balayya's punch dialogues in Dictator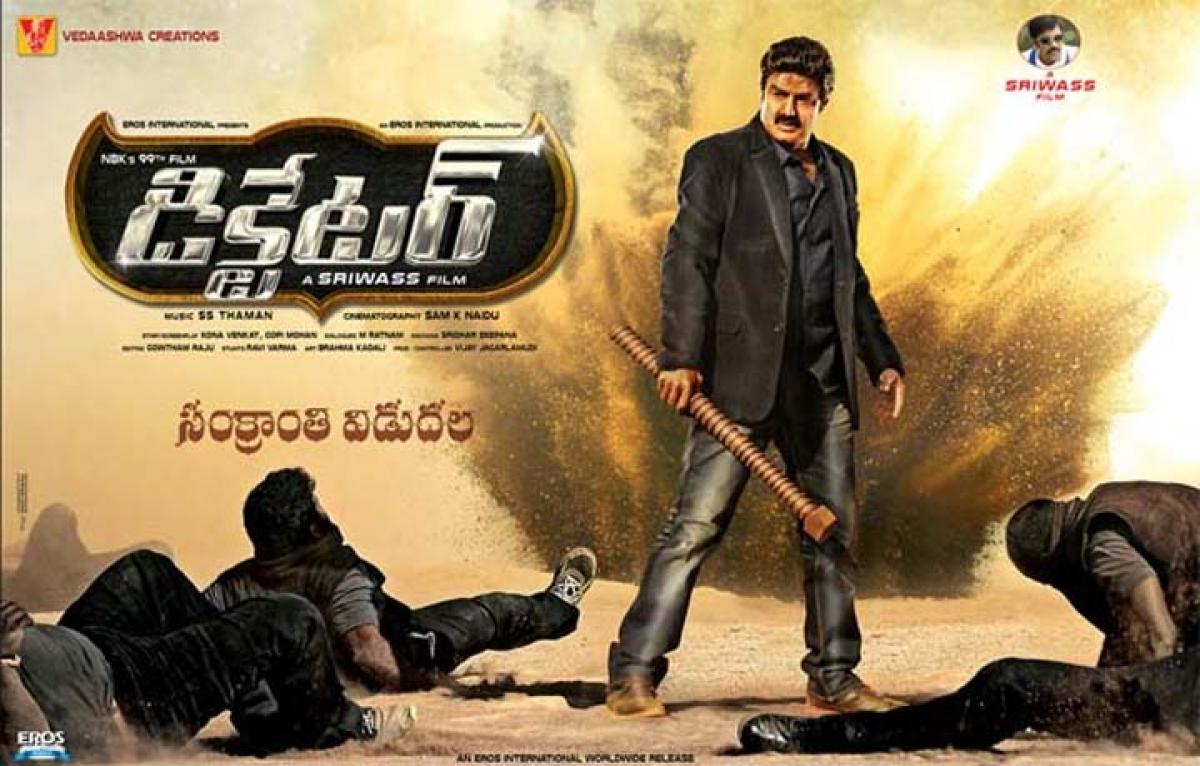 Highlights
Nandamuri Balakrishna-'s 99th film Dictator has released in theaters today. The film directed by Kona Venkat features Anjali and Sonal Chauhan in the...
Nandamuri Balakrishna's 99th film Dictator has released in theatres today. The film directed by Kona Venkat features Anjali and Sonal Chauhan in the female lead roles.
Going by the review on Twitter, Dictator is a typical Balayya film with all the mass elements needed to make it a commercial entertainer. The trademark of a Balakrishna film is obviously the punch dialogues.
Here are a few from Dictator.
Nee history lo blood undemo… Naa blood or history undi.
Nenedee fix avannu…Fix aithe relax avvanu.
Madhyapaanam Aarogyaaniki Haanikaram… Naalanti vaarini rechagottadam jeevithaaniki pramaadakaram.
Parvatham Ekkalanuko Tappuledu, Parvatham Ethalanukoku.. Chachipotaav.
Vaayugundam teeramdaatitegaani aagadu…
Dharma group of industries Chairman… Chandrasekhar Dharma… Nuvve anthaa anukunevaadiki devudavuthaadu, Nuvventha anevaadiki Niyanthavutaadu, Dictator avutaadu.
Neelaantollu adugadugunaa vuntaaru – naalaantollu okkalle untaaru
Nenu cheppina maata vinaalanevaade hitlor… Evvademi cheppina I don't care anevaade dictator
kanna tallini – puttina voorini – nammina vaadini marachipokoodadu.
Thondara panalu chaalaa vuntai… Kaani Mukhyamaina panulu Konne vuntai
Neelaanti vaallu publicity kosam chestaaru – nenemi chesinaa publicity ne.
Jaatheeya Zandaa Tayaaru chesaavaa – Jaatheeya Geetam Raasaavaa? Nenedee Modalu Pettanu – Modalu Pettedi Edee Aaapanu.
Naa jolikoste Vadilestaa – Naanna Gari Jnapakaala jolikoste Champestaa Simham Kooda daahamveste Thala Vanchukuni Neellu Taagutondiraa… Antha maatranike … Todakottakoodadu… Kodite… Thoda – Thala rendu migalavu
Ahamkaaram Vunna Aadadi – Avinertilo Vunna mogaadu –
Subscribed Failed...
Subscribed Successfully...