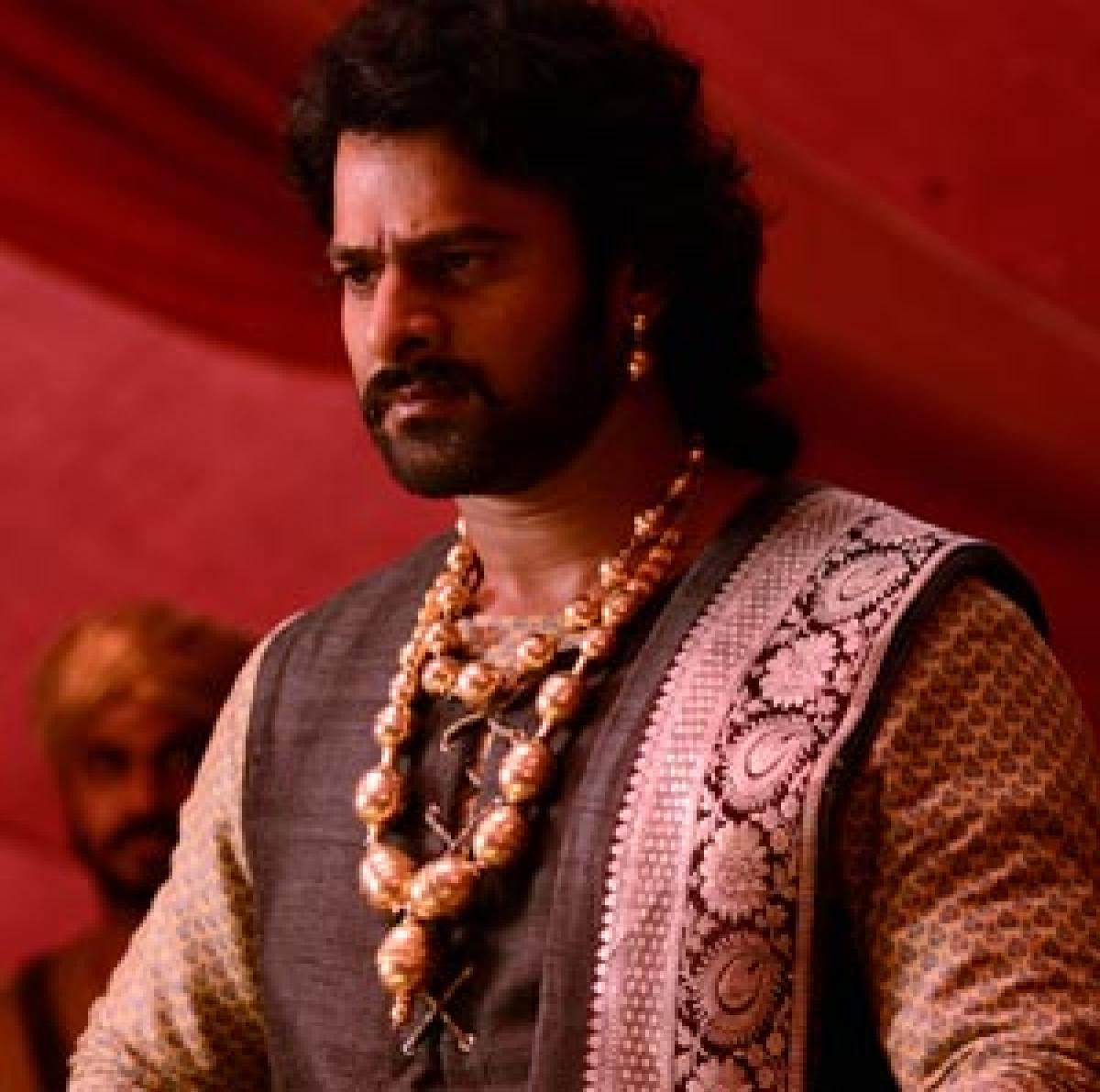 Highlights
Prabhas, who was weighing around 87 kilos during the promotions of 'Baahubali', had to weigh around 105 kilos for the father's (king Amarendra Baahubali) role in the second part.
Prabhas, who was weighing around 87 kilos during the promotions of 'Baahubali', had to weigh around 105 kilos for the father's (king Amarendra Baahubali) role in the second part. The preparation started a few months back when the pre-production work of the film kicked off last October.
Prabhas had to put on nearly 17 kilos for Amarendra Baahubali role. With the first part being a big hit, the actor has left no stone unturned to undergo extreme physical transformation again and this result is out there for the cast and crew to witness daily.
His preparation for the sequel has been greater and effective, we hear, as he hit the gym and built the body naturally. He was neither in a hurry nor had any apprehensions that he may not get into shape when the shooting starts. The filming has recently begun and he has already gained enough kilos to portray the part.
Workout schedule
He starts off with a few basic warm-up exercises to relax his joints. He has split his workouts into two sessions a day– one and half hours morning and evening. He is working out more these days since he is short of four more kilos to get a complete beefed up look – a look akin to 'Hulk'.
He generally works out at his home gym (featuring state-of-the-art equipment shipped from USA) with his trainer. In case of shooting outdoors, he carries his basic fitness kit. The workout regimen on a daily basis includes – cardiovascular exercises (15-20 min), yoga (15 min), dumbles, stretching, etc.
He was put through crossfit and plyometrics as part of his daily cardio regime. Since he is recuperating from a shoulder (left) surgery, he's ensuring that the part does not take too much strain. As such, he's indulging in a bit of physiotherapy comprising of light weight and bands. In fact, the climax battle episode in the first part of 'Baahubali' was shot after he recovered from his shoulder injury.
Since sporting a beefy look is completely different from getting a six-pack, the actor's body needs to grow in right proportions. For this, he underwent several weightlifting programs as well.
Diet chart
Even though Prabhas is on a rigorous workout regimen, he had a strong nutritional support. His central focus remains to be on diet as he believes one gets the right abs in the kitchen.
He is eating healthy and only home-made food. During the transformation he undertook, his nutrition plan was based on his condition, body weight and lifestyle.
He follows a balanced diet of vegetarian and non-veg food. Proteins and carbs are always in the plan – 42 egg whites (per day), 250 grams chicken (per day) and a platter of fresh fruits for breakfast.
He also consumes one-and-a-half protein powder scoops (readymade powder) after workout during morning and evening (daily) while he takes soup or milk before going to bed.
Since he's working more rigorously than ever before, there is a chance of losing out on muscle power. To avoid this, he is taking protein power immediately after training.
He takes small meals –seven per day. This will comprise of veg salad, brown rice and oat meal (in the afternoon). He also consumes fibrous carbs like broccoli, spinach, pasta with some garnishing.
That makes up for the staple foods and he will stay on the same nutrition throughout the film. He has cut down on oil and sodium intake while sugar is a strict no. Apart from taking around eight to ten glasses of water every day, the actor drinks lemon water between workout breaks. This will prevent soreness and muscle stiffness in the body whilst removing any excess acids.