50+ and still going strong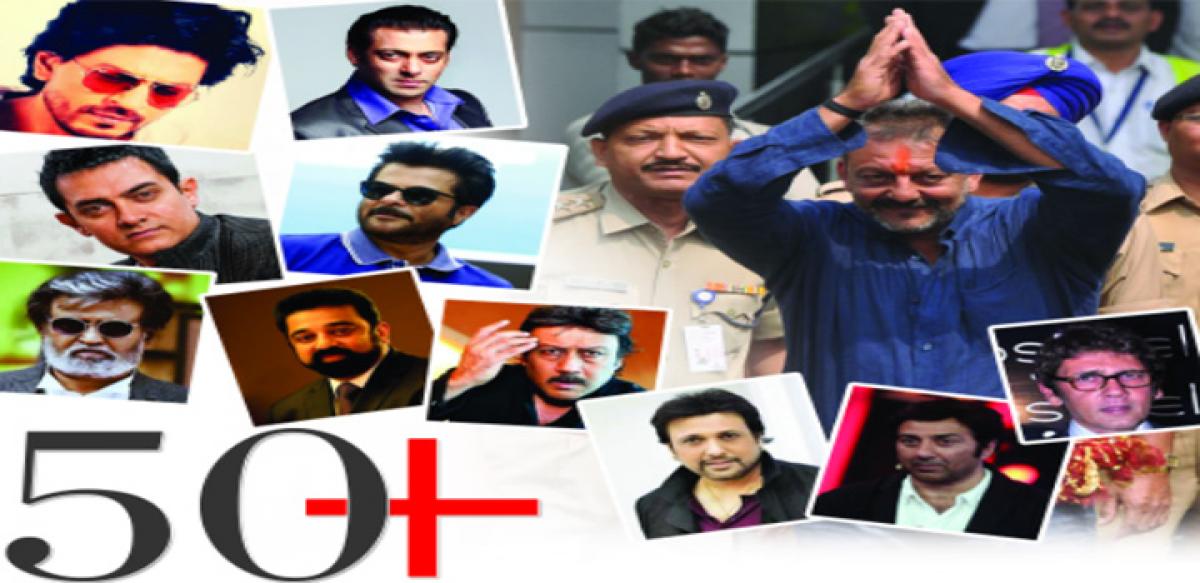 Highlights
Running into the 21st century, the saga of the first lot of post Amitabh era Hindi film heroes, beginning with Kumar Gaurav in 1981 and ending with Salman Khan in 1989, is an engrossing one of their long-enduring box-office draw, survival strategies and comprising the also-rans and flop entities, who flunked despite their filmi backgrounds.
February 25 is significant for Bollywood, as Sanjay Dutt was released, after serving his prison sentence much to the delight of his fans. A few decades ago, he along with a dozen other 'young bloomers', who were known to be the new-gen of Hindi films during the time, took their nascent steps into Hindi filmdom. Little did we know then, that, sans a few like Kumar Gaurav, these newbies, despite their ups and downs, will stand the test of the time, and continue to rule the roost, well into the digital age
Running into the 21st century, the saga of the first lot of post Amitabh era Hindi film heroes, beginning with Kumar Gaurav in 1981 and ending with Salman Khan in 1989, is an engrossing one of their long-enduring box-office draw, survival strategies and comprising the also-rans and flop entities, who flunked despite their filmi backgrounds.
For the Hindi film industry, two dates in February can be considered to have acquired a sense of chronological importance in its own unique ways, even though separated by a few decades in time. To begin with the recent occurrence, in the last week of this leap year month of 2016, on February 25, the country witnessed the grand release and welcome of Sanjay Dutt aka Sanju Baba after serving his prison term in the 1993 Mumbai serial bomb blasts case.
An artiste of considerable, even if fluctuating, box-office pull over these many years, Sanjay, to put it mildly has always been a 'controversy's child', still a name which known directors are yet to strike off from their bucket lists. The second date – February 27 - too is connected to the beefy star, but only incidentally. It was on this day 35 years ago in 1981, the first of the heroes of the baby boomer generation- people born between 1946 and 1964- (the post- Amitabh Hindi film heroes, in common parlance) - was launched in Hindi cinema.
The debutante was Kumar Gaurav, son of 'Jubilee Star' Rajendra Kumar introduced with the release of his film 'Love Story' and who later went on to be the brother-in-law of Sanjay Dutt, three years later. Notably, Dutt himself was launched by his star papa, Sunil Dutt, in May in the same year with his home production, 'Rocky'. Kamal Hassan followed him with his 'Ek Duuje Ke Liye' in June 1981, signalling the end of the list for that year.
As a near accurate estimate, leaving aside a few lesser known ones, not to speak of the art film types, a total of dozen such launches were made in the Bombay film industry in the '80s. This was the time when Bachchan, known as the 'one-man industry' was showing signs of fatigue, despite pulling off a near-fatal accident but still determinedly holding on to his numero uno slot.
After a lull, it was in 1983, the studios of Bombay were abuzz with 20-somethings sweating it out before the harsh floodlights while their proud parents watched from a distance. The second entry from across the Vindhyas, this time, Rajinikanth, made his bow with 'Andha Kaanoon' in April 1983.
By the time, that year ended, Big B had a lot of teeny boppers sniping at his heels- from Anil Kapoor ('Woh Saat Din'), Sunny Deol ('Betaab'), Rajiv Kapoor ('Ek Jaan Hai Hum') to Jackie Shroff ('Hero'). In the six years that followed, till 1989, four more names from families involved in the film industry in some form or the other entered the portals of the film industry - Suneil Anand ('Anand aur Anand'), Govinda ('Ilzaam'), Aamir Khan ('Qayamat se Qayamat Tak') to Salman Khan ('Maine Pyar Kiya').
How has the score been for these middle-aged stars, who are clocking anywhere between 50-59 today? What has made them stay the course? More than three decades later from the time they came in into the celluloid world, the report card, as can be expected is mixed.
Barring Rajiv Kapoor and Suneil Anand, sons of the legends Raj Kapoor and Dev Anand respectively, the other ten introduced, started off with a successful run at the cash counters and went on, ahead. So, if it means that a debut flop was the only reason why these big family types did not make it, then one should add Kumar Gaurav too to this list.
The poor guy, having given a humongous hit to cement his position among the young things, just slipped into oblivion for the next five years, only when he surfaced with 'Naam' in 1986, a gripping film with Mahesh Bhatt as the director and his saala (brother-in-law) Sanjay as the protagonist in trouble. That was a flash in the pan, as he further went downhill soon with a list of duds, to disappear from the industry forever.
Sanjay Dutt, with a see-saw ride in his tenure at the studios, is still exciting enough to have biopics featured on his life, starring the latest young thing Ranbir Kapoor, who plays his role. Wild ways and wilder allegations about his mood swings have only heightened the mystique and subsequently his stay at the top of the heap, as far as action-emotion roles are concerned.
He has travelled from solo heroes to multi-starrers and battled court cases and imprisonment all the while. The Munnabhai franchise and his 'change of heart' postures towards the society have all happened to give a booster shot to his time and again wavering pull at the BO.
Anil Kapoor, Sunny Deol, Jackie Shroff… These names are not yet alien for the Hindi film patrons. Each of them has their progenies in the industry, either launched as heroes and heroines or waiting to be so and likely to be moving ahead with their onscreen lives at their own pace.
Kapoor has morphed as an international star, kept his visibility levels high with television serials ('24' comes readily to mind) and select film appearances, retaining his aura to an extent. The puff about his eternally young looks, a sham by even basic standards of evaluation, moves favourably to keep him in contention for sure.
Jackie Shroff, who was a solo hero to begin with in his tremendously successful 'Hero' (disastrously remade by Salman last year) had to quickly realise his limits of box-office power and paired well with Anil Kapoor to stay on in the industry.
Fading in and fading out, he has been picked up by Tamil films to play antagonist roles and also roles which are reserved for character artistes in Hindi cinema. For an outsider, his entrenchment into the movie industry with his son and daughter can surely be considered an achievement, given that he had just about passable acting talents to complement his macho looks.
Sunny Deol, straitjacketed as a he-man after his titanic father Dharmendra's brawny bash ups on screen, played some offbeat ones in his first phase of his hero tenure. Hamstrung by a father who was a reliable box-office success for many of his favourite directors, he too moved up and down the ladder of achievement in the first 15 years of his career.
Roles like the ones he played in 'Ghayal', 'Damini', 'Gadar' were almost tailor-made, one feels in retrospective, given the arresting impact it had on his largely action-loving male audiences all around the country. After a brief interlude, his latest 'Ghayal Once Again' has brought him back, where he is no more the roaring lion but a controlled one who lets the next-gen do the action bit and he winding up the show for them. His limited range in comedy, when compared to the wacky father, did not help in diversifying all that much over the years.
Govinda, seen initially as a country cousin replacement to Mithun Chakraborty, who had stayed on with his brand of dance and dishoom dishoom in the hearts of his small town fans, ended his career, the way he started it. From 1986 to 2016, his life was one that of biting more than one could chew- as at the beginning of his timeline, he had accepted more than 30 films at one go and was working more than 18 hours to complete them!
From a problem of plenty, it became a solution of empty, so to speak, when offers began dwindling time and again, in the first decade itself. Pairing with Amitabh in a few films, not to speak of multi-starrers and two hero films with Salman Khan, who too threw him a lifeline a few years ago with 'Partner', the short, muscular, toothy grin hero has seen it all.
A career in politics, which none else enjoyed and earning a reputation of a giant killer in a key Mumbai Lok Sabha constituency was a distinction, which he failed to protect and work on. His tenure as a Member of Parliament of Congress party was nothing notable and drew less attention from his party high command. Same goes for his efforts to introduce his children and relatives into the cinema industry, which has not been as welcoming as he would have expected it to be.
To conclude, it can really be said that the heroes of that time have enjoyed a longer time in the industry scheme of things. Not surprising, if it is said, as Amitabh Bachchan himself, whom they were supposed to be taking over from, has sunk, risen and stayed the distance, doing roles with better depth and meaning in recent films. Of course, it is a different story altogether for two of the final entrants into that hallowed list – Aamir Khan and Salman Khan - (see box) who have been the most successful and long-lasting of the deadly dozen.
Two is company!
As a sweeping statement, there cannot be any better. That Aamir and Salman, with filmi connections, would anyway have a head start and more support and lead time for their respective careers to take off. Though undoubtedly it was an observation based on facts, the Khans had to rough it, make their own mistakes, stay long in oblivion and re-invent themselves to withstand the onslaught of the later ones from their biradari, like Shahrukh and Saif Ali Khan.
Over the past 28 years that Aamir has been around, he has not done even 50 films, only a dozen of them or so since 2000. Obviously, having learnt it the hard way, the inscrutable, perfectionist aura around him, the steamy personal life stories and his carefully calibrated rent-a-cause activism have all kept him in the limelight.
Like Anil Kapoor and Salman Khan, he has been successful in reality television too, though the vicissitudes of political realignments seem to be tailing him uncomfortably of late. Rivalries, as far as he goes, too have been cleverly fobbed or managed with fellow stars. All the same, a performer who has fans across all ages of the adult movie-watching public.
Salman, on the other hand, is nearing the century mark or its whereabouts, in a career of nearly three decades. He has been the most reviled or loved - depending on which side of his personality one would like to see him from - and has been the other star in the industry, who has been in and out of prisons. His do-gooder, a ruffianish image has added handsomely to his box-office appeal and among his peers and successors, he still has the magic of the initial BO draw over the release weekend, much more than anyone else.
Sallu too has been a victim of political crossfire and is currently on working terms with the government in Delhi. This is something, none of the '80s stars, successful names at that have been comfortable with. Be it the Kamal-Rajini duo of Tamil Nadu where politics is second nature in the showbiz world or their upcountry counterparts, none of them have been blessed with the right fit approach to be politicians. In this case too, they have the failed star as politician example - none other than the big B - who quit calling it a 'cesspool'.