When joy and sorrow follow each other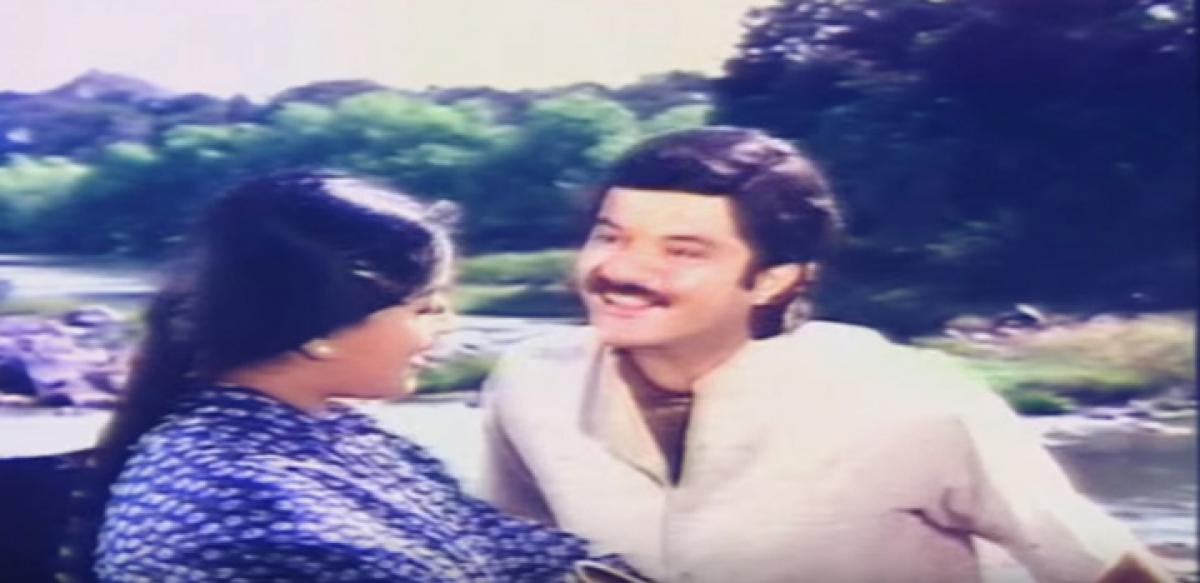 Highlights
Prior to bidding goodbye to Hindi remakes, this 1989 release 'Eeshwar' of K Vishwanath was his  penultimate film. A remake of his 1986 hit Swathi Muthyam, which had Kamal Haasan and Radhika playing the lead roles, it is a nice, uncomplicated tale based in a pastoral ambience, with its typicalities  clearly evident. The southern film market lapped up the film, enabling it to be dubbed in Tamil and
Prior to bidding goodbye to Hindi remakes, this 1989 release 'Eeshwar' of K Vishwanath was his penultimate film. A remake of his 1986 hit Swathi Muthyam, which had Kamal Haasan and Radhika playing the lead roles, it is a nice, uncomplicated tale based in a pastoral ambience, with its typicalities clearly evident. The southern film market lapped up the film, enabling it to be dubbed in Tamil and remade in Kannada, as late as 2003.
Anil Kapoor who played Haasan had Vijayashanti for company, reprising the role of Radhika. Both these ladies had by then begun to command a nice fan following back home in all the leading film industries. In Hindi filmdom, Kapoor too had set out to be identified as an actor who was not averse to taking up plain, heroism-free roles if it afforded him a chance to display his histrionics, however limited it was in the first place!
Ditto for the playback voices too who were employed by the semi-classical specialists Laxmikant- Pyarelal. Nitin Mukesh, who had a rather tame career all through the '80s, despite the legendary brand name of Mukesh as his nimbus, had by then got a few hits under his belt. Kavita, emerging out of the shadows of the Mangeshkar sisters too began getting more and more opportunities to exhibit her vocal skills.
Playing the mentally challenged, borderline dimwit, Kapoor mimics Charlie Chaplin and Raj Kapoor liberally, may be unconsciously. The lyrics, heavy on philosophy talks about the inevitable circle and cycle of time where good things follow the bad and vice versa. Set to a synthetic semi-classical alaap in the voice of the heroine, the song quickly morphs into a folksy beat as the hyper hero takes over, replete with jumpy, dance moves.
Anjaan packs in his message quite effortlessly in the song as he says: ' Aas niraas ki rang rangi hai, sari umariya, mitva re'…. For the better part of the song, Kapoor keeps hopping around, lending the physical energy into the number while Vijayashanti carrying a metal pot, saree firmly wrapped around her frame, just pads on to the effort. The reason being that this is a game-changer number this in the film where the heroine sees a lot of virtues in the 'innocence' of the hero, even beginning to feel the first sprout of love in her heart for this foolish fella.
Keeping itself distraction-free, the cinematography takes in the riverine environment into account, the temple on the banks where the final moments of action occur and tries hard to look upcountry, though it may have been shot in the backwaters of coastal Andhra. In the years to follow, the emergence of both the hero and the heroine as they went their separate ways later is a study in contrast as the heroine later came to be known as 'Lady Amitabh', for her rugged action roles, a sharp contrast to the demure one she essays in this film.
Film : Eeshwar (1989)
Singer : Nitin Mukesh, Kavita
Song : Aage Sukh To Peeche Dukh Hai
yrics : Anjaan
Music : Laxmikant-Pyarelal