All set for a powerful debut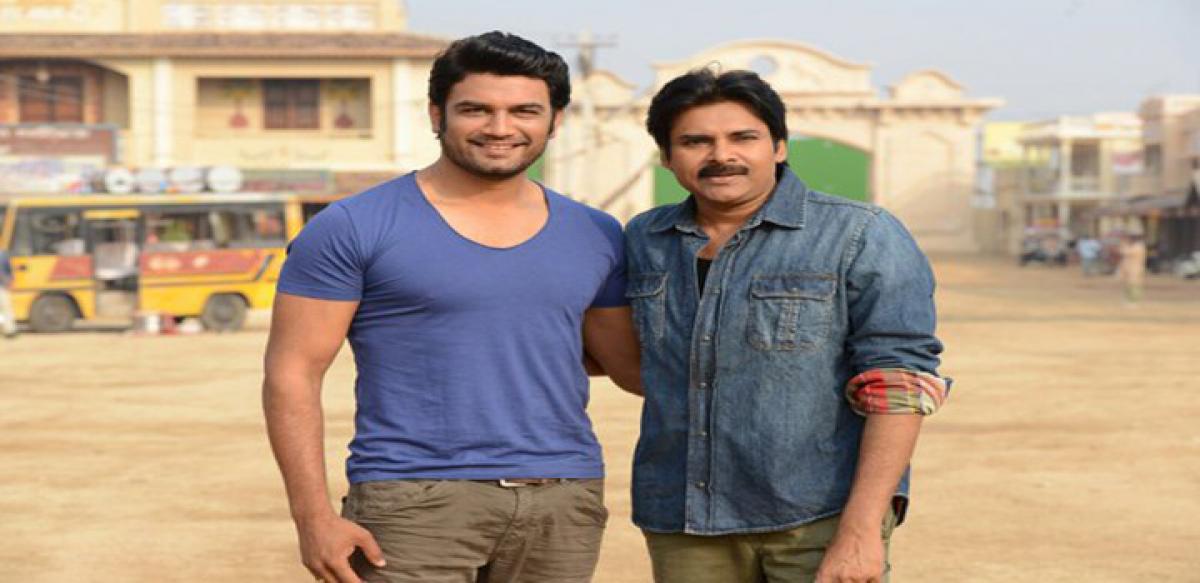 Highlights
Sharad Kelkar has sailed on the voyage of success in Hindi television and now he is all set to cruise in Tollywood. Sharad is debuting in the much awaited Pawan Kalyan - starrer 'Sardar Gabbar Singh
Sharad Kelkar has sailed on the voyage of success in Hindi television and now he is all set to cruise in Tollywood. Sharad is debuting in the much awaited Pawan Kalyan - starrer 'Sardar Gabbar Singh
How does it feel to debut in Tollywood?
It is an amazing feeling. Many actors from Bollywood acted in southern films. However, debuting with "The Pawan Kalyan" is just like a dream come true. An actor like me got an opportunity to work with him is something I can't express in words. After the trailer launch, I'm on cloud nine.
How was it to work with Pawan Kalyan?
He is a great human being that is why we call him "Power Star". He knows a lot, in depth. He is just not an actor but a creative person too. That is the biggest asset he has. I learned a lot of things from him. I'm a student in his institution. Whenever I want to do a scene in my way, he always supported me or I can say he carried me throughout the film. He made me so comfortable with him that after some time I opened up before him. He is a sweetheart. We use to share about our lives and experiences. He treated me as a younger brother.
When I met Pawan Kalyan for the first time, literally, my heart was in my mouth. When you are working with the biggest star it is also a kind of fear. After the first schedule it was all fine
What was your first reaction when you met Pawan Kalyan?
When I met him for the first time, literally my heart was in my mouth. When you are working with the biggest star it is also a kind of fear. The first schedule I did with fear but later it was all fine and we gelled well.

Tell us about your character in the film?
My character name is Bhairav Singh and he is the king of Ratanpur. I'm typically a bad guy, who wants to own the whole world.
Did you find any difficulty while delivering dialogues in Telugu?
I found the language a bit tough and I worked towards it. We also worked on the dialect as the character I am donning is a smooth talker. I think I used my eyes a lot in this film. An actor can portray more emotions with the eyes than speaking. The major contribution from my side towards the film is my "eyes".
Apart from Pawan Kalyan, what was the other pull factor to agree to the role?
First of all, it is a blockbuster franchise. Secondly, the character has different shades; he is a charmer, romantic, flamboyant and also he is the most brutal guy on the earth which is a definite pull for an actor to say yes to the role. But I will still say that it is Pawan Kalyan's home production along with many famed artists from the industry. The equation is so good that any other actor would do the film. I got the opportunity and I grabbed it with both hands, without thinking twice.
Do you think Telugu audience will accept you?
Post audio launch I feel people will accept me. I got so many messages on social networking sites that I'm overwhelmed. When they will watch the film, I'm sure people will accept me because I've much faith in me, Pawan Kalyan and the God.
Without giving anything away, what is your favorite dialogue from the film?
There is dialogue "If tiger takes one step back, it doesn't mean it is afraid of you. He is just taking his position to attack." It is one of the superb lines, which I delivered in the film. I say these lines when Mukesh Rishi provokes me.