A passion gallops to become a profitable venture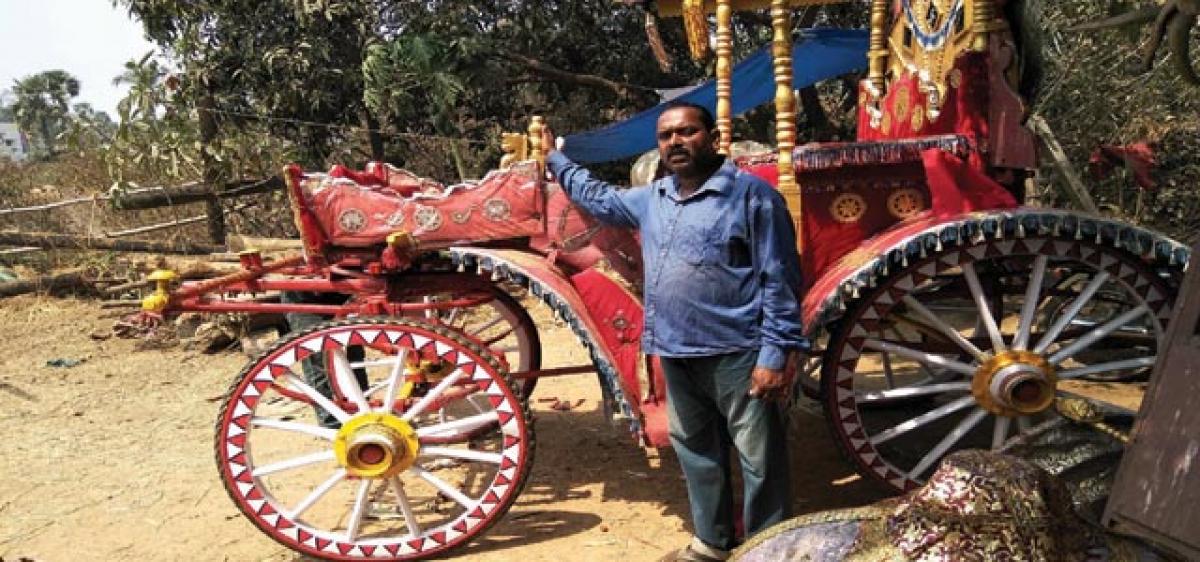 Highlights
Rearing horses is a passion for him as his forefathers and grand fathers had worked as heads of cavalry and infantry during the rule of Raja Gajapathi in this area.
Varadarajulu's love for horses
Rearing horses is a passion for him as his forefathers and grand fathers had worked as heads of cavalry and infantry during the rule of Raja Gajapathi in this area.
His forefathers worked as senapathis in Gajapathi's kingdom
Though it is expensive, he took it up as a hereditary practice
Varadarajulu has a stable of 12 horses belonging to different breeds. He bought two Kathiawari breed from Rajasthan paying Rs 4 lakh each. For his livelihood he is hiring them for competitions and functions. He says that the maintenance cost of a horse exceeds that of an Audi or Benz car.
Forefathers of Varadarajulu had worked in different positions in Gajapathi's kingdom during the 16th and 17th centuries. Vidyanna Patrudu, Aadenna Patrudu were the head of cavalry and s others were senapathis (head of infantry).
They got good recognition from the Maharajas of Vizianagaram and were in the good books of the kings. They used to train the infantry sepoys and cavalry sepoys too. They used to train them in horse riding, spear throwing and wielding bows and arrows. After the reign of the rajas came to an end in the country, grand children of those war veterans settled in different professions.
Varadarajulu has taken a passion to rear horses and spends most of his time with them. Presently he is rearing around a dozen and for six-member staff to look after them. He spends over Rs one lakh per month on the maintenance of these horses.
He hires out the horses to pull chariots during marriages, festivals and spiritual programmes. Apart from well-known breeds he also has wild horses, country breeds in his stable. Even film producers consult him to hire the carts, jatkas, tangas for movies.
Varadarajulu said that actor Balakrishna used his horses in the film Legend. His horses were used in many movies like Jaganmohini and in TV serials too.
The accessories for these horses - like blankets, saddle pads, protection boots and straps, bridles and attachments, halters, saddles, caps are to be brought from Rajasthan only, as those are not available in Andhra Pradesh or Telangana.
"We prepare the carts, as per the demand of the customer. Somebody wants carts for competitions, some wants tanga, some wants jatka some wants savari cart which is being pulled by two horses.
This is the season in North Andhra to organise village deity festivals and on these occasions, they take these carts, chariots to hold procession. Some people conduct horse riding competitions too.
Varadarajulu said "I am rearing these horses with passion only but not for income. If I sell all these horses and buy some cars, I can get a sizable earning. But I will not get recognition from the public. Feeding these horses is more burden than maintaining world class cars.
These horses should feed round-the-clock and we need to take them for riding daily. If we won't take them for riding, they become lazy and drowsy".
I spend around 10 hours in the presence of these horses and look after them as my own children, he said. "I want to continue the legacy of our forefathers. Even my 14-year-old son goes for riding daily on this Kathiawari horse. Even I feel these horses are like my own children.
Of course they can't talk with me but they communicate every feeling with their eyes, tail. They play with me and my son too", he said. The bride and groom feel proud to ride on chariots led by my horses and feel like a king and queen. So this chariot has high demand during this wedding season, he said.
By Koppara Gandhi