Notification issued for XAT 2019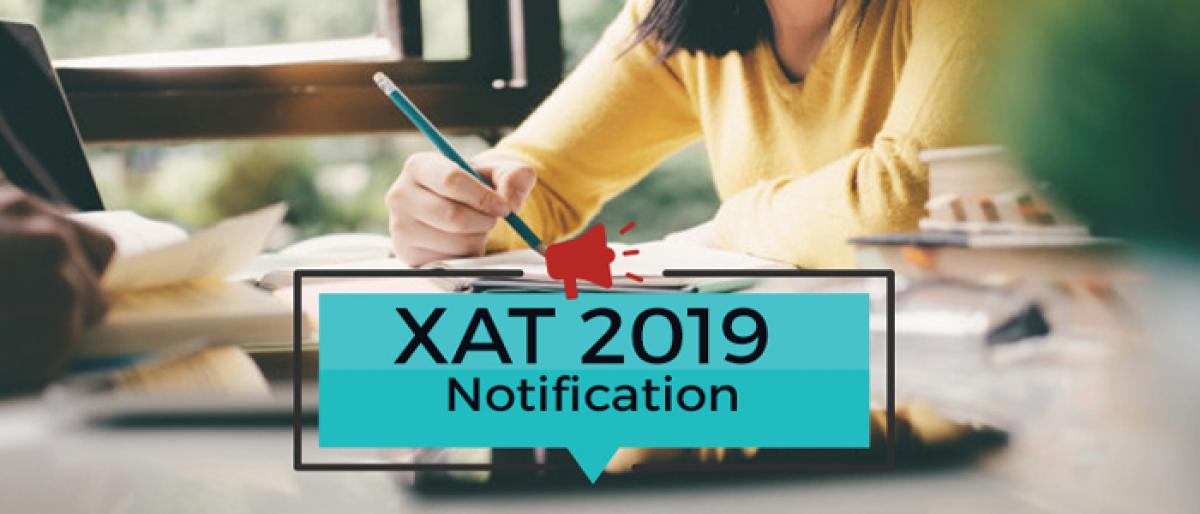 Highlights
XLRI, the XAT conducting body, has released the official notification for XAT 2019 XAT 2019 will be conducted on January 6, 2019 Sunday across 46 cities, from 10 am to 1 pm XAT is one of the most difficult and oldest MBA entrance exams in the country It is a university level exam conducted by XLRI Xavier Labour Relation Institute on behalf of XAMI Xavier Association of Management Institut
XLRI, the XAT conducting body, has released the official notification for XAT 2019. XAT 2019 will be conducted on January 6, 2019 (Sunday) across 46 cities, from 10 am to 1 pm. XAT is one of the most difficult and oldest MBA entrance exams in the country. It is a university level exam conducted by XLRI (Xavier Labour Relation Institute) on behalf of XAMI (Xavier Association of Management Institutes) for admission into its management courses.
XAT scores are also used by more than 150 management institutes for admissions into their courses. Last year, XAT went from a paper-based format to an online format, which left the aspirants in quicksand due to numerous technical glitches. As a result, the exam was reconducted for several aspirants in February. We expect that XLRI, after learning from XAT 2018 experience, would aim to conduct the exam smoothly this year.
XAT 2018
In 2018, the duration of XAT exam was 210 minutes, comprising two parts: Part 1 (170 minutes duration) covered Verbal and Logical Ability, Decision Making, and Quantitative Ability & Data Interpretation sections. Part 2 (40 minutes duration) covered General Knowledge and Essay Writing sections.
XAT 2018 Cut-offs (for XLRI interview shortlist):
1.XLRI – BM: 94 percentile
2.XLRI – HRM: 92 percentile
XAT 2019: Changes in paper pattern?
As per the official notification, the overall paper pattern will remain the same, with the exclusion of Essay Writing from this year. The duration of the test will be 3 hours, and will have the following four sections:
1.Verbal and Logical Ability (VA & LR)
2.Decision Making (DM)
3.Quantitative Ability & Data Interpretation (QA & DI)
4.General Knowledge (GK)
With the omission of Essay Writing section from the exam, the test duration has come down to 180 minutes. Each question carries 1 mark, and there is a negative marking of one-fourth of the marks allotted for every incorrect attempt. Candidates have an option of not attempting 12 questions, after which, for every un-attempted question, 0.05 mark will be deducted from the score.
The section-wise break-up of questions in XAT 2018 was as follows:
What to expect from XAT 2019
Speculations continue as to how many questions will be appearing in the General Knowledge (GK) section. In addition, till last year the marks in Paper 2 (GK and essay writing) weren't considered at the time of giving out calls.
Thus, whether the marks scored in the GK section, this year, will be considered for the first stage of interview shortlisting, is still uncertain and needs to be clarified. The other major cause of speculation is the reduced duration of the exam, and the resulting change in difficulty level of the exam, if any.
How to Register?
Candidates need to register for XAT exam & also register for the institute courses of their choice separately, by paying additional application fees.
Steps for XAT registration:
Step 1: Visit the official portal – www.xatonline.in
Step 2: Complete the candidate profile (i.e. create a user id & password) on the XAT portal by clicking on NEW Registration after which the Registration form can be accessed
Step 3: Complete the Registration form, ensuring that the details are correctly entered, and then submit the form on the portal
Step 4: Post submission of all the details, proceed to make the payment. The payment can be made by using Debit Cards (RuPay / Visa / Master Card / Maestro), Credit Cards and Internet Banking
Gautam Bawa - The author is Group Product Head, Career Launcher