AIESEC hosts YouthSpeak Forum 2018 in Hyderabad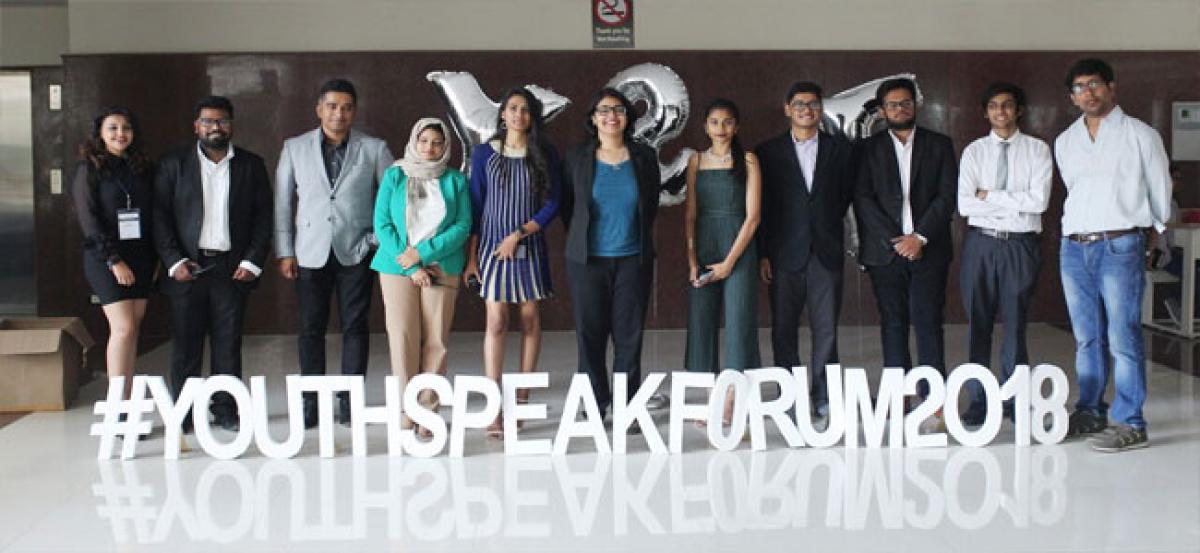 Highlights
International Association of Students in Economic and Commercial Sciences AIESEC, an international nongovernmental notforprofit organisation in consultative status with the United Nations Economic and Social Council ECOSOC, is hosting its annual premier event, YouthSpeak Forum 2018, on Sunday at BITS Pilani, Hyderabad Campus
Hyderabad: International Association of Students in Economic and Commercial Sciences (AIESEC), an international non-governmental not-for-profit organisation in consultative status with the United Nations Economic and Social Council (ECOSOC), is hosting its annual premier event, YouthSpeak Forum 2018, on Sunday at BITS Pilani, Hyderabad Campus.
Varun Naidu, President, AIESEC, Hyderabad; Manukrishna Nair, Client Director, Landor; Vaishali Neotia, Co-founder & CEO at Merxius; Madhu Vadlamani, Sr Web Analyst at Kony, Inc; Saadia Fatima, Vice President, AIESEC; Rakesh Paramata, Vice President AIESEC, briefed media about AIESEC, the YouthSpeak Forum its hosting, at a press conference on Sunday at BITS, Hyderabad.
The one-day YouthSpeak Forum brings together both young and senior leaders to form a diverse cross-sector and multi-generational space to create solutions and actions to achieve the Sustainable Development Goals relevant in a specific community. The YouthSpeak Forum is designed to inspire the delegates through talks delivered by exceptional keynote speakers and opens their minds to think differently and spark innovative ideas.
The theme of YouthSpeak in Hyderabad this year is "The Intersection: Whirling Technology with Business for Sustainable Development". The Intersection formulated with a thought that the primary factor enrapturing the youth in this era is technology and the rise of start ups.
Some of the topics speakers are focusing on are, How to Think Creatively by Manukrishna Nair; Everything You Need To Know About Al by Vijay Gunti; How To Build a Start Up by Vaishali Neotia and a Panel Discussion on The Intersection: Whirling Technology with Business for Sustainable Development. Over 1500 students from higher schools and colleges are attending at the event hosted at BITS Pilani, Hyderabad Campus.
AIESEC wants to delve deeper into how to whirl technology with business to figure out solutions for the sustainable development goals, as devised by the United Nations, to be achieved by 2030 for a better world, says Varun Naidu.