Entrepreneurship Fest ends at VNRVJIET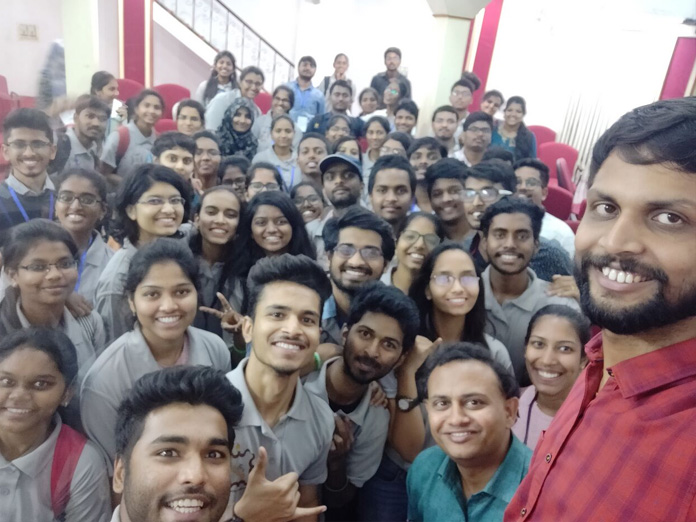 Highlights
The Entrepreneurship Fest of the Vallurupalli Nageswara Rao Vignana Jyothi Institute of Engineering and Technology VNRVJIET, Ecficio 20 culminated with much celebration Varun Akhnoor, Senior Vice PresidentIncubation at WE Hub, was present at the event as the Guest of Honour
Hyderabad: The Entrepreneurship Fest of the Vallurupalli Nageswara Rao Vignana Jyothi Institute of Engineering and Technology (VNRVJIET), "Ecficio 2.0" culminated with much celebration. Varun Akhnoor, Senior Vice President-Incubation at WE Hub, was present at the event as the Guest of Honour.
Speaking at the Valedictory Event, Varun Akhnoor, Senior Vice President-Incubation at WE Hub, said that he is impressed to see so many students actively take part in an Entrepreneurship Fest. He revealed how the Government of Telangana State welcomes entrepreneurs with open arms and provides various governmental initiatives such as T-works, T-Prod, RICH, etc. to encourage entrepreneurs.
Dr. D.N. Rao, President-Vignana Jyothi, said that active participation of students in the Fest is an indication of the enthusiasm that innovation and entrepreneurship are celebrated with at the Institute. Dr. A.S. Rao, the Institute's Director for Advancement and Dean-Innovation, Incubation, Entrepreneurship, and Globalisation, shared his joy for being able to participate on both days of the Fest and advise students about starting up through the Institute's Innovation hub "VJ Hub". Dr. B. ChennaKesava Rao, Director for Advancement and Dean-Administration, congratulated the prize winners of all events and the workshop and encouraged the participants to keep up the competitive spirit.
Dr. Chakravarthula Kiran, Coordinator for Ecficio 2.0, said that this is the second iteration of the Fest and it was a resounding success in terms of student foot-fall and that the participants had a great hands-on, real-world-experience workshop on "Starting up Business 101" by Sri Charan Lakkaraju and also participated in 8 events that teach them entrepreneurial skills, winning over ₹50,000 in prizes and goodies from one of the sponsors, Zebronics.
Students were exposed to Invited Talks by eminent personalities from the local Entrepreneurship scene, Dr. Kiran added, and that they also interacted with the other sponsors such as representatives of the educational consultancy IMFS regarding international education, while also participating enthusiastically in all the events going on as a part of the Fest.
A Q&A-driven Open Discussion on "Gaps between Education and Entrepreneurship" was held with Varun Akhnoor (Sr. VP-Incubation, WE Hub), Dr. D.N. Rao (President-Vignana Jyothi), Dr. A.S. Rao (Director & Dean-IIEG, VNRVJIET), and Sri Charan Lakkaraju (CEO & Co-founder, stuMagz) participated in the discussion moderated by Dr. Chakravarthula Kiran, Coordinator-Ecficio 2.0. The discussion has provided a platform for information dissemination about the government's initiatives in the realm of innovation and entrepreneurship and provided some interesting insights and guidance to students.