Piling up of e-waste with no effective mechanism for disposal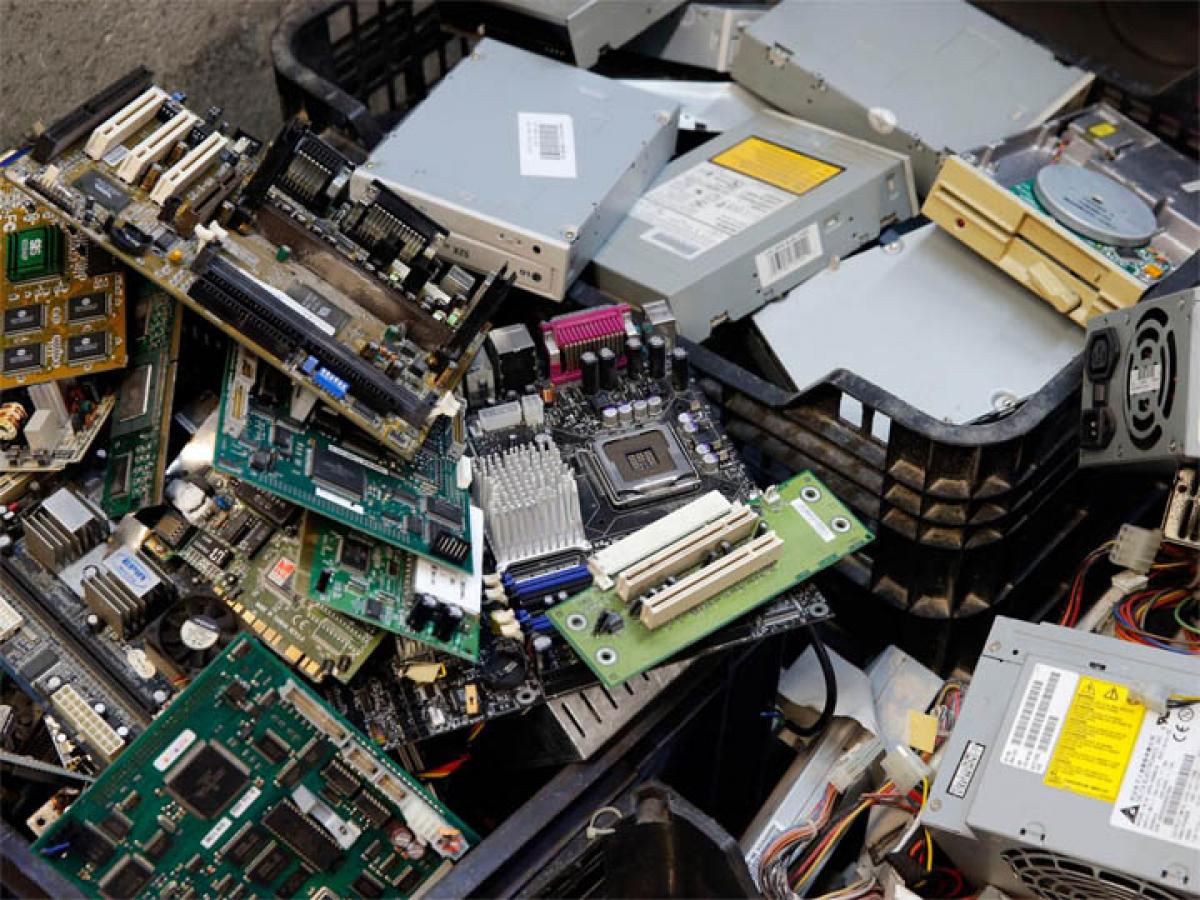 Highlights
e-waste is the fastest growing waste stream, with a growth rate of 3-5 percent per year. Today it constitutes eight percent of municipal waste and is one of the fastest growing waste fractions.
e-waste is the fastest growing waste stream, with a growth rate of 3-5 percent per year. Today it constitutes eight percent of municipal waste and is one of the fastest growing waste fractions.
e-waste is defined as 'Waste generated from used electronic devices and household appliances which are not fit for their originally intended use and are destined for recovery, recycling and disposal'.
The e-waste or electronic waste discarded by IT companies is piling up in the backyard of the Pearl City posing health hazard to the denizens. The lengthy process involved in identifying e-waste and getting sanction for disposal is time consuming which denies the opportunity to recycle the equipment.
According to a report by the National Association of Software and Services Companies (NASSCOM), IT companies in Hyderabad are generating approximately 4,000 metric tons of e-waste annually. While 39 per cent of the companies store their e-waste for a period of one year, 15 per cent of the companies dispose them of within 6 months. Dealing with e-waste is all set to pose challenges that are similar to the municipal and solid wastes.
The report finds that 54 percent of e-waste consists of computers, laptops and computer peripherals. 74 percentage companies have dedicated storage facility for e-waste. 73 percentage companies de-bond their computers annually and 39 companies store their e-waste for upto one year before disposal. 45 percent companies follow recycling as means of disposal and only 10 percent companies refurbish their computers in addition to recycling in Hyderabad.
NASSCOM region for Telangana & Andhra Pradesh is working in tandem with Telangana Industrial Infrastructure Corporation for management of e-waste. It is also working with the government to have an e-waste disposal policy as part of the overall policy for Industries to ensure a cleaner and greener environment for the region.
NASSCOM is working with various authorities to smoothen and simplify the processes so that e-waste can be disposed of in the best possible and responsible manner in the fastest period of time.
Over the last few months, NASSCOM have been reaching out to IT companies as part of a survey on e-waste management. This is a one of its kind research study to understand e-waste management practices followed by IT companies.
It noted two important points in e-waste disposal by an organisation are internal approval process and de-bonding process for identification and disposal of e-waste. As the SEZ (Special Economic Zone) companies store their e-waste in the bonded warehouse area, owing to tax benefits availed at the time of purchase, they cannot be disposed of without clearance from the customs authority, which makes
de-bonding compulsory. Both these processes combined can take at least 9 months.
According to NASSCOM, most of the equipment can be recycled if disposed of in time. But due to deplorable storage conditions, they are further damaged making them unusable.
In general, nearly 80 per cent of software companies give away e-waste to the local kabadiwala for some paltry sum and the way they are disposed of by the scrap dealers is dangerous and could cause serious health problems.
Recently, Nasscom Foundation and Telangana State Industrial Infrastructure Corporation released a 'Feasibility Report for e-waste management in Cyberabad Zone'. It throws light on the current practices of e-waste management by IT firms and comes up with recommendations to create a culture of responsible e-waste management.
The report suggested that the government must create more awareness of e-waste and e-swacch Bharat Programme could go a long way in doing this. It also helps people to understand the importance of recycling. Educating the public- corporate, business, public, government on reducing and extend life of e-waste. Approach corporate, who retire their used electronic good to give it to authorized recycling companies to extend end life of the system by refurbishing them.
Moreover, Telangana being the young state there are no proper guidelines to control proliferation of e-waste and it is yet to formalize an action plan to tackle the emerging problem of e-waste, which is also seen as a business opportunity given the absence of recycling agencies in the formal sector.
Experts suggest that menace should not be construed as just problem of huge quantity of e-waste and it should be seen in its totality because of the toxic nature of material used in the equipment. According to the legislation Hazardous Waste (Management and Handling) Act 2003, generation, storage, transportation and disposal is an offence and the State PCB is expected to be the monitoring body to take action against the companies which storage the material that constitute e-waste.
G.Rajendra Kumar