Vatika Becomes India's First Realtor To Solarize Its Projects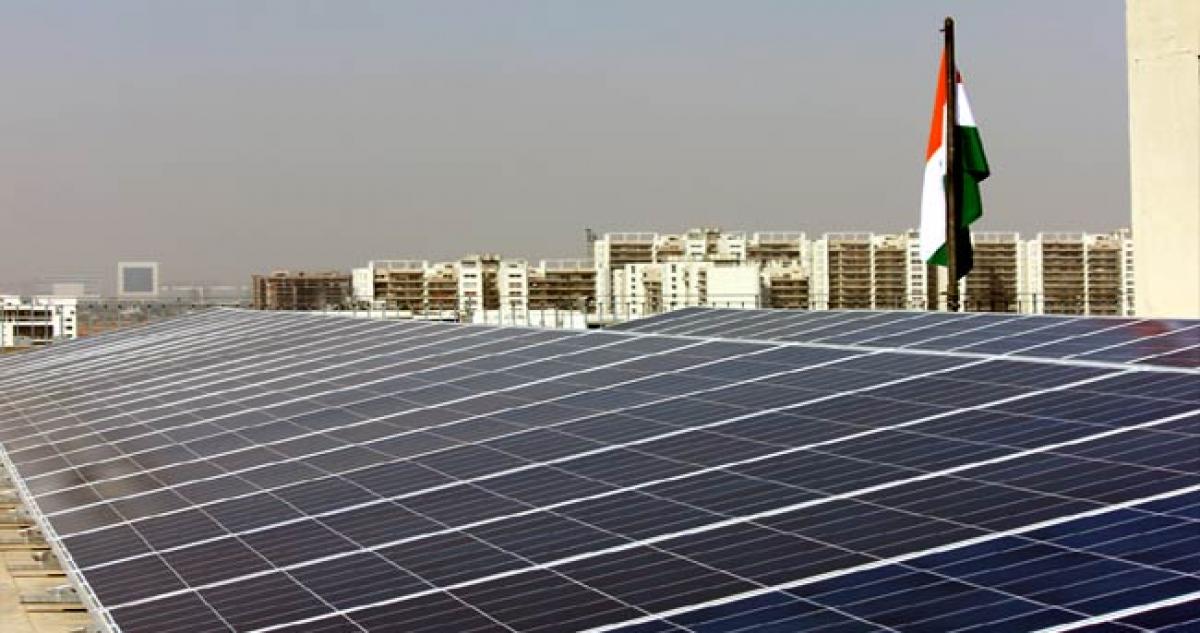 Highlights
Vatika group has started off with the investment of a total of Rs 75, 00,000 for the first leg of installation of solar panels
· Vatika group has started off with the investment of a total of Rs 75, 00,000 for the first leg of installation of solar panels
· 100 KW of electricity is produced through the panels. It would multiply 10 times by September and yield 1 MW of electricity.
· Vatika is the first real estate developer to install solar panels at its Business Center
· Enviro, the facilities management wing of Vatika to solarize all Vatika Group projects as a part of their Green Initiative

Vatika group is the first real estate developer to install solar panels at its projects. This installation is being carried out by Enviro. Through this and numerous other efforts the realtor is trying to reduce its carbon footprint and give impetus to the use of green energy. This is a key initiative by the leading realty group for the production of green energy requires a lot of initial investments. Vatika group has invested a total of Rs 75, 00,000 for the installation of solar panels and equipments at Vatika Business Park. Within the next six months the group intends to invest further towards strengthening of this project and intends to multiply its capacity 10 times.

Installing solar panels on roof top helps combat green house gas emissions and reduces collective dependence on fossil fuel. This initiative has put Vatika Business Park on the solar map of the country. Vatika is the only real estate developer to embark upon the process to cover all their land mark properties with solar power and thus synergies the green initiative piloted by Vatika Group. The panels installed at Vatika have the capacity to produce 100 KW of electricity. By the end of September it would be increased by 10 times to 1 MW. Every 1000 KW produced through solar energy reduces 34500 MT of CO2. The energy generated through solar power helps save 255000 barrel of crude oil and it also saves 43000 trees annually.

Confirming the development, the spokesperson of Vatika Group Shri Vineet Taing – President, Vatika Hotels said that,"At Vatika we believe in conserving the natural resources bestowed upon us by Mother Nature. To further facilitate the green initiative piloted by Vatika Group, we have decided to opt for solar power at our landmark properties. Installation of solar panels will help us to cut back the dependency on fossil fuels to a great extent. It is a proud moment for Vatika Group, as it is one of the first few real estate developers to opt for solar power."

The Vatika Business Park, Sohna road provides ready to move in office space in prime location. The business park provides offices and work stations of various size and shapes which prove to be a boon for Startups which not only save on the high cost of electricity but are also saved from the problem of establishing a proper office. They can start their operations straight away. Among other features the building attracts young entrepreneurs also because it uses green energy; energy which not only is cost effective rather has great impact on the environment.

Under the Haryana solar power policy,2016 the Haryana government is doling out various incentives and benefits including industrial status, exemption from change of land use approval and cess, banking facility and free-wheeling, exemption of T&D and cross subsidy charges. On the heels of the above notification of the Haryana government many builders are now initializing the process of installation of solar panels whereas the initiative to install solar panels and equipments at the Vatika Business Park was taken much earlier and over the course of time is on the verge of completion, it would become completely operational by September this year.