1,176 T supporters arrested in city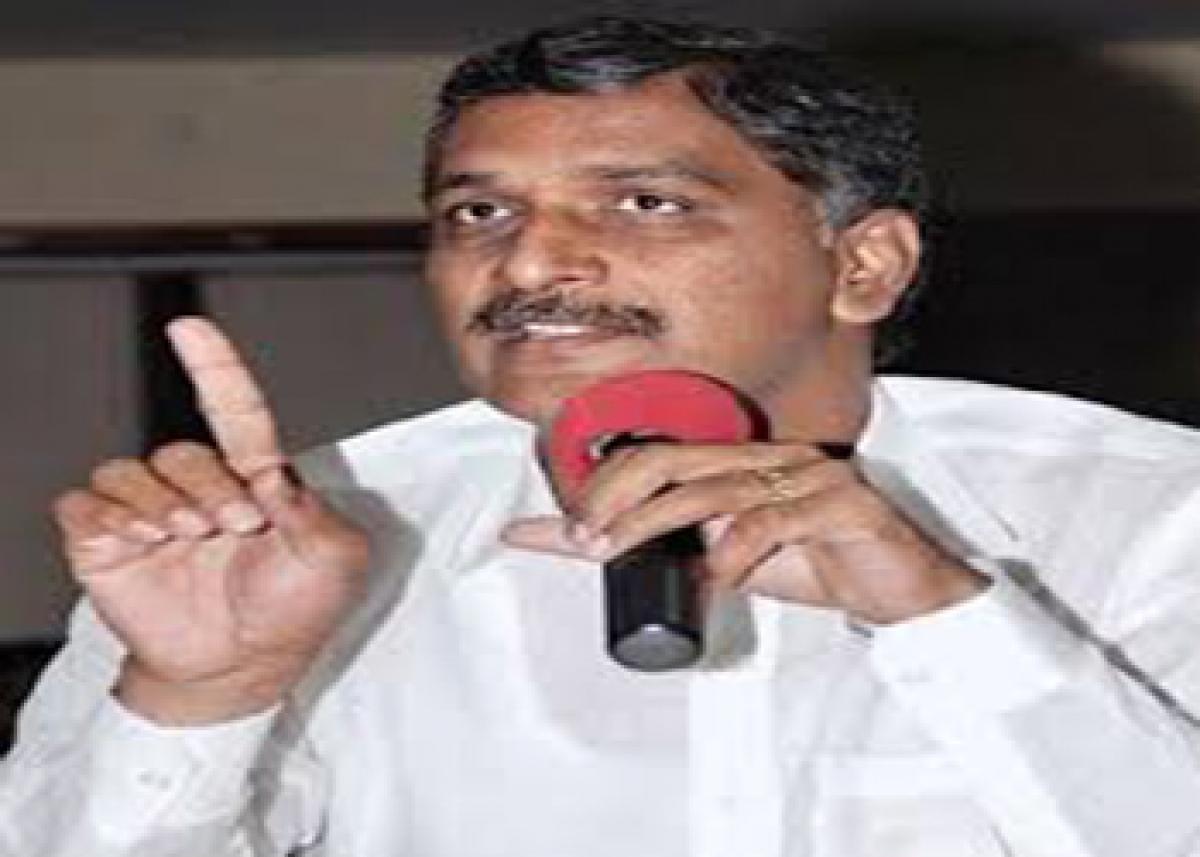 Highlights
As many as 1,176 activists including elected representatives and leaders of employees unions were taken into custody by the Hyderabad and Cyberabad...
As many as 1,176 activists including elected representatives and leaders of employees unions were taken into custody by the Hyderabad and Cyberabad police on Friday during the Chalo Assembly programme. While Hyderabad police took 700 activists of TJAC, TRS, BJP, CPI, New Democracy and other organisations including 45 MLAs, three MLCs and three MPs into custody, 476 people were taken into custody by the Cyberabad police for violating prohibitory orders.
City Police Commissioner Anurag Sharma said several activists from the districts of Telangana region reached Hyderabad and tried to proceed towards the Assembly by forming themselves into small groups with an intention to surround and gain entry into the Assembly.
Police taking into custody TJAC leader Mallepally Lakshmaiah (1), TRS leader T Harish Rao (2), CPI State Secretary K Narayana (3), Telangana Jagruti leader K Kavitha
"Inputs were also received that the Telangana activists may indulge in violence such as stone pelting, arson and vandalism. We had to take those who violated the prohibitory orders to prevent violence and arson," he said. Sharma said there were incidents of stone pelting and vandalism at Osmania University and Ashoknagar areas in the city. Police had to fire teargas shells when students pelted stones at the police at Osmania University. One student was injured as a shell hit him on the jaw.
Police maintained utmost restraint despite several acts of provocations resorted to by the Telangana activists. On the whole, the situation in the city remained under control and under close watch, he said.
Reds face cops' wrath
Hyderabad: The police excesses in dealing with the activists of parties which were supporting Chalo Assembly call given by TJAC was clearly evident from the manner in which they barged into the offices of the Communist Party of India (CPI) and AITUC in the city and attacked the party activists.
The city secretary V S Bose, state executive member M Venkataswamy and few others suffered injuries in the baton charge. While Bose suffered injuries in his eye, Venkataswamy injured his hand. The police arrested about 30 activists. Condemning this incident, CPI state secretary K Narayana said that the party would organise rallies and protests across the state against the police atrocity.
Narayana found fault with the Congreess high command for congratulating the Chief Minister taking effective measures to maintain law and order situation in the state. This makes it clear that the Congress party was bent upon suppressing the movement, he added.
TJAC, police counter strategies
Hyderabad: The TJAC, in addition to the cadres of the political parties, that sought to work together with it, had resolved to mobilize at least 50,000 people from non-political entities to make the impact of the Chalo Assembly felt rather in a big way and meticulous planning went into the effort.
Perhaps the police too had an inkling of it and hence the deployment of the forces turned out to be unprecedented and so was the case with the special security measures initiated by the police for the protest programme.
Members of each organisation, be it the Advocates JAC or the Employees JAC or others were told to provide shelter for at least five non-locals in their houses, association offices etc. Telangana supporters from districts had even drawn plans to reach Hyderabad a day or two in advance, according to their convenience, it was learnt.
However, government's refusal of permission for the protest, and the crackdown measures that followed dashed their hopes. According to JAC leaders, police swarmed into bus and railway stations in various districts from Wednesday morning itself (June 12) and arrested thousands of Telangana supporters bound for Hyderabad.
If this was not enough, bind- overs and forceful signing of security bonds by the police resulted in thousands of supporters to miss the programme. Advocates JAC chairman G Rajender Reddy remarked that Chalo Assembly was a big success despite the police suppression in the state capital. Unmindful of inconvenience to residents, government imposed traffic regulations at will at several places in twin-cities.
This problem could have been avoided had the government granted permission and regulated the traffic, he felt. On the other hand pro-Telangana parties, TRS, BJP, CPI and CPI (ML- New Democracy) took the onus upon themselves to accommodate their cadre at convenient places like leaders' residences, flats and some rental locations.
Police barricades put denizens to hardships
Hyderabad: Curfew-like situation prevailed in over three kilometers radius of State Assembly on Friday following barricading and prohibitory orders imposed by the police in view of Chalo Assembly programme.
Even by-lanes were barricaded and police personnel in riot gear were deployed in the lanes and by-lanes that connect the main roads which lead to Assembly. Residents of Narayanaguda, Himayatnagar, Domalguda, Ashoknagar, Gandhinagar, Bazaarghat, Red Hills, Adarshnagar, Saifabad and Khairatabad areas complained that they could not move out of their houses because of barricading and heavy deployment of police personnel. Narsing of Domalguda alleged that he could not take out his vehicle due to which he could not reach a hospital, where he had prior appointment with a doctor.
"This is the first time we are witnessing this kind of heavy barricading. The lanes and by-lanes used to be free even during Ganesh immersion," he said. Yadamma, who stays behind the Aayakar Bhavan in Basheerbagh, was seen pleading with the police personnel to remove the barbed wire fencing and barricades because she had to go out on some urgent work. However, police allowed her only after 4 pm. Mohammed Younus of Bazaarghat said the police barricading has resulted in huge traffic snarls and they had difficulty in going to their offices because police did not allow the vehicles in regular routes.
"We had to go round and rounds to get out of the barricades and reach our office. This resulted in a lot of delay. The situation reminded us of curfew days," he said. Business houses and hotels were shut down anticipating trouble. The roads wore deserted look as RTC cancelled or diverted its services, while traffic was very thin due to restrictions and barricades.
Tension at police stations
Hyderabad: Tension prevailed at Golconda and Kanchanbagh police stations on Friday, where Telangana activists were detained for a brief period after being picked up during Chalo Assembly programme earlier in the day. Police detained TRS legislators at the Golconda police station, where they tried to hold a mock assembly.
However, police objected to the legislators attempts to use a police station for holding mock assembly and disrupted the programme. Police also refused to allow the media personnel inside the police station following which tension prevailed for a brief period.
In Kanchanbagh, tension prevailed when Telugu Desam Party MLAs from Telangana region detained in the police station allegedly behaved in a high-handed manner with the Telangana Advocates JAC members. The TDP MLAs from Telangana were first taken to Kanchanbagh police station when they tried to take part in Chalo Assembly programme.
Later, police took TAJAC members into custody near Basheerbagh flyover and shifted them to Kanchanbagh police station.
Want to go Assembly side? Get CM's order: Police
Hyderabad: "CM orders leke avo, tub hum chodthe". (Get CM's orders and we will let you go).This was the common refrain of the police, who cordoned off all the roads leading to the Assembly, on Friday to the public who wanted to go anywhere near that area.
Right from constable to DSP - who all were deployed at different posts to check the Chalo Assembly activists had commonly took the name of the CM to avoid permitting even influential persons into the areas that appeared to be curfew bound. They did not spare even the pedestrians. When asked about strict restrictions imposed on the occasion, P Babu, a sub-inspector at Tank Bund said, "We were directed not to allow even an ant on the roads that lead to the Assembly".
He hinted that Chief Minister too was very serious about 'Chalo Assembly'. The officers on special duty (OSD) of several ministers faced tough time in reaching Assembly and Secretariat. P Sankar, OSD of a minister took 50 minutes to reach Assembly from Lakadi-ka-Pool after turning many rounds here and there. Interestingly, eighty percent of OSDs and personal secretaries of ministers did not reach to Assembly at all because of the restrictions. P Das, an employee of Assembly said, "I have never seen such restrictions before."