Congress leaders aver T issue in final stage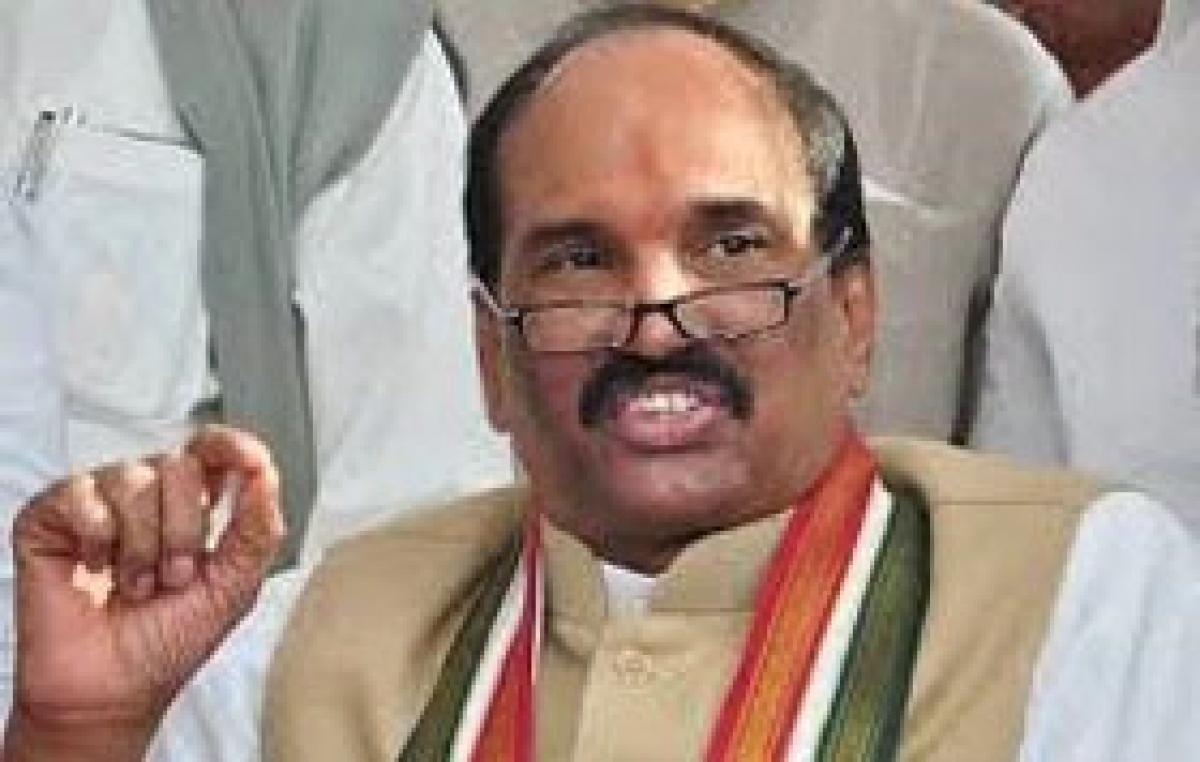 Highlights
In their first ever show of strength, Congress leaders from Telangana held a public meeting at Hyderabad which was attended by hundreds of people from...
In their first ever show of strength, Congress leaders from Telangana held a public meeting at Hyderabad which was attended by hundreds of people from various parts of the region. Setting aside their differences, all the T-Congress leaders made a strong appeal to AICC president Sonia Gandhi to set in motion the process of carving separate T state if the party were to survive in the region during 2014 general elections.
The meeting assumed importance amid intensified efforts by the party's central leaders to take a decision on the contentious issue. The meeting began by paying tributes to those who laid down their lives to achieve separate Telangana state and also to the pilgrims who lost their lives in Uttarakhand floods.
Telangana Intellectual Coordination Committee chairman Dr M Gopala Krishna elaborated on the injustice that was meted to Telangana after it was merged with Andhra Pradesh. He said that the Union government brought into force six point formula for providing education and employment opportunities for people of the T region, but failed in its implementation and this did not provide any justice to the people and they were once again deceived. He said that it was unfortunate that the political parties were exploiting the Telangana issue for their benefit in the name of Telangana struggle.
Veteran Congress leader and Telangana protagonist who went to jail and faced bullets during 1969 T movement, Manikyarao opposed the proposal of creation of Rayala-Telangana. He remarked that people only wanted T state which existed before the merger in Andhra in 1956.
Former PCC president D Srinivas said that it was a good augury that all the T Congress leaders had come on one platform after a very long time. All these years, the Congress leaders had been following others and participating in T agitation irrespective of who organised them.
Many went to jails, faced lathi blows and shouted Jai Telangana slogans. MPs even stalled Lok Sabha proceedings but have finally realised that no other party or force could achieve separate state, he observed. It was only the Congress which has to grant Telangana and only Sonia Gandhi will give it.
The manner in which all of them had gathered under the T Congress flag will help speed up the process of bifurcation of the state. He said that the Congress had to put on hold the formation of Telangana in 2009 as the atmosphere in the State was not conducive. Now it has changed significantly. It was time to show patience and restraint and not do anything or speak in a manner that would flare up emotions in other regions, he maintained.
Srinivas said that the Centre was fully aware of the injustice that was meted to the region after it merged with Andhra. "Let us now tell people from other regions. 'Unite to divide and divide to unite,' is what we should follow," he added.
Union minister N Uttam Kumar Reddy appealed to the youth not to commit suicides since the battle for separate state was in its final stage. Union Minister of State for Roads Sarve Satyanarayana said that he had told Sonia Gandhi that she should either give Telangana or announce that it could not do so.
If it decided not to give, they would go to people and apologise to them for their failure. Sonia Gandhi, he claimed told him that she had promised to the people that T state would be formed and that she could not go back on it. Now the appropriate time for a final and favourable decision has come, he added.
MP Madhu Yashki said that when Congress showed unity in 2004, the nine-year rule of TDP had come to an end. Another MP Gutta Sukhendra Reddy and S Rajaiah called for a united fight for T state. Former Speaker of State Assembly KR Suresh Reddy said that if Congress failed to give Telangana, they would bring the issue before the party workers and take a decision as to what was to be done.
Former minister Komati Reddy Venkat Reddy said that it was now or never kind of fight for separate state. If they relent or give up, the rulers from other regions would suppress them. "If the T Congress leaders cannot achieve T state it makes no sense to say that only they can get Telangana," he said. He called upon the leaders to intensify lobbying at Delhi level and added that if necessary all the T leaders should resign from their respective posts.
Congress leader R Ananda Bhaskar reiterating the demand for separate state said that Congress could survive in the region only if T state was given. Minister for Major Industries J Geetha Reddy recalled how the T Congress leaders took active part in the T struggle in the last three years. There may be delay but Sonia would not go back on her words, she added.
Youths create flutter with anti-Cong slogans
Hyderabad: A group of Telangana youth created commotion at 'Telangana Sadhana Sabha' by raising slogans against the ministers, Congress leaders and MLAs. Clad in T shirts, the youth claiming to be activists of Telangana Azad Force (TAF), shouted out slogans against the Congress for the delay in the formation of Telangana. As a mark of protest, one of the youth picked up his shoe and showed it to the sprawling dais, where all the leaders were seated.
This incident happened when Deputy Chief Minister D Raja Narasimha was addressing the gathering. They also held placards against the ministers. As they continued to raise slogans, the police at the venue immediately jumped into the audience gallery and took all the agitating youth into custody and shifted them from the venue.
As another youth continued raising slogans against the Congress, the police forces cordoned off the audience gallery, which was fifty feet away from the main dais. Panchayat Raj Minister K Jana Reddy also faced embarrassment when a youth again displayed his shoe from the audience gallery and demanded the ministers to quit their posts for the cause of Telangana. Reddy was addressing the gathering when the youth created flutter. Police rushed in and took him away.