Restaurant Review: MIX at Westin Hyderabad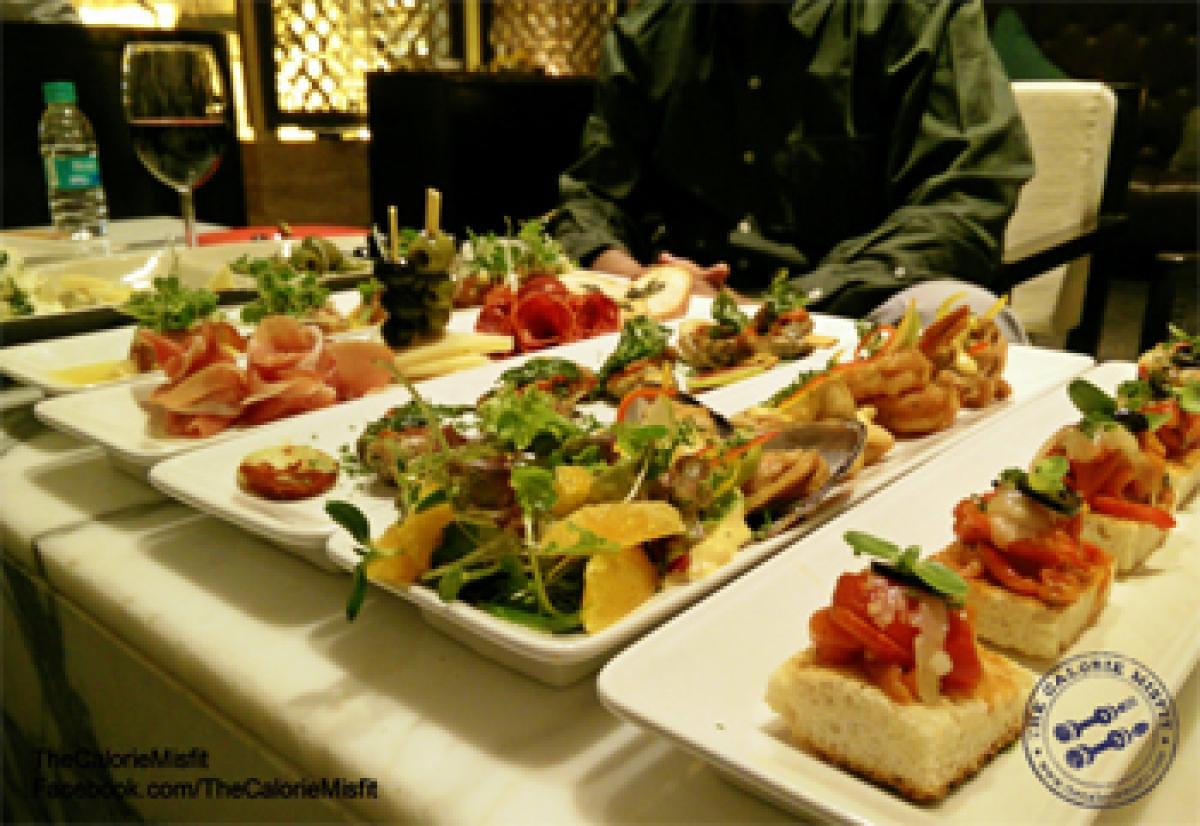 Highlights
The Westin Hyderabad Mindspace surprises me every time I visit them, this time it was the "Tantalizing Tapas" festival at MIX – their signature...
The Westin Hyderabad Mindspace surprises me every time I visit them, this time it was the "Tantalizing Tapas" festival at MIX – their signature lounge. Located at the Indoor – Lobby area, as you walk in, the contemporary lounge transforms itself into a candlelit lounge where one could enjoy some urbane cocktails over classic retro live music at the sleek bar or the swish couches.
Tapas, generally is a wide variety of cold or hot appetizers that is prominent in Spanish cuisine and the Idea of serving them is to encourage conversation over short eats. Borrowing this tradition, MIX brings these Spanish snacks in a bite sized proportions.
To begin with, we started off with the beautiful cheese & olive platter to graze on that included a portion of marinated black & green olives along with cheddar cheese. I loved the combination of lemon zest & coriander that was used to marinate the olives.
The platter would've been complete with the inclusion of nuts like either marcona almond or walnuts. Next one of the list was Pan Catalan - one of the simplest, most loved & most widely eaten dish that belong to Catalonia geography.
A flat bread drizzled with olive oil & rubbed off with garlic and ripe tomato, this is then topped with fire roasted peppers, onion & manchego cheese. This rustic sub sandwich was good enough to start although it was solid & dense to chew, it was worth adding to the repertoire.
Fresh anchovies marinated in vinegar oil is a very popular tapa in Spain, these tasty Boquerón's were served on crispy olive oil toast along with an escabeche of beets & lump fish roe. Although I am not a great fan of raw fish, the marinated anchovies dint feel raw at all.
Truly Delicious! Another interesting part of the menu was the inclusion of scallops – Viera's ! Grilled with white wine & mixed with onion & cured Serrano ham was quite appetizing, since I am not a pork person, got it changed to a non-ham version and it was brilliant! Just to retain the authenticity it would've been great if it was served with the shell.
Perhaps, the star of the evening was definitely the Salmon ahumado roulade. Asparagus & cream cheese filled salmon rolls are sliced into cylindrical structure and served along with lemon dill aioli sauce.
This truly was an elegant presented & delicious tapa of the evening. Fritura mixta – a traditional sea meat platter was the next to follow. Served with lemon aioli sauce & a fennel citrus salad, fritura mixta included squids, mussels, octopus & dusted prawns which was a delight for a sea food person like me. Since iam not a pork person, avoided the Table Espanola, a traditional Spanish cured meats that's served with marinated olives & manchego cheese.
Resembling to chicken satay was Brocheta De Apollo am limon – a grilled chicken skewer marinated in lime & basil that was too good and one of the must tries in the tapas.
Kudus to Chef Mukesh Sharma & his team for coming up with such a terrific tapas menu and making it as authentic as it should be !
Photos and Review by Vishal Fernandes
Subscribed Failed...
Subscribed Successfully...