Crime writing is like maths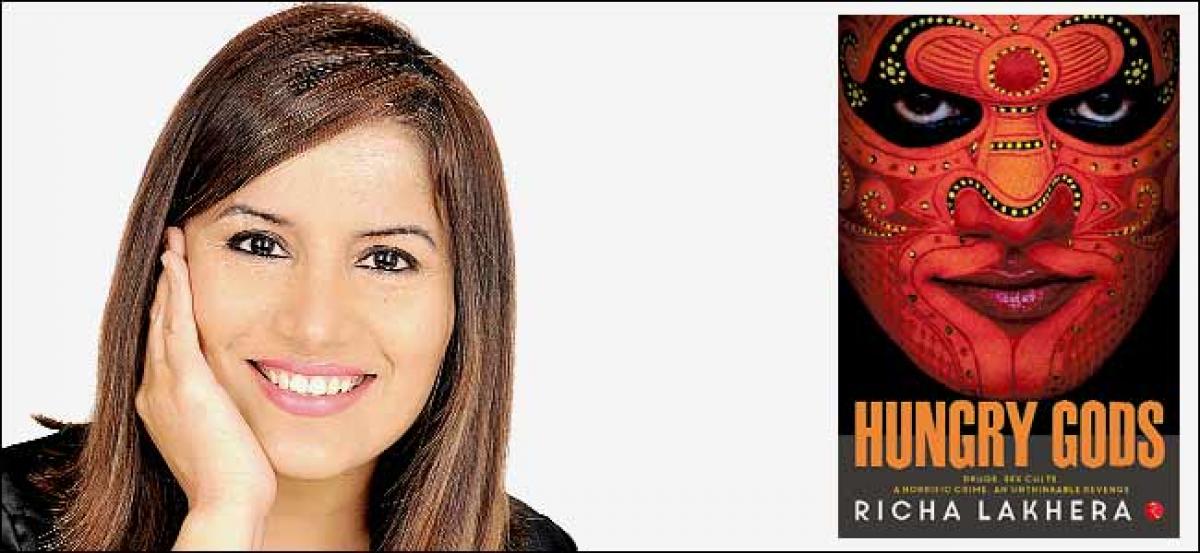 Highlights
Journalistturnedauthor Richa Lakhera penned her third novel Hungry Gods She has previously written Item Girl, a crime novel and Garbage Beat, a satire on the Indian entertainment industry
Journalist-turned-author Richa Lakhera penned her third novel 'Hungry Gods'. She has previously written 'Item Girl', a crime novel and 'Garbage Beat', a satire on the Indian entertainment industry. She works as Deputy Editor at NDTV. She has a Master's in Organic Chemistry and Bio-technology and is the recipient of the Indian Council for UN Relations (ICUNR) Award for Excellence in Journalism.
Excerpts:
Tell us a little about your new book?
'Hungry Gods' is about a self-obsessed superstar brand ambassador, adored by millions, a flawed god who will sell anything for a price. It's about a pharmaceutical company hellbent on pushing unsafe drugs on the public and a daughter who discovers her father's ugly truth. It's about secret dungeons, poisons, outlandish sex cults, families being torn apart, a woman being branded a witch and a horrific lynching. It's about a witness to a crime, who makes it past the boundaries of time and labyrinth of events to extract his horrific revenge.
'Hungry Gods' is about those brutal moments when men and women come face to face with their failures, where they are forced to apprehend their lives as that of flesh, possessed of frailty, staring at a bleak past and an uncertain future. Most importantly the book is about the acquisitive spirit of a people who work in collusion with greedy corporates and specialise in exploiting. But mostly it is about retribution underlined by a feeling of betrayal and shame.

What was the idea behind the title of the book?
Finalising those two or three words which would forever be on the cover of your book; it's not easy. The title of this book had to suggest the larger context of evil. 'Hungry Gods', the title, suggested to me a lot of dark intrigue, power and danger. There is a simmering tension in the title, two simple words, but very powerful. A suggestion that what if the god the hero and the monster become indistinguishable. How can Gods be Hungry? But that depends on who you elevate to the pedestal of a god? Then came the cover. When I saw that face, which suggested unapologetic revenge, I knew this is my flawed god. 'Hungry Gods' could not have a better face.
What kind of research went into it?
Research is crucial, but one should remember that you are writing a novel, not a research paper. The story comes first. Having said that, research was very important in a book like 'Hungry Gods', which deals with drugs, secret dungeons, sex cults and company laws and what it's like to have a mental breakdown to company rules, about brand ambassador contracts, to whole lot of research on the world of toxins, easily available natural and synthetic poisons.
A bit of pharmaceutical knowledge is required if your character is going to be poisoned, a bit about the ingredients, also the side effects so you don't overdo symptoms. Poisonous colloid derivatives which target metabolic pathways to a bit about biocides which are called organic death particles, in the old times they could be sourced from a plant and lead to complete and irreversible breakdown of a living being, maybe what constituted a 'curse'.
I have a science background, so that took care of most and there was a natural inclination towards the subject. Also, the research into Sex cults threw up a lot of stuff, way beyond twisted fetishes, not just the typical male masturbators or blue tooth remote controlled bullet vibrator to nipple clamps restrains and gags and the normal stuff used in outlandish sex cults. I had to research into a quaint club of people who call themselves neo-thaumaturgists and inflict pain on themselves to get what they want among other things.
Where do you get your ideas?
I take them from the world outside of me, and inside. Ideas are what? They can come from photos of refugees or a bucket cracked from several seasons under the sun. It can come from drugged children on the streets—it can come from everything and everywhere, but maybe what I am drawn to most or end up writing about the most are the unprepossessing and relentingly tragic. The flawed the wounded. I take from human traits and animal behaviour, from nature, from cities and villages, ghettos, slums. From mobs and riots and documentaries on devastation, from hate and fear and abandonment of the lost and hope and joy. The characters in the story already exist and what I'm doing is getting in touch with them and learning about them. And that takes time.

What is your writing process like?
Plot is very important. It takes me lots of re-drafts to develop the plot and work out the characters. I will mercilessly finish several characters, merge the two into one or change the man into a woman. Sometimes the real villain reveals himself in the story and I have been looking somewhere else. And it all falls into place. Of course, there is continuity to take care of. I like a vigour in language, the irony. The setting; I begin to get in touch with the people, as it were, and last of all the clues. Clue-making demands attention to the detail of everyday life. But—it's not just creating a puzzle, but the atmospherics the characters, their settings, the dilemmas, and the truth of relations.
Crime writing in fact is full of this kind of suggestions or clues to the truth of relationships not just of people with people but people with nature, processes or systems, selecting the set of events and arranging them in a certain order and making use of experiences to reveal a view of reality. For me emotions are integral and problem solving is a characteristic of crime writing. So, in a way crime writing is like mathematics. Having said that one should also be able to see the bone under the flesh or the skull beneath the skin.

How many hours a day do you write?
Minimum one hour to maximum seventeen to eighteen hours in a day. Depends on what stage of draft I am at and how close is the deadline! I also work as a TV news journalist and editor which can mean long, long hours and is incredibly tiring but writing mostly daily is something I have got into the habit of. Even if it's just one or two hours. Can I just say the writing hours are the support system for life now?
By Navin Pivhal
Subscribed Failed...
Subscribed Successfully...