BCCA's 68 years legacy in commerce education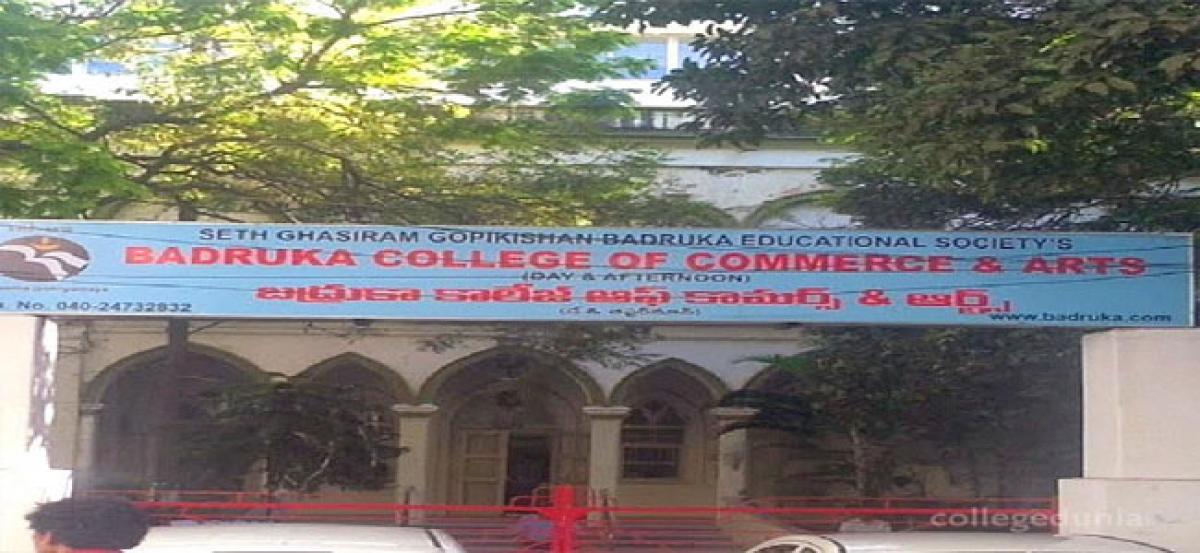 Highlights
True to its signature tag Empower to Lead Badruka College of Commerce and Arts BCCA started in 1950 has become a byword for academic excellence in the field of commerce education
Hyderabad: True to its signature tag 'Empower to Lead' Badruka College of Commerce and Arts' (BCCA) started in 1950 has become a byword for academic excellence in the field of commerce education.
The college had started on August 2 in 1950 under the aegis of Badruka Educational Society (BES) with just a two-year intermediate course and the same was upgraded to a degree college in 1952. And, in six decades of its journey BCCA has earned a name for itself to reckon with the commence education in the country. K Someshwer Rao, Principal, BCCA, shared their journey, achievements and future plans with The Young Hans.
Why is BCCA known only for commerce education?
Late Bankatlal Badurka was a great humanist and philanthropist and a successful businessman who had founded Seth Ghasiram Gopikrishan Badruka Educational Society (SGGBES) in 1950 to promote education. In the same year, the BCCA was started. Since its inception, the college has grown from strength to strength. The focus on commerce and business filed comes from the founders who were known for their eminence and success in the fields of commerce and business.
It was in line with their objectives the BCCA has been relentlessly making efforts to shape the students into agents of change and responding to the dire needs of society and the business community. It was for this reason that the college is not only promoting education in commerce and management but also promoting research in those branches of commerce and management sciences and relevant pedagogy which would help to build a just business and social order.
Where does BCCA stand in commerce education?
It was the first commerce college affiliated to the Osmania University. Since then it sustained its position and remained first to identify with commerce education in the state. Other colleges imparting commerce education in Hyderabad and in the state starts their admissions only after completion of the admissions at BCCA. We get good students and 90 per cent if the cutoff marks for the last seat. Most of the times students who have scored around 97 per cent marks are first to get admission in BCCA and the admission process followed since 2005 was the most transparent one.
The college has also stood within the top 50 colleges of commerce in the country. Several times the BCCA had figured within less than top 10 commerce colleges in the country in the ratings of several agencies. Besides, getting B++ accreditation consequently for the third year by the NAAC it has also had the distinction of 2F and 12B institution by the University Grants Commission (UGC).
When there is this bohemia about engineering and medicines, how could you sustain students' interest in commerce studies?
Students coming to BCC come here making a choice. Otherwise, we don't get such meritorious students opting to take admission in our college. This is so for over six decades. We offer various specialisations within the commerce stream like B.Com (Honours), B.Com in Computers, Computer Applications and B.Com (General) at Post Graduate level we offer M.Com. Besides, the college also offers Bachelors in Business Administration (BBA). Students from as far as Assam, West Bengal, Assam, Jharkhand and Arunachal Pradesh used to come to take admission in our college and this reflects the prominence of the college.
However, for the last seven years or so, students from different states are not able to make it as they could not compete with others scoring such high marks like 90 and above to get admission in BCC. Now, it was mostly, students from Telangana and Andhra Pradesh, besides a few from Maharashtra and Karnataka getting admissions. Also, nearly 95 per cent of students come from Hyderabad and surrounding areas. Another asset for us is our faculty. We have about 65 faculty members teaching to about 2,300 students studying in B.Com, M.Com and management studies.
In all, there are 11 sections running offering these courses. Most of our teachers are best teacher awardees, members of the board of studies of Osmania University, question paper setters for several universities. In addition to the contribution to the research journals, several of our faculty members are authors of textbooks.
Another fast changing scenario which needs to be taken into consideration is that nearly 60 per cent of students these days are turning towards commerce and business studies. The remaining 40 per cent are going to engineering, medical, arts and social sciences. Because commerce and business domains opened boundless opportunities within the country and abroad for those who have the right skills to excel.
What kind of activities and facilities are there in the college for students?
Apart from the regular academic works the college has facilities for indoor games, a gym, five seminar halls, and an auditorium. Our students are multitalented. To sustain this, we have students' clubs to promote arts, literary, film and music activities, besides a Management Club and Quiz Club which organise various events. That apart, we encourage sports of different kinds. One our student was a member Indian Women Cricket Team, Srija is another prominent player in Table Tennis. Arjun Awardee in roller skating Anup Kumar Yama was also a product of our college.
Also, students of the college participate actively in NCC and NSS units of the college. We encourage all this for the all round personality development of our students. In turn, this would also help them in getting the right kind of jobs.
How is your placement record over the years? What is the track record of your alumni?
The college has no problem with regard to placements. Every year 90 per cent of students are placed. Our students are different seeds right from the time they choose admission to our college. They are much focused and as a matter of policy we allow only MNC companies to visit our campus for placements and marketing and BPO entities are not invited. Companies recruiting for accounting, taxation, financial services alone come to pick up our students.
In regard to alumni, there are too many to name. For example, around 90 per cent of chartered accountants in Hyderabad are from our college. Film actor and former Union Minister Krishnam Raju, former minister Devender Goud, Rajya Sabha MP K Kesava Rao, Cynet Systems Chairman Ashok Reddy are a few from our college.
What are your future plans and any suggestions to the students who wanted to pursue commerce and management studies?
I travelled for the last 34 years with the BCC and there is a lot of changes taking place currently. Earlier, it was difficult to get opportunities. But, nowadays there is no dearth of opportunities for those having the right skills. For example, 10 years ago, Deloitte had come to our college and faculty from the USA was coming to train our students for the right fitment and post-training they were recruited. Companies are looking for specialised skills and right fitment and in fact, searching for good candidates to offer jobs.
It was taking this into consideration our college has also focused on providing training in accounting packages, communication skills, language proficiency and the like. Also, these days' students should also prepare themselves to take up jobs anywhere in the world in the globalisation scenario. Hence, we are planning to start foreign language courses to our students to give them another winning edge to be the best and to get the best of the opportunities available for them.
BY VRC Phaniharan