Over 40 years of legacy goes on unparallaled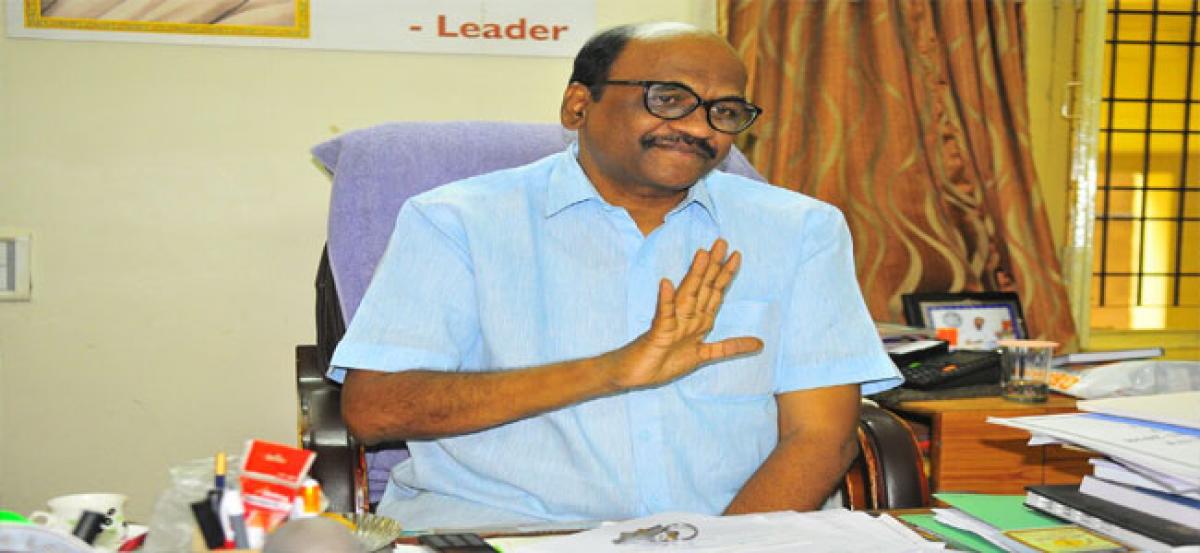 Highlights
Indian Institute of Management Commerce IIMC in Khairatabad is regarded as one of the top colleges for Commerce education in Hyderabad among hundreds of other colleges And credit for this goes to K Raghuveer, Principal of the college He has been associated with this prestigious institution for nearly 40 years
Indian Institute of Management & Commerce (IIMC) in Khairatabad is regarded as one of the top colleges for Commerce education in Hyderabad among hundreds of other colleges. And credit for this goes to K Raghuveer, Principal of the college. He has been associated with this prestigious institution for nearly 40 years. Having joined as lecturer (for Mathematics and Statistics) in 1980, he worked as vice-principal for 12 years from 1997-2009 after which he was elevated to Principal, a post K Raghuveer has been holding since 2009.
In nearly ten years under his tenure, IIMC gained from strength to strength and went on to achieve big name and fame. The modest principal attributes institution's success to continued support from Vasavi Foundation Trust and Board of Governors at IIMC including Chairman Prof. vangapallivishwanadham, vice-chairman Prof. B Satyanarayana, Correspondent C Prasanna and other members. IIMC Principal gives insights about the college history, achievements, specialties and future plans in a chat with Mahesh Avadhutha of The Hans India.
When was Indian Institute of Management & Commerce (IIMC) established?
Our College was established by Vasavi Foundation in 1973. Initially we started off with B.Com (Hons.) And gradually introduced more programmes in the following years. At present college offers 6 UG courses, including B.Com (Hons), B.Com (Comp), B.Com (BCA), B.Com (Gen), BBA and B.Sc (Comp) and one PG programme (M.Com). The college strength is over 1500 students.This is a co-ed English medium college affiliated to Osmania University. The fee structure for all courses is reasonable and we also extend financial assistance to poor and deserving students.
What are IIMC's achievements?
NAAC (National Assessment and Accreditation Council), in its evaluation, awarded our college B++ grade. Also, IIMC has been consistently ranked among best Commerce colleges in Hyderabad. Our college bagged 2nd rank among Best Commerce colleges in Hyderabad and 40th at the national level by the acclaimed India Today group in 2016.
IIMC has inspired students to discover new opportunities, new challenges and new strengths through holistic education. The primary goal is to provide high quality education through various academic programs that transform students into socially committed citizens. At our college, we believe that each student is special and has the potential to excel in myriad ways. IIMC is ideally located in heart of the city with easy bus access for students from all four directions. Can you brief our readers its USP and infrastructure IIMC is having its own campus built in nearly half-acre of land.
The institution consists of spacious, ventilated class rooms, well equipped computer lab, a unique commerce lab, a management lab, an air-Conditioned auditorium, seminar hall, games and sports room among other things. The commerce lab is undoubtedly first of its kind and pioneering venture and was appreciated by one and all. In commerce lab students practice their theoretical knowledge gained in the classroom. With this method of learning and practicing, candidates will develop self-confidence of running a business profitably and understand the practical difficulties. Also it acquaints students about cheque endorsements, bank slips, documentation of business correspondence, company logos and profile of industrialists, entrepreneurs etc creating a real time exposure. The lab has 26 computers.
Is it true that college motivates student toppers with scholarships through the entire duration of the course?
vasavisevakendram, the parent body has resolved to reward scholarships to the toppers in each course in University examinations. Gold medals and Rs 1,116 cash prize is given to toppers of all courses offered by the college. Academic toppers are awarded with cash prizes for their performance in the in-house examinations. Also, attendance toppers, who attend classes without fail all through the year, are also awarded cash prizes. These generous gestures have increase responsibility of our staff in maintaining excellent standards of teaching and disseminated knowledge, so as to encourage the student community and enthuse them with quality education.
How is the campus placement scenario in this college?
Every year nearly 500 students graduate out of our college. Out of this, 50 percentages of students get placed in campus recruitment drives while the remaining 50 percent opt for PG and Chartered Accountant studies. Some of our students got admissions in noted Business schools such as IIMS, IRMA, XLRI and several students have successfully completed CA, ICWA and ACS. This being a reputed college for commerce and management streams in Hyderabad, many top companies made it a point to conduct placement drives every year.
Can you give names of some companies? Also, what is the pay package offered to students?
Amazon, Infosys, Cognizant, Deloitte, Dell, Wipro, HSBC, Genpact, Axis Bank, Godrej, L & T Constructions, Karvy, ADP are some of the firms that recruited our college students. We ensure that a right students gets a right job at a right corporate with a right salary and this is our placement motto. The average pay package ranges from Rs 25,000 to 30,000 per month.
Can you share information about your faculty?
Our faculty strength is 55. We have six senior staff members who earlier served as Principals of reputed colleges which include P Venkateshwar Rao, Rajeshwar, B Amareshwar Rao, Ramesh Kumar Jadhav, V V Ramana Murthy. Ours is one of the only few colleges that give bonus (one or two months) and increment every year in June. Also, we offer health insurance of Rs 2 lakh per year to every staff member and the premium is borne by college management totally. Irrespective of summer vacation when no academic classes are held, Vasavi offers salary to staff 12 months of a year. Also, we bear education fee of children of our staff, with Rs 20,000 to 40,000 given every year depending upon the number of children in each family. Our Vice-principal M Satyasudha is an alumnus of this college. She did her PG (M.Com) from this college (2001-2003 batches) and later joined the college as faculty. She has been elevated to the post of vice-president and has been holding the post for last four years.
Any expansion plans for IIMC?
We are scouting for a convenient location to establish another campus. At present college offers PG study in M.Com. We want to add M.B.A to this list
Subscribed Failed...
Subscribed Successfully...