Work on cable bridge at fast pace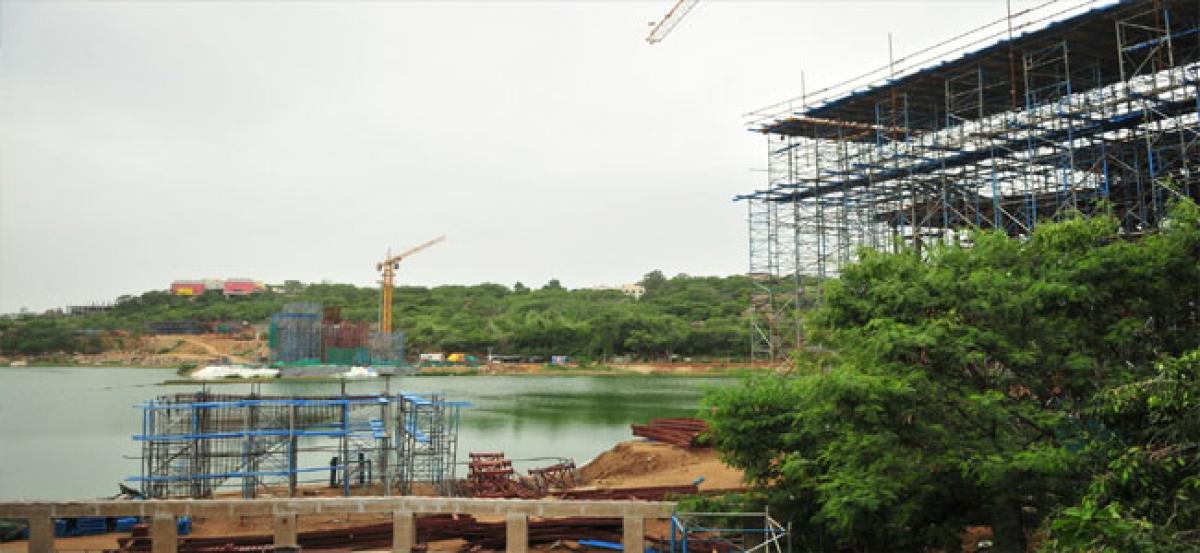 Highlights
Work on the cable bridge that is being constructed across the Durgam tank with an estimation of Rs 184 cr is moving at brisk pace and is touted as a major attraction The 75488long bridge will become the longest in the country Presently, a 144metrelong bridge in Baruch district of Gujarat is the longest one Cables using for this bridge are imported from Australia
Madhapur: Work on the cable bridge that is being constructed across the Durgam tank with an estimation of Rs 184 cr is moving at brisk pace and is touted as a major attraction. The 754.88-long bridge will become the longest in the country. Presently, a 144-metre-long bridge in Baruch district of Gujarat is the longest one. Cables using for this bridge are imported from Australia. The hanging and oscillating bridge will become a landmark in the city. The distance will come down for the vehicles coming from Jubilee Hills to Mind Space Junction and towards Gachibowli.
Once the bridge is completed, it is expected to reduce traffic and the construction is going to be completed by March, 2019 say officials. Manohar Iswardas, an IT employee says, "The traffic congestion will be eased and it will be a great relief for the people." In the last few years, Durgam Cheruvu has been in the news for all the wrong reasons. Once a beautiful lake, it has deteriorated due to neglect. This tank once served for irrigation purpose amid lush green fields has lost its sheen during rapid development of the suburb. Residential and commercial townships have come up around the tank and the sewerage water flew into the tank, which eventually polluted the tank.
With the government and private organisations jointly striving for facelift of the tank, the lake now would be saved for posterity. The state government decided to beautify the tank now. The 68-acre tank will be developed by Raheja group under its corporate social responsibility. Works of first phase already started with Rs 10 crore. New pipelines have been laid to avoid sewerage water mixing into tank water. Hyacinth and other weeds were removed to checkthe stinking.
A walking track and a special cycle lane, beautification of main entrances, children play area, yoga corners were constructed. The surroundings have been decorated with colourful flowers and green plants to attract visitors. As the works are fast completing, the redesigned tank and walking track will be opened soon.
BY U Vishwanath