Defunct signals triggering traffic jams at Kukatpally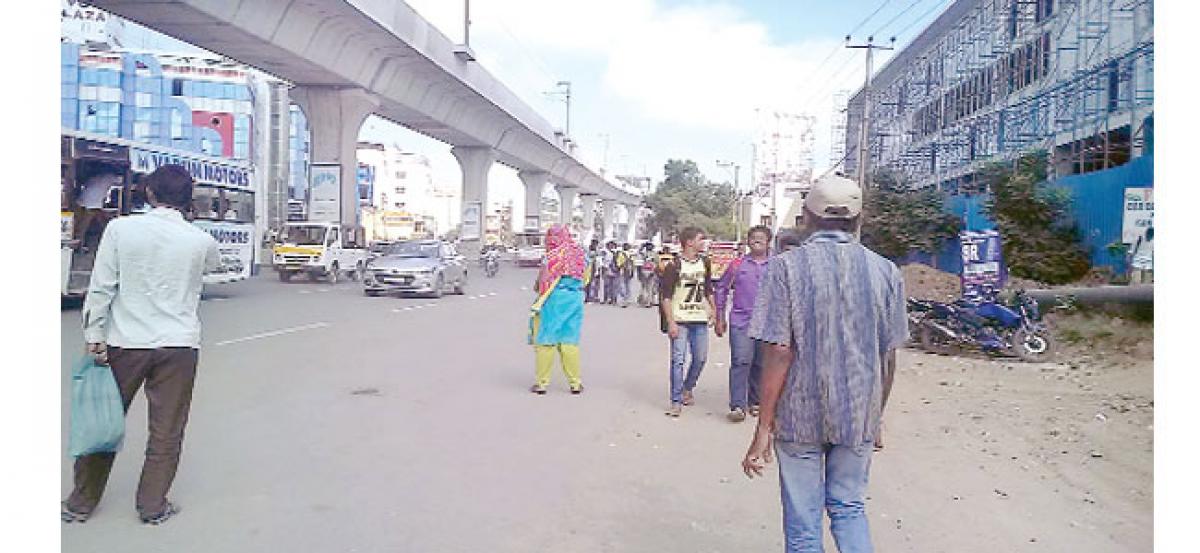 Highlights
Traffic congestion is a serious concern in Kuktapally With no other option, pedestrians walk on the road and at times end up in the middle of the road
Kukatpally: Traffic congestion is a serious concern in Kuktapally. With no other option, pedestrians walk on the road and at times end up in the middle of the road. On both sides of the road from Kukatpally to Chandanagar there are many shopping malls, restaurants, shops and stores. Shoppers end up fighting with other commuters as they jostle for space.
Added to the problem is the metro rail's equipment and the lack of parking space is adding to the woes. There are no footpaths, this the basic need and a huge city that aims to become a global city cannot ignore such a fundamental issue, says Arvind, a software engineer. Morning to night 10:00 clock lot of traffic jams stretch from Eragadda to KPHB Colony metro station. Heavy vehicles like buses and lorries ply during night hours is been a serious concern at Kukatpally stretch.
Dr Prashanth Reddy who runs a clinic in Chandanagar and who take the Kukatpally road every day said, "The road is busy during peak hours, and because of the heavy transport vehicles there is a huge traffic jam. Moreover, due to the less traffic signals more and more traffic jam is been seen from Erragadda to KPHB Colony road, Kukatpally. It takes nearly 50 minutes from Moosapet Y – junction to reach KPHB Colony.
This is routine issue is this route Prashath Reddy adds. A resident of Vivekananda Nagar Colony said, "There are no footpaths and foot over bridges from Balanagar to Kukatplly pedestrians and residents can't be able to walk because of the traffic jam and also cant cross the road, if we have to cross the road we have to search for the signal placed under the metro station their we need to go wait for the traffic to stop and then we cross the road. Moreover some people run in the middle of the road to go other side of the road.
Cyberabad traffic police Inspector said, "SHO (Station House Officer) Kukatpally have been informed immediately to take necessary action. Action taken will be intimated." Issue has been noted, we will collaborate with GHMC to complete the pending work ASAP.
BY Mohammed Hussain
Interested in blogging for thehansindia.com? We will be happy to have you on board as a blogger.