Knife turns into weapon of choice in Palestinian unrest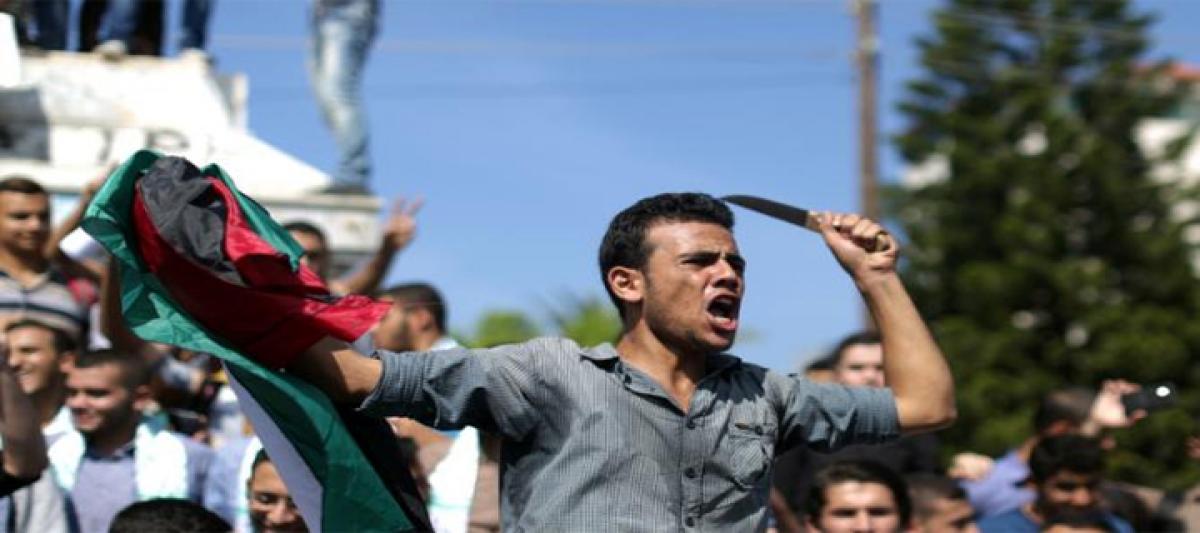 Highlights
A knife concealed in a bag or a shirt has become the weapon of choice and symbol of the Palestinian conflict with Israel, with 19 stabbings targeting Jews since October 3.
ADVERTISEMENT
A knife concealed in a bag or a shirt has become the weapon of choice and symbol of the Palestinian conflict with Israel, with 19 stabbings targeting Jews since October 3.
The attacks have killed two Israelis and wounded more than 20 others, including a 13-year-old who was critically injured on Monday, and have had a powerful psychological impact.
"Knife terror will not defeat us," Prime Minister Benjamin Netanyahu pledged in a speech before the Israeli parliament on Monday.
Images of knives, whether ordinary kitchen utensils or hefty combat weapons with serrated blades -- and on occasion screwdrivers and a potato peeler -- have for the past 10 days flooded Israeli and Palestinian social networks and news media.
Witnesses to the incidents have been quick to snap the scenes, and sometimes the bloodied weapons, and police have supplied images to mainstream news organisations.
"It's an everyday object that everyone has at home or can readily obtain, which needs no training and is easily concealed," said psychologist Shaul Kimhi.
"A knife attack is not primarily intended to kill but to spread fear and it achieves that goal," he added. "Israelis feel fear disproportionate to the threat."
The multiple attacks with knives or similar implements have been perpetrated by Palestinians and allegedly an Israeli Arab who denies the charge.
With Israeli death toll is far lower than that of the bomb attacks of the last intifada, or Palestinian uprising, of 2000-2005.
Ten alleged perpetrators have been killed and several wounded.
One of the Palestinians shot in Jerusalem on Monday was just 13.
Israelis are well versed in developing technological responses to threats, such as the vaunted Iron Dome anti-missile system.
But they are challenged by the current wave of low-tech attacks.
"We are dealing with individuals who are using the most basic weapons of terror that exist and we cannot hunt down knives," a former military intelligence colonel, Miri Eisin, told AFP.
Israeli television has broadcast self-defence experts demonstrating their techniques.
"The most important thing is to create a sterile zone keeping the knife as far as possible from your body," said one, as he twisted the arm of an assailant in a simulated attack.
The national emergency services released an instructional video showing first aid procedures, reminding viewers not to remove a knife embedded in the body, for fear of aggravating the victim's bleeding.
Palestinian social networks are abuzz with talk of the "intifada of the knives", while Gaza's Hamas leader Ismail Haniya has praised "the knife heroes".
Use of the knife has come to epitomise the desperation of Palestinian youth who have lost faith in their leaders.
On his Facebook page Mohammad Halabi, 19, said he was prepared to die in the name of a new intifada before stabbing to death two Israelis in the Old City of Jerusalem and being shot dead himself.
"Hey, occupiers! With a knife there's no air raid siren to warn you," one anonymous commentator wrote on the Palestinian blogosphere.
Israelis too use black humour. One shows a man in home-made body armour calling to his wife from the doorstep.
"Honey, I'll just put out the rubbish and I'll be right back!"
However Israelis in Tel Aviv were taken aback last week by the sight of a three-metre (10-foot) long kitchen knife plunging into a giant tomato on the flatbed of a truck.
Besieged by complaints, a local distributor of chefs' knives withdrew the display, apologising for any offence and over the bad timing.