Social media's unexpected role in Turkey coup attempt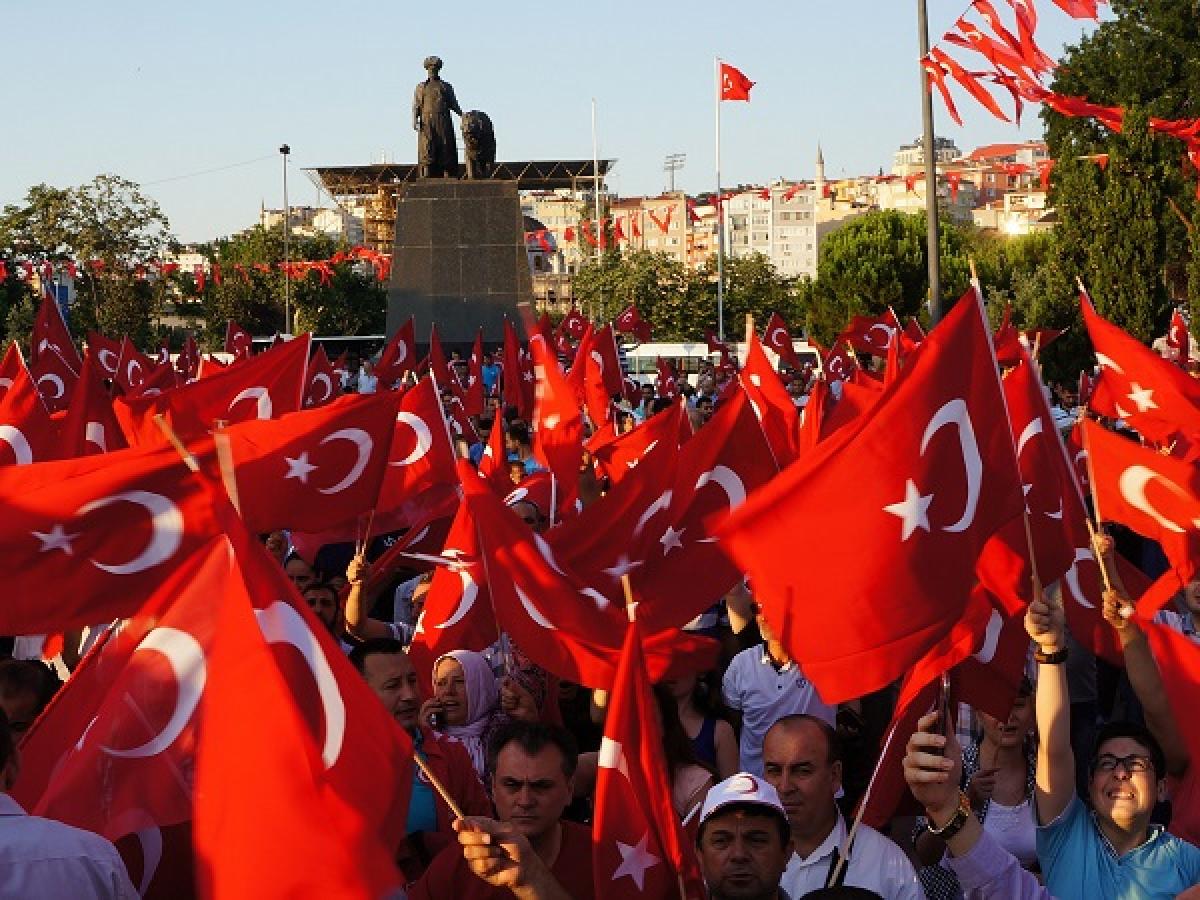 Highlights
Turkey encountered a coup attempt on Friday. The first sign of this ugly attempt was that the Gendarme forces blocked two of Istanbul's bridges by military tanks and trucks
Turkey encountered a coup attempt on Friday. The first sign of this ugly attempt was that the Gendarme forces blocked two of Istanbul's bridges by military tanks and trucks. Simultaneously, low attitude jet flights were observed in the skies of Ankara. Subsequently, MIT (National Intelligence Organization of Turkey) headquarters and TSK (Turkish Armed Forces) were assaulted and Istanbul Ataturk Airport entrances were blocked by the armored vehicles. Nobody could tell exactly what it really was until the announcement by Prime Minister Yildirim on TV. He called these latest series of events "an attempt", that has been carried out by a minority group embedded in the military.
President Erdogan made his first address via FaceTime
The Chief Commander of TSK was taken hostage by the plotters and the National Assembly building was bombed couple of times via jets while around 150 MPs from various political parties including the President of the Assembly were inside. While events were unfolding with an increasing pace, President Erdogan managed to contact CNN Turk, which is generally known as an anti-government TV channel at midnight and made his first address to people through FaceTime and people flooded onto the streets according to his call despite the curfew declaration of the junta. President Erdogan also tweeted: "I call our nation to the airports and the squares to take ownership of our democracy and our national will". He retweeted posts from state's official twitter accounts, as well. Our virtuous people did not return to their homes until the next afternoon. Their aim was not only to protest but to give a helping hand to our brave police officers and patriotic soldiers to thwart this attempt. That night all the Turkish citizens, regardless of their ethnicities, came together as one and prevented the coup plotters from succeeding. We can comfortably say that it was our bold people who put their lives at risk and foiled this attempt and turned this night into a feast of democracy as mentioned by our Prime Minister Yildirim.
How social media stood against the coup
Even though there was a two-hour-long blockage in social media accounts, the total tweets posted on July 16 were 18 million 666 thousand, more than triple an ordinary day. Social media played a major role in foiling this attempt. It was easier for people to be informed of the spots where the plotters were and where to head to help people in places where coup forces gathered. When TRT (Turkish state official TV channel) and CNN Turk were occupied by the plotters, people were informed of the situation via social media and they quickly took action to help those in need.
Another thing worth mentioning is that people acted as one body to protect our state despite having different political views. They were present whenever and wherever they were needed. Through Periscope and Facebook Live, people as well as media organizations were able to lively stream the situation in the streets and therefore supplied accurate information to the public instantaneously. As a gift from Turk Telekom (Turkish cellphone provider), extra data allowances were provided in the morning for every subscriber.
We are not the only ones to admit the positive impact of social media on crushing the coup attempt in Turkey. Andrew Selepak, director of the social media master's program at the University of Florida, said, "Twitter and social media may have prevented the coup from taking place". Identically, former FBI assistant director Chris Swecker accepted the social media's role and stated,"Twitter and the like enabled he [Erdogan] and his followers [military included] to counter-punch and react effectively".
Disinformation was again on the agenda of the provocateurs
When actions last longer than expected, people become more prone to provocations and social media seems the easiest way to manage such incidents. Regrettably, disinformation in social media was one of the primary factors that instigated the clashes during the Gezi Park protests three years ago. Similarly, on July 16, next morning of the attempted coup, many fabricated information were shared in social media again to stir up public, just like during the Gezi Park protests. This was indeed a night never to be forgotten with undesirable scenes and clashes against the plotters targeting the civilians. Our people should have been on alert given the experience they had during Gezi Park protests. To name a few fabricated posts, photos from coup attempts from previous years from other countries were plagiarized and shown as if the incidents took place in Turkey on July 15. A photo of a private whose throat was slit was spread all over the social media but soon after it was realized that the very same person was well and alive and that the photo was taken from a military accident in 2006. Social media allowed people to discern the truth from all the lies and propaganda.
Victory of Turkish people against the plotters
We once again witnessed the crucial influence of modern technology when used in a positive fashion. Decades ago people would not have been aware of the events unfolding during such attempts. I can tell this from a country who has undergone many coups and coup attempts in history. Now through the help of social media people were very conscious of events going on around them and they knew how to share what they heard and saw. The increase in the use of social media and communicating through it will intimidate those who have ill plans for future attempts. We once again experienced that democracy won. Politicians, party leaders, NGOs and ordinary citizens were shoulder to shoulder regardless of their worldviews. Everyone should realize that we are a country integrated with brave and daring soldiers, a fearless nation and honorable police officers. We will never let any evil-minded circles take away the democracy we enjoy in our beautiful land.
By Harun Yahya
The writer has authored more than 300 books translated in 73 languages on politics, religion and science. He may be followed at @Harun_Yahya and www.harunyahya.com