Afghan training goes back to basics as Trump faces U.S. troop decision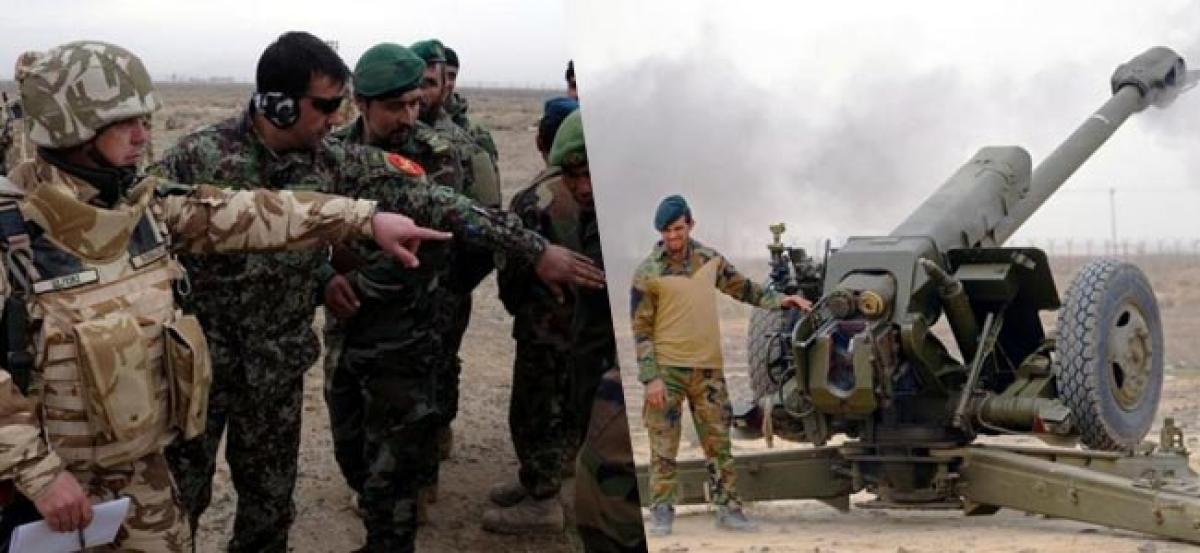 Highlights
At a recent, at times chaotic live-fire exercise near NATO\'s military base in Kandahar, Romanian army Master Sergeant Liviv Sandulache\'s advice to the assembled Afghan officers was simple: \"I don\'t want anybody to do any job without your command.\"
KANDAHAR AIRFIELD, AFGHANISTAN: At a recent, at times chaotic live-fire exercise near NATO's military base in Kandahar, Romanian army Master Sergeant Liviv Sandulache's advice to the assembled Afghan officers was simple: "I don't want anybody to do any job without your command."
He and a growing number of NATO military advisers have begun spending more time in the field, hoping that grass-roots training will help Afghanistan's armed forces more effectively combat a Taliban insurgency that has gained in strength.
The return to lower-level engagement, after nearly two years during which the emphasis was on backroom operations like budgets, logistics and administration, could lead to an expanded training mission that top NATO commanders in Afghanistan are calling for.
That is one of the choices facing U.S. President Donald Trump, as he considers whether to send more American soldiers to Afghanistan, keep levels as they are or withdraw further from a conflict that is in its 16th year with no end in sight.
In the southern Afghan city of Kandahar, amid the wind, smoke and dust of the training area, troops from Romania and the United States teach Afghan officers to better lead and train their own men.
Their work reflects a desire by General John Nicholson, U.S. commander of NATO forces in Afghanistan, to get back to basics such as coordinating artillery and air support and clearing roadside bombs.
That broader training authority was approved last summer, but with Afghan troops engaged in an increasingly deadly war through 2016, the winter lull in fighting has allowed for a concerted effort to refit and retrain Afghan security forces.
"The further down you can reach the better," U.S. Army Captain Everett Heiney, an adviser in Kandahar, said of the strategy to have advisers return to lower-level Afghan units.
RISING LOSSES
Advisers in Heiney's unit say their numbers are scheduled to rise from about 40 to around 100, and they hope to expand their programmes to include a wider range of military skills.
While most international soldiers in Kandahar declined to comment on deliberations going on at a political level, they praised the strategy to return to places they had left when NATO declared its combat mission over at the end of 2014.
"You can always use more advisers to push down to the lower levels because ... it's good if there are more people doing training, more people at each brigade able to be with the units on a regular basis," Heiney told Reuters.
He oversees a programme in Kandahar aimed at helping the Afghans master "fires", or using artillery or warplanes to support ground troops.
He has accompanied Afghan soldiers into combat to observe how they use their artillery, including Soviet-era D-30 122-mm Howitzer guns that are a ubiquitous presence on battlefields here but which could be used more effectively.
The Afghan soldiers on the exercise rapidly fired half a dozen rounds, making slight adjustments to hit their target far down range.
More NATO advisers are needed to professionalize the Afghan army, said Abdul Rahim, a deputy commander in the Afghan army's 205th Corps artillery unit.
"After receiving the training, whenever our troops carry out operations it will help them eliminate enemies and stabilize Afghanistan," he said.
That is no small task.
American military officials estimate the government controls less than 60 percent of Afghan territory.
Local security forces also sustained heavy casualties, with at least 6,785 soldiers and police killed in the first 10 months of last year and 11,777 wounded, a U.S. government watchdog reported.
STOP THE ROT
Abandoning initial intentions to completely withdraw from Afghanistan, NATO leaders last year approved a plan that has kept more than 13,000 international troops there.
Just over half of those are American, and a separate, much smaller U.S. force is engaged in counter-terrorism operations.
In recent testimony to the U.S. Congress, Nicholson said "a few thousand" more advisers were needed, largely to expand his programme of providing more tactical training to more units.
An annual NATO review last year determined "there is a requirement for additional NATO or partner nation troops" to support the train, advise, and assist mission, said coalition spokesman Brigadier General Charles Cleveland.
But NATO officials are still working to determine how those needs will be met, he added.
In a meeting on the sidelines of the Munich Security Conference on Saturday, U.S. Vice President Mike Pence told Afghan President Ashraf Ghani the White House was assessing plans to send more U.S. troops, according to a statement from Ghani's office.
Critics said the current troop-level limits, imposed under former U.S. President Barack Obama, were arbitrary and did not recognize the dangerous situation on the ground.
Suggestions that more troops may be needed, however, have also raised concerns that the United States and its coalition allies could be sucked back into the war.
While more advisers are unlikely to mean outright victory for Afghan forces, the key is to enable the government to enter any peace process from a position of strength, said Christopher Kolenda, a former U.S. Army officer who served in Afghanistan and worked on American military strategies for the conflict.
"Will a few thousand troops at the brigade level defeat the Taliban? No. But it can be part of a better strategy to stabilize the battlefield so that the Afghan government stops losing territory."