New York attorney general bids to become Trump's No 1 enemy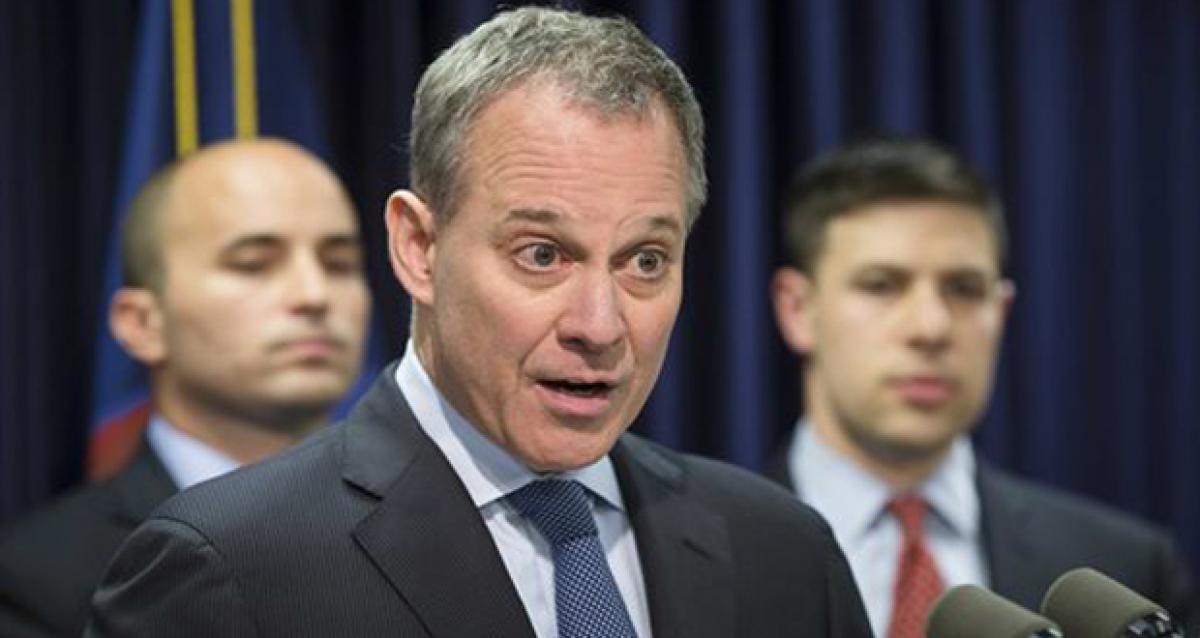 Highlights
 More than most, Eric Schneiderman understands the risks of taking on Donald Trump.New York\'s attorney general was a target of Trump\'s Twitter feed years before the president\'s assaults on \"Little Marco\" Rubio or \"Lyin\' Ted\" Cruz.
More than most, Eric Schneiderman understands the risks of taking on Donald Trump.New York's attorney general was a target of Trump's Twitter feed years before the president's assaults on "Little Marco" Rubio or "Lyin' Ted" Cruz.
He was once depicted as a deranged Clockwork Orange character on the cover of a newspaper owned by Trump's son-in-law. And he faced intense anti-Semitic attacks from Trump loyalists on social media that continue even today.
"It's really vile stuff. It's a picture of your face going into a gas chamber, your face on a lampshade," Schneiderman told The Associated Press in an interview, acknowledging a new rash of anti-Semitism in recent weeks as he fought the new president's travel ban. Even his daughter was targeted in one social media post.
"If there's something that they take seriously as a threat, they tell me. I don't pay attention to it," Schneiderman said. He later added, "I have a responsibility to fight."
Indeed, this 62-year-old Democrat with little national profile is maneuvering to be a key player in the broader Trump resistance. Backed by one of the nation's largest public law firms, he is positioned to challenge Trump's agenda in ways his Democratic allies in Washington cannot - even as critics question whether he has the fortitude to effectively challenge the brash billionaire's aggressive agenda.
Trump called Schneiderman a "lightweight" on Twitter back in 2013 when the attorney general was investigating Trump University.
Schneiderman is quick to point out that he has already beaten Trump.
The ambitious attorney led a lawsuit against Trump University alleging fraud, ultimately helping to secure a $25 million settlement after the election. Trump had vowed never to settle.
Schneiderman also investigated Trump's family foundation, and he played a role recently in organizing legal opposition by Democratic attorneys general to Trump's travel ban.
"Eric, who leads a very large public law firm, he brings significant resources to bear," said Washington state Attorney General Bob Ferguson.
But others note he has struggled to build the same national profile as recent New York attorneys general like Eliot Spitzer and Andrew Cuomo, both hard-charging Democrats who took on Wall Street and eventually became governor.
Schneiderman insists he's planning to run for re-election in 2018, dismissing speculation he may run challenge Cuomo instead. He has more than $6 million in his campaign account, a haul dwarfed by Cuomo's $22 million.
In the meantime, Schneiderman and his legal team of nearly 700 attorneys are focused on the Republican president. Targeting the new administration is also good politics in a state Trump lost by 22 percentage points.
"All these things Trump is trying to do are very unpopular in the state of New York," New York Democratic consultant Bruce Gyory said.
Beyond immigration, Schneiderman's team is preparing to challenge the White House on the environment, civil rights, women's health care, labor rules and consumer protection, among other issues.
Schneiderman said it's nothing personal.
"No matter how rich or powerful you are, if you're hurting people of the state of New York, we will go after you," he said. "I'm concerned about real harm to real people."
The New York City native's path to politics began in a Washington, D.C., abortion clinic more than four decades ago.
At age 17, he said, he helped transport women from the airport to the clinic in one of the few cities where abortion was legal in the early 1970s.
He was drawn to public service years later while working pro bono cases for his corporate law firm. He won a state Senate seat representing a Manhattan district in 1998, becoming attorney general in 2010.
In style perhaps more than substance, the silver-haired Schneiderman doesn't match the profile of some of New York's more street-hardened politicians. He loves yoga, jazz and history. He still lives in the same neighborhood in Manhattan's Upper West Side where he grew up as the only child of philanthropist parents.
The profile may limit his appeal in blue-collar America, but he was celebrated by New York City's tech community during a recent reception in the West Village's posh Hotel Jane. At an event catered by a company that hires only refugees, Schneiderman reminded the packed hotel lounge that New York has been a city of immigrants dating back to the 1600s.
Trump's immigration order, he told the fresh-faced tech executives, would "shut down this flow of ideas and energy and human spirit that is so vibrant in our city. To me that's not just unconstitutional, which it is, it's un-American."
After the remarks, some in the audience said they didn't know enough about Schneiderman to comment on his political standing. But Ed Zimmerman, who leads a tech group at a local law firm, praised the attorney general for taking on the president despite the risks.
"He's Trump's No. 1 enemy," Zimmerman said.