Blizzard Blankets Northeast US With Late-Season Snow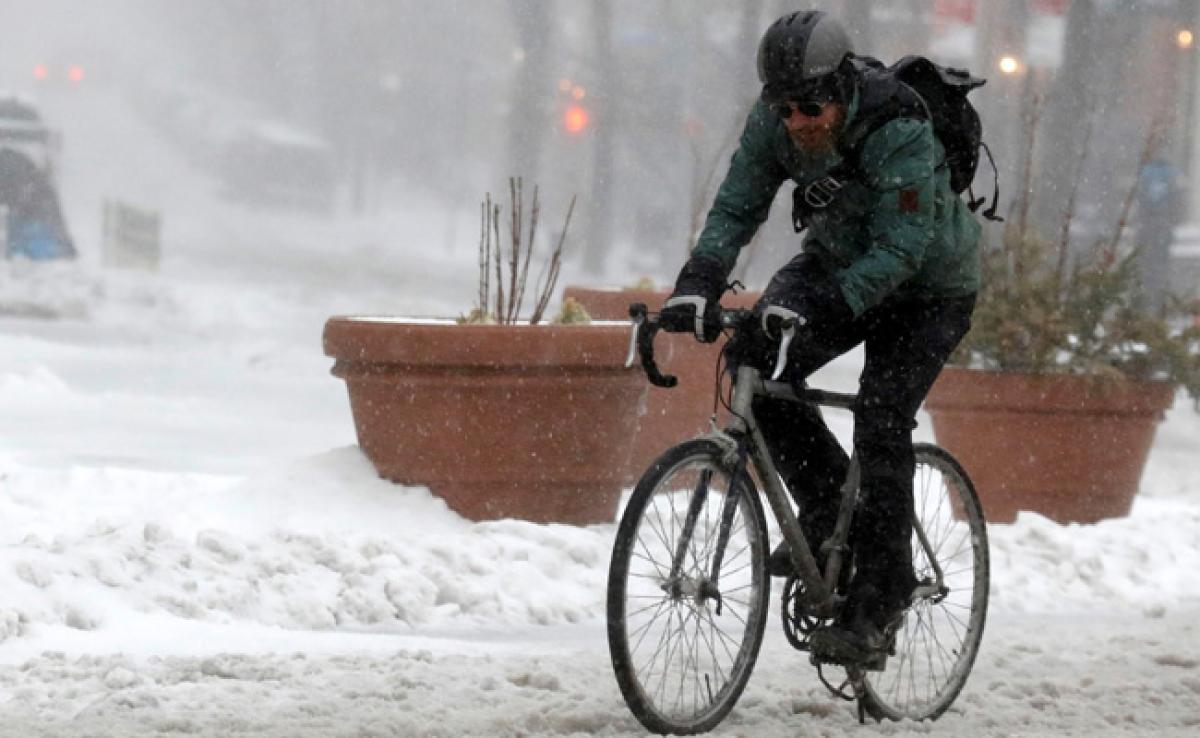 Highlights
A blizzard swept through the heavily populated northeastern United States on Tuesday, grounding thousands of flights, cancelling classes and pummelling those who ventured out onto snow-bound streets.
A blizzard swept through the heavily populated northeastern United States on Tuesday, grounding thousands of flights, cancelling classes and pummelling those who ventured out onto snow-bound streets.
Some 50 million people from Pennsylvania to Maine faced a "rapidly intensifying nor'easter" over the course of the day that was unusual for striking so late in the winter, according to the National Weather Service (NWS). Many heeded official advice to stay home.
The storm left Washington's celebrated cherry trees, a tourist attraction and an early herald of spring, encased in ice.
The NWS sharply dialled back forecasts for some areas, notably New York City, where residents had been warned to steel themselves for potentially record-breaking snow.
By afternoon, as snow turned to dwindling sleet, city officials were anticipating that Wednesday's morning rush hour would be largely back to normal and that schools would reopen. Connecticut officials said roads there would reopen to general traffic as early as 5 p.m. on Tuesday.
Still, some in the region could expect up to 2 feet (60 cm) of snow by early Wednesday, the weather service predicted, with the worst blizzard conditions forecast for parts of New England.
Governors in New York, New Jersey, Pennsylvania and Virginia earlier declared states of emergency. Above-ground parts of New York City's subway service were suspended, and Metro-North commuter service to the suburbs shut down at noon. Train services to Boston and Albany were also suspended.
"Mother Nature is an unpredictable lady sometimes," the state's governor, Andrew Cuomo, said at a news conference. "She was unpredictable today." While New York City got less snow than expected, areas upstate were already buried in more than was forecast, he said, and up to 30 inches was still expected in central parts of the state.
Still, life was disrupted for many in New York City, although children and dogs found even a few inches of snow sufficient for play.
"It's a ghost town," Ali Naji, 33, said as he sat listening to Mexican pop music amid the emptiness of his usually bustling convenience store in Brooklyn's Fort Greene neighbourhood.
In Brooklyn's Bedford-Stuyvesant neighbourhood, Octavia Chavez-Richmond emerged from a subway station in the early afternoon after travelling from Providence, Rhode Island. The young actress came to the city to star in a low-budget movie.
"Filming is tomorrow so they didn't officially tell me whether it's still happening," she said, "so I just came anyway and we'll see."
Air Traffic Snarled
Airlines cancelled more than 6,000 flights across the United States, according to tracking service FlightAware.com.
American Airlines cancelled all flights into New York's three airports - Newark, LaGuardia and John F. Kennedy International Airport - and JetBlue Airways reported extensive cancellations.
Delta Air Lines cancelled 800 flights for Tuesday for New York, Boston and other northeast airports. United Airlines said it would have no operations at Newark or LaGuardia.
New York City public schools - the largest U.S. school system - cancelled classes on Tuesday as did schools in the Washington, D.C., area, Boston, Philadelphia and northern New Jersey. Electricity companies worked to restore power to tens of thousands of homes and businesses cut off by the storm.
In Washington, federal agencies opened three hours later than normal.
At the open-sided Thomas Jefferson Memorial, the ice-slick marble floor served as a skating rink for some of the 71 eighth graders visiting from St. Mary's Academy in Englewood, Colorado.
Math teacher Michael Pattison, 65, ticked off all the monuments and museums the students would see that day.
"This weather is not going to stop us," he said, clapping his gloved hands.
"No, it's not," a couple of students shouted back.
The storm comes near the end of an unusually mild winter along much of the East Coast, with below-normal snowfalls.
In Boston, Kelley Peace, a 26-year-old dog walker, was out with three of her charges in the Beacon Hill neighbourhood, where residents braced for up to a foot of snow.
"The dogs are more hyper in this weather," she said. "They want to play. Especially the big dogs. The only thing is the salt. It burns their paws. So I put booties on them."