ISIS claims British Parliament attack; 8 arrested in raids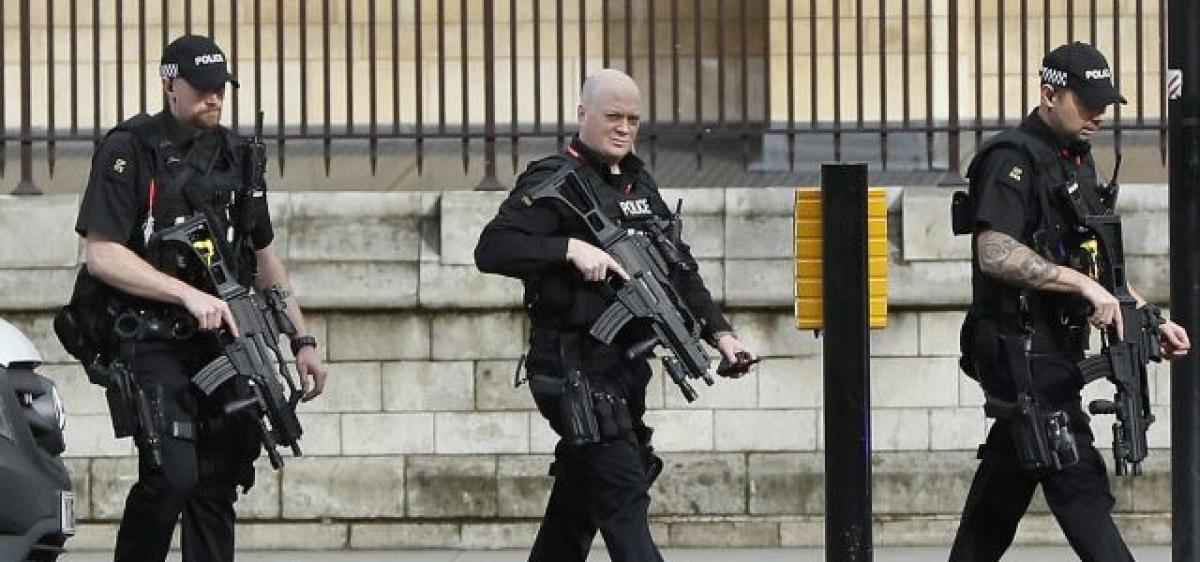 Highlights
The Islamic State on Thursday claimed responsibility for a brazen terror attack on UK Parliament that killed four persons, including the British-born attacker who was known to British secret services, even as eight persons were arrested in raids across London and Birmingham. 
​London: The Islamic State on Thursday claimed responsibility for a brazen terror attack on UK Parliament that killed four persons, including the British-born attacker who was known to British secret services, even as eight persons were arrested in raids across London and Birmingham.
Three persons were killed and 40 injured when the 52-year old attacker, identified as Khalid Masood, on Wednesday mowed down pedestrians on a bridge and stabbed to death a police officer outside parliament complex in the heart of Westminster before being shot dead by Scotland Yard.
Masood, who was born in Kent and had previously been convicted of violent offences, had been known to MI5 but was considered to be a peripheral figure.
He was known by a number of aliases and had been living in the West Midlands recently. Prime Minister Theresa May said the attacker was British born and he was once investigated in relation to concerns about violent extremism few years ago.
"We are not afraid...An act of terrorism tried to silence our democracy, but today we meet as normal," May told sombre-looking lawmakers in the packed House of Commons which reopened on Thursday with a minute's silence a day after the attack.
"It is still believed that this attacker acted alone, and the police have no reason to believe there are imminent further attacks on the public. His identity is known to the police and MI5, and when operational considerations allow, he will be publicly identified. Our working assumption is that the attacker was inspired by Islamist ideology," May said.
Soon after her speech, the ISIS on its propaganda news agency 'Amaq' claimed responsibility, saying a "Soldier of the Caliphate" carried out the attack on the British Parliament. "The operation was carried out in response to calls to target coalition countries," it said in a statement.
Police said Masood had previous convictions for a number of violent offences. He was arrested in the past for causing grievous bodily harm, but not in relation to terror charges. His first conviction was in 1983 for criminal damage and his last conviction was in December 2003 for possession of a knife, Metropolitan Police said.
"Masood was not the subject of any current investigations and there was no prior intelligence about his intent to mount a terrorist attack. However, he was known to police and has a range of previous convictions for assaults, including GBH, possession of offensive weapons and public order offences," a Scotland Yard statement said.
In her speech, Prime Minister May said that eight people have been arrested during raids across London and Birmingham following the attack on the Palace of Westminster in London, which houses Britain's Parliament and the iconic Big Ben. In a message to the police, British Queen Elizabeth II said, "My thoughts, prayers and deepest sympathy are with all those who have been affected by yesterday's awful violence."
May said the threat level to the UK has been set at 'severe' – meaning an attack is highly likely – for some time. This is the second highest threat level. The highest level 'critical' means there is specific intelligence that an attack is imminent.
Giving details known about the attack, May said a single attacker drove his vehicle at speed into innocent pedestrians who were crossing Westminster Bridge, killing two people and injuring around 40 more, of which 29 were hospitalised.
The attacker then left the vehicle and approached a police officer at Carriage Gates of Parliament, attacking him with a large knife, before he was shot dead by an officer. In addition to 12 Britons admitted to hospital, the injured include three French children, two Romanians, four South Koreans, one German, one Pole, one Irish, one Chinese, one Italian, one American and two Greeks.
"There was no prior intelligence of attacker's intent – or of the plot. Intensive investigations continue," May said. She also paid tribute to the security services and the police officer who lost his life in the attack. "Yesterday we saw the worst of humanity, but we will remember the best. We will remember the extraordinary efforts to save the life of Police Constable Keith Palmer. He was every inch a hero," she said.
Scotland Yard Acting Deputy Commissioner and Head of Counter Terrorism Mark Rowley said the investigation was at a critical stage and the identity of the attacker was not being released as the ongoing investigation tries to piece together the suspect's "motivations, his preparation and associates".
He urged the public to use their instincts and report anything suspicious, saying the Met Police will be working round the clock and all annual leave has been cancelled. "We must not allow terrorists to create discord, distrust and fear. The police stand with all communities," Rowley said.
Overnight, West Midland Police officers stormed a second-floor flat in the city believed to be the residence of the knife-wielding attacker and led away people in handcuffs. It has also emerged that the car used in the attack was reportedly hired from Solihull area of Birmingham.
The flag at New Scotland Yard premises in London is flying at half-mast following the attack, which claimed the life of one of their officers who was on guard at Parliament.
Mayor of London Sadiq Khan on Thursday invited all Londoners and visitors to the capital to a candlelit vigil in Trafalgar Square to show solidarity with the victims of the attack.