Washington girl, 8, goes in for fourth open-heart surgery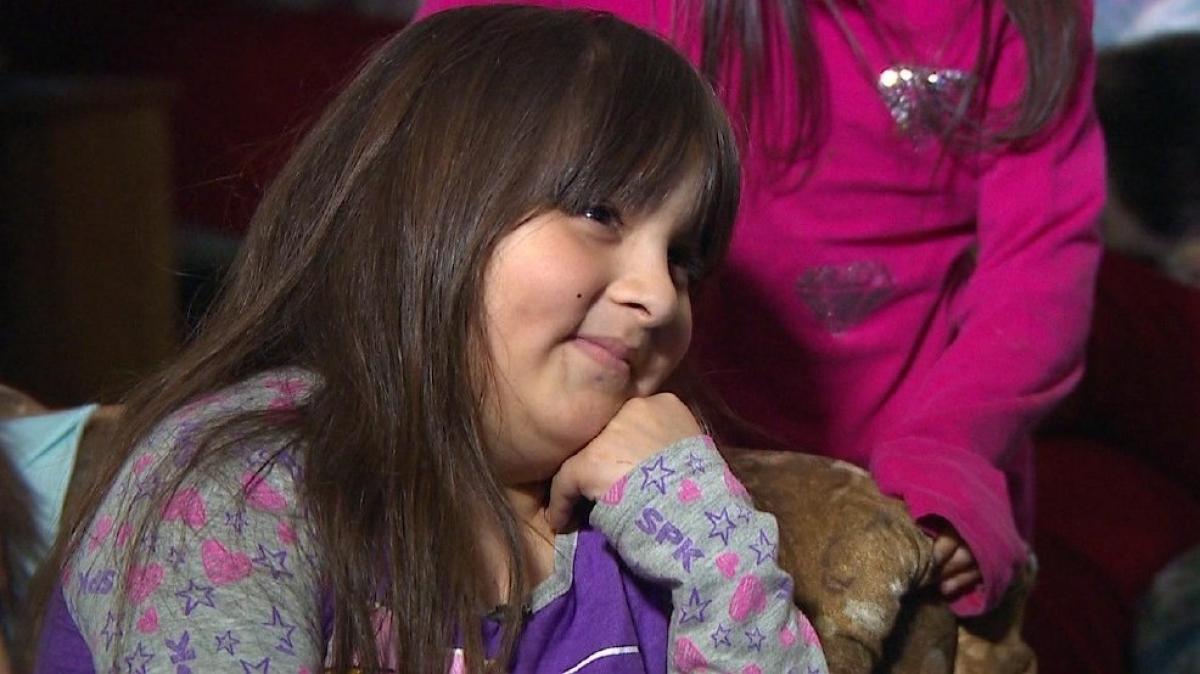 Highlights
 Khia Romo is like any other 8-year-old girl in Longview, Washington. She likes to play outside, spends time with friends and attends school. But, she\'s undergoing her fourth open-heart surgery at the beginning of April. It will be her 18th surgery overall.
Khia Romo is like any other 8-year-old girl in Longview, Washington. She likes to play outside, spends time with friends and attends school. But, she's undergoing her fourth open-heart surgery at the beginning of April. It will be her 18th surgery overall.
"I don't want to see her go through it, but at the same time I want it to be over with and done so she can be back at home and get on with her life and enjoy herself," said Mike Romo, Khia's father.
Khia was born with a rare congenital heart condition called double outlet right ventricle and has an additional defect called transposition of the greater arteries. The two main arteries of her heart are reversed and there is a hole in the wall separating its two main pumping chambers, or ventricles, causing it to pump oxygen-poor blood to her body. Only 1 in every 10,000 babies is born with the disorder, according to Seattle Children's hospital. It is serious, but treatable with surgery.
Khia's family said they knew about her condition about a month before she was born. In the last surgery, done four years ago, doctors inserted a small heart valve to reduce pressure on her heart. However, the valve is failing, and doctors need to insert an adult-sized valve that can grow with her body as she ages, her father said.
Khia and her family — her parents and three sisters — moved to Longview three years ago from Utah to handle a family member's Ilwaco estate. At the time, they thought Khia's third open-heart surgery, done when she was 4, would be her last. And living at sea level, with its oxygen-rich air, would benefit Khia as well, her dad said.
But at Khia's last appointment, her annual echocardiogram found that her heart wasn't getting enough blood flow. At first, doctors thought they could fix the problem in a heart catheterization lab, but later they determined she needed a fourth open-heart surgery to replace the valve put in four years ago. Calcium build-up on the current valve is blocking the flow of blood, causing dangerous pressure within the heart. Her mother, Maria Romo, said she is dreading the post-op period when Khia will endure breathing tubes, numerous IVs and heavy sedation in the Intensive Care Unit.
"When I was pregnant with her, we knew she had a heart condition, but we didn't know what was going to lie ahead. And now I know what I'm going to have to look at and I know what I'm going to see, and I don't want to have to look at it again," Maria Romo said with tears in her eyes. "This last procedure, she's waking up from anesthesia and she told me I'm not just her mom I'm her best friend. And so now my best friend has to go through something again. It makes me want to hit a wall."
The urgency and cost of the surgery prompted the family to set up a donation fund at Red Canoe bank, as well as start a Go Fund Me account on their Facebook page. They said most of the costs are covered by their insurance, but some aren't. The family struggles financially, as Mike is on medical leave from being a Walmart customer service supervisor due to intestinal problems. Maria works two jobs, at Burger King and at Claire's in the Three Rivers Mall, to help pay the bills.
The family said they'll be planning a play-date with friends before and after Khia's surgery to keep her in good spirits. Khia loves company and since she's finally school age, this is the first time she's had friends to help support her, her mother said. Khia said she's nervous about the surgery and wishes it didn't have to happen again. However, she said she's glad to have her family there to help her out.
"No more after that, after I do my last one" Khia said, looking up from her IPad.
"You might never have a last one," her sister closest to her in age said jokingly.
Khia will have to take heart medication and blood thinners for the rest of her life, and her condition could complicate any pregnancy she may have one day, her mother said. Khia has also had dental surgery because some of her medications eroded her teeth, her father said.
The family said the siblings all play well together, despite Khia's condition, and know she can't take hard blows to the chest. Khia has difficulty running and swimming, but knows when to give her heart a rest, her mother said. The family has worked hard to find activities they all enjoy, such as taking Khia to the circus so she can see the elephants, her favorite animal.
Khia's surgery will take place the first week in April at Doernbecher Children's Hospital in Portland. The family said having new doctors and surgeons has been hard, but they're getting through it.
"We're kind of going into it blind. We don't know these surgeons or any of the staff that's going to be working with her, so that part's rough," Mike Romo said.
Khia's cardiologists and other medical professionals at Doernbecher's were unavailable to be interviewed.
Maria said it's hard to see her daughter go through open-heart surgery again, especially now that Khia is older and can understand more about her situation. She said she still puts her finger to Khia's nose every night to check her breathing, a habit that developed after Khia's first surgeries. Despite the many surgeries Khia has already withstood, the anxiety and worry will be the same this time around, Maria Romo said.
"It's always going to be the same, no matter how many they've had, one to 17 to 100, it doesn't matter. The feeling is always same," Maria Romo said. "It doesn't get easier, it gets harder."
The Romos say they feel they were given the responsibility to care for Khia for a reason. Her mother said she believes God entrusted Khia to her and the rest of the family. Mike said he's anticipating the day Khia comes home from the April surgery and is recovered so that the family can take time to enjoy themselves and not worry — at least until Khia has her next echocardiogram.
"All those precious moments are sacred and (don't) ever take anything for granted, things aren't ever promised," Mike Romo said. "Nobody ever wants to watch their kid go through anything like that. Kids shouldn't have to, they don't deserve it. No child out there does. For those that have healthy children that don't know the struggle, (they're) the ones that should really count (their) blessings because it truly is rough."