AISF slams KCR, threatens protests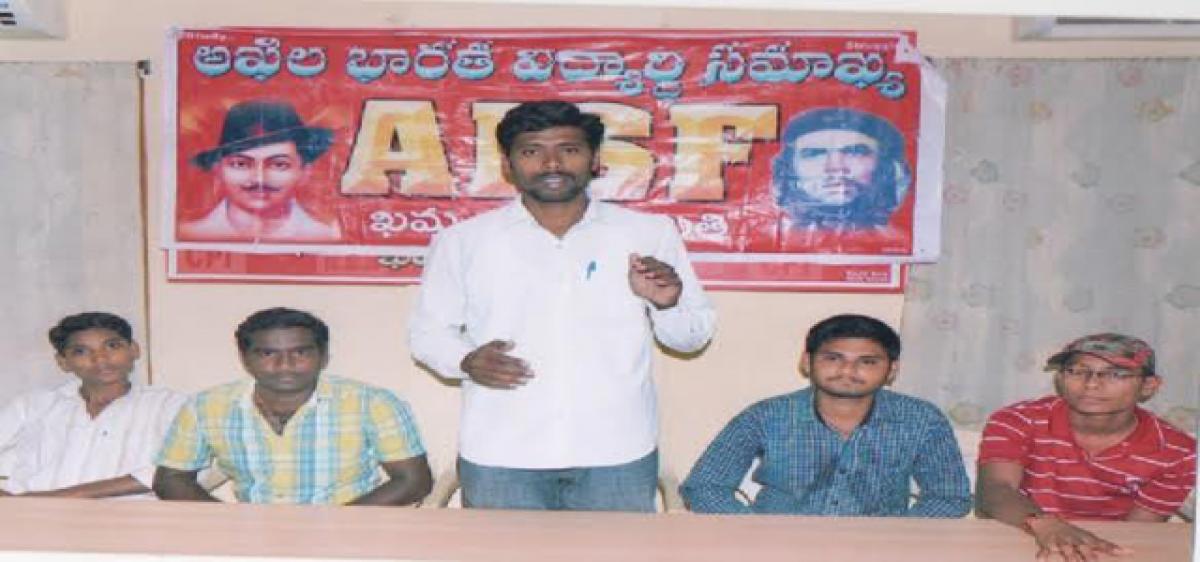 Highlights
Speaking in a meeting held at SR&BGNR College in Khammam on Wednesday, AISF district secretary Jagarlapudi Ranjith Kumar said, before going to elections, K Chandrashekar Rao promised students that he would wind up the corporate education system in the State apart from providing free education from KG to PG. But now, he was encouraging the same system by allowing the establishment of private univer
Khammam: The All India Student Federation (AISF) demanded the State government to rollback its decision of allowing establishment of private universities in the State.
Speaking in a meeting held at SR&BGNR College in Khammam on Wednesday, AISF district secretary Jagarlapudi Ranjith Kumar said, before going to elections, K Chandrashekar Rao promised students that he would wind up the corporate education system in the State apart from providing free education from KG to PG. But now, he was encouraging the same system by allowing the establishment of private universities.
"Many problems are prevailing in the existing universities of the state with many posts of teaching and non-teaching lying vacant apart from pending scholarships and mess charges.
Instead of taking measures to solve the problems, the government is trying to establish private universities to encourage the corporate education system and to dissolve the government education sector," he criticised.
The AISF district secretary demanded the government to solve the problems in government universities immediately along with establishing new government universities instead of private universities for the betterment of students.
He warned of massive agitations if government remains stubborn on the establishment of the private universities. AISF leaders Srikanth Reddy, Prasad, Vemula Upendar, Janibabu, Krishna Rao, Naresh, Umaar, Rambabu and Sai Kumar were present along with others.