KCR must stop politics of murder: Uttam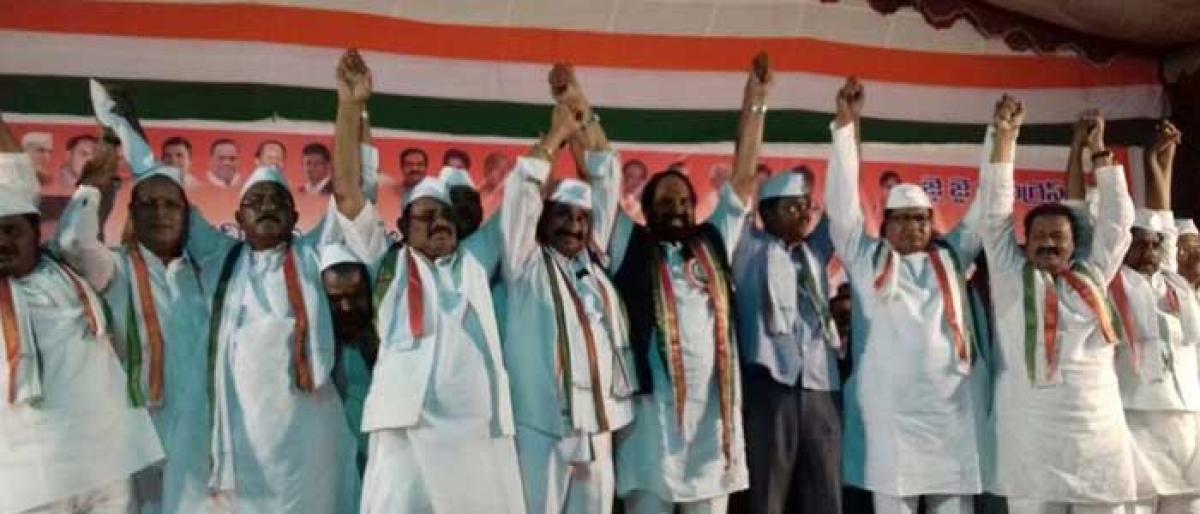 Highlights
Telangana Pradesh Congress Committee (TPCC) President N Uttam Kumar Reddy has warned Chief Minister K Chandrashekar Rao against pursuing "politics of murder."
Khammam/Suryapet: Telangana Pradesh Congress Committee (TPCC) President N Uttam Kumar Reddy has warned Chief Minister K Chandrashekar Rao against pursuing "politics of murder."
The TPCC chief, while addressing the 'Indiramma Rythu Bata' programmes in Khammam and later in Suryapet on Thursday, strongly condemned the brutal murder of Vemula Srinivas, the Mandal Youth Congress leader of Annapureddypally, allegedly by TRS leaders at Yerragunta on September 15.
He also slammed the local police for their inaction, and alleged that the law enforcement agency was trying to shield the real culprits.
A resolution condemning the murder was also passed in the meeting. Two minutes silence was observed to pay homage to the departed soul.
Uttam, in his speech, blamed the Chief Minister for rising incidents of violence against Congress workers by the activists of ruling party. He said the TRS government was using all means to threaten and intimidate members of Congress party in the State.
While TRS goons were carrying out attacks on Congress workers, police officials were not taking any action against the culprits. In fact, he alleged that the police were foisting false cases on the Congress workers at the instance of TRS leaders.
"KCR must stop the politics of murder and violence. He cannot gag the voice of opposition by using force. Congress workers will not feel threatened and will counter all such moves through peaceful agitation," he said.
Uttam also pointed out that Warangal DCC president N Rajender Reddy and other Congress leaders were implicated in a false case at the behest of TRS leaders.
He warned that the Congress party would organise 'Jail Bharo' agitation if police continued to harass its workers to please their political bosses. He said the Congress party, after coming to power in next elections, would take stern action against the police officials who were now acting like TRS workers.
Referring to Kaleshwaram tunnel mishap, the TPCC chief said the poor quality of works was responsible for the death of seven labourers in the incident.
Uttam asked the Congress workers to get into active mode to take up farmers' issues. He said all Congress workers must acquaint themselves with the ongoing land survey by the State government and help the farmers in need.
Stating that TRS government had miserably failed in fulfilling the promise of giving three acres of land for Dalits and 2BHK houses for poor, he directed the party workers to collect applications from the eligible persons.
He also asked them to organise the centenary birth anniversary celebrations of former Prime Minister Indira Gandhi on November 19, on a grand scale and hoist Congress party's flags in all villages.
AICC Secretary RC Khuntia, AICC Scheduled Caste Cell Chairman K Raju, Rajya Sabha member Renuka Chowdhary, TPCC Working President Mallu Bhatti Vikramarka, Kodad MLA N Padmavathi Reddy, MLC Ponguleti Sudhakar Reddy and other senior leaders also addressed the meetings.