LHPS holds govt responsible for students suicide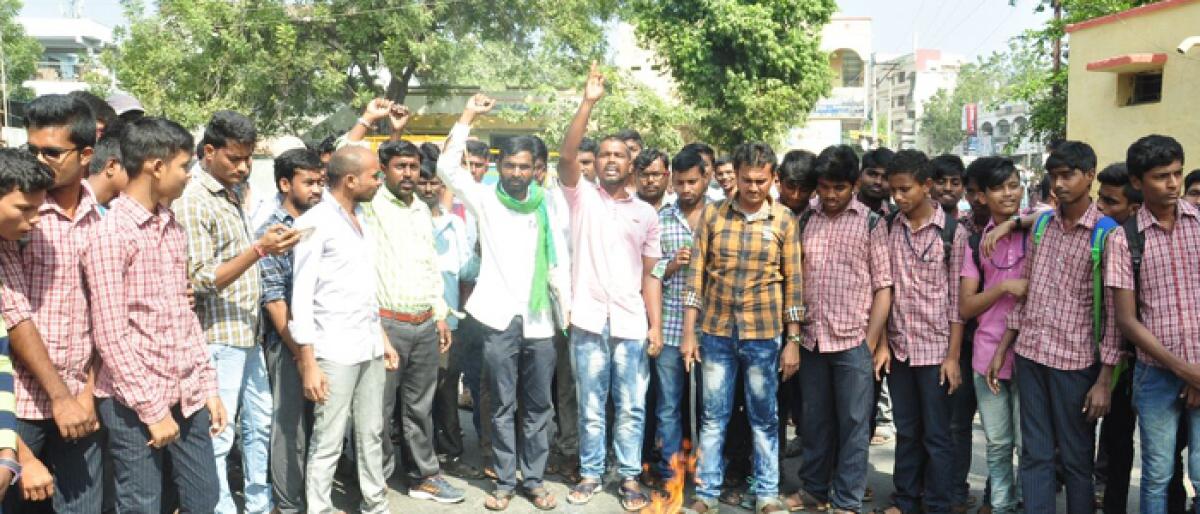 Highlights
Nangara Bheri-Lambada Hakkula Porata Samiti (LHPS) district unit president Bhadru Naik on Tuesday said the government should be held responsible for the suicide of the students. The representatives of the Nangara Bheri-LHPS burnt an effigy of the Chief Minister K Chandrashekar Rao in front of the Collectorate here in protest against the government's alleged slipshod attitude in dealing with the p
Khammam: Nangara Bheri-Lambada Hakkula Porata Samiti (LHPS) district unit president Bhadru Naik on Tuesday said the government should be held responsible for the suicide of the students. The representatives of the Nangara Bheri-LHPS burnt an effigy of the Chief Minister K Chandrashekar Rao in front of the Collectorate here in protest against the government's alleged slipshod attitude in dealing with the problems being faced by the students.

Speaking on the occasion, Bhadru Naik said the several unemployed youth and students participated in Telangana movement and sacrificed their lives for achieving separate Statehood for Telangana, expecting that their lives would improve. But to their disappointment even after three-and-half years of formation of Telangana their lives had not improved and it led to increasing number of suicides by the students.
Disenchanted with dearth of opportunities, the youth were resorted to committing suicide. Osmania University postgraduate student Murali, who completed BEd, was in search for a job, but could not get one. He had ultimately committed suicide, he said.