An inscription waits to be deciphered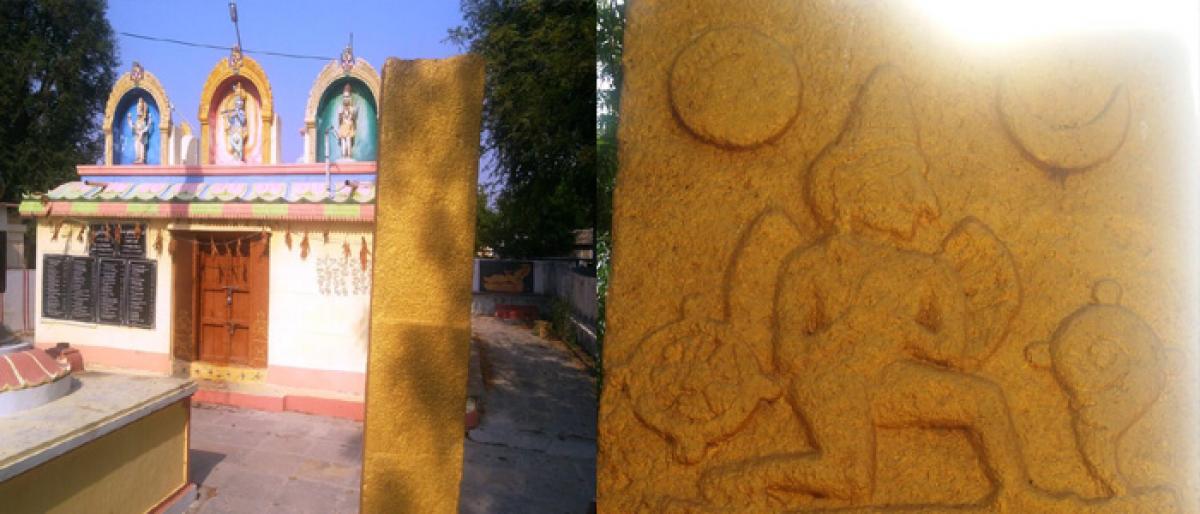 Highlights
Here is a toast to the explorers and archaeologists. Lying in utter neglect at Rajeshwarapuram, 180 kms east of Hyderabad, were a fort in ruins, an...
​Khammam: Here is a toast to the explorers and archaeologists. Lying in utter neglect at Rajeshwarapuram, 180 kms east of Hyderabad, were a fort in ruins, an ancient shrine, an inscription and a mota bavi.
Albeit the standing stone inscription in the Venugopala Swamy temple did not specify the period, it is believed to be of Kakatiya times. The 10-feet stone inscription, 28 inches X 7.50 inches in width, has a bowing Garuda carved on the top flanked by Shankhu and Chakra. It is also visible that moon above the Shankhu and sun above the Chakra. It is learnt that sun and moon indicate 'forever.'
The inscription refers to the donation of a piece of land given for the maintenance of Veeragopala Devara shrine, which currently known as Venugopala Swamy temple. The inscription has Govinda bavi, Kondapalli cheruvu, Mukundaraya cheruvu, Devarabanda, Boligunta etc. referring to the border of the donated land. Garuda is said to be king of birds and the vahana of Maha Vishnu.
"The scriptures, an amalgam of Telugu and Sanskrit, on the inscription closely resemble to that of Kakatiya period," Katta Srinivas, a government teacher working in Aswaraopet and history enthusiast, told The Hans India. It needs to be explored deep, he said. He said that there could be another inscription apart from the one at the temple.
Adjacent to Venugopala Swamy shrine, there is a Shaivite temple of the same period reflecting the confluence of two Hindu sects - Shaiva and Vaishnava. Alongside these temples, there are traces of a ruined fort. The 9-feet stone-built wall that could withstand even cannons is now surrounded by thorny bushes and vegetation. A few paces away from the dilapidated fort, there is a Lord Hanuman temple.
The stone pillars of the temple reflect the architectural marvel. It may be noted here that Ganapeshwaralayam and Mukkanteshwaralayam built by Kakatiya rulers in Kusumanchi is just 10 kms from Rajeshwarapuram.
A furlong away from the temple, the 14 feet height stone structure in front of agriculture suggests that people then depended on mota bavi, a traditional system to drawing water. In ancient times, people used to irrigate fields through mota bavi system with the help of bullocks or even man power.
Katta Srinivas said that though these structures have a lot of historical significance there was no effort to explore them. He urged the Department of Archaeology to take note of this neglected site and take up the estampage of the inscription so that it will be of immense help to those scouting for source material for developing archaeological guides. It may be mentioned here that Srinivas wrote a book on Kusumanchi Ganapeshwaralayam apart from producing several research papers.
Subscribed Failed...
Subscribed Successfully...