Apiculture turnS profit venture for tribals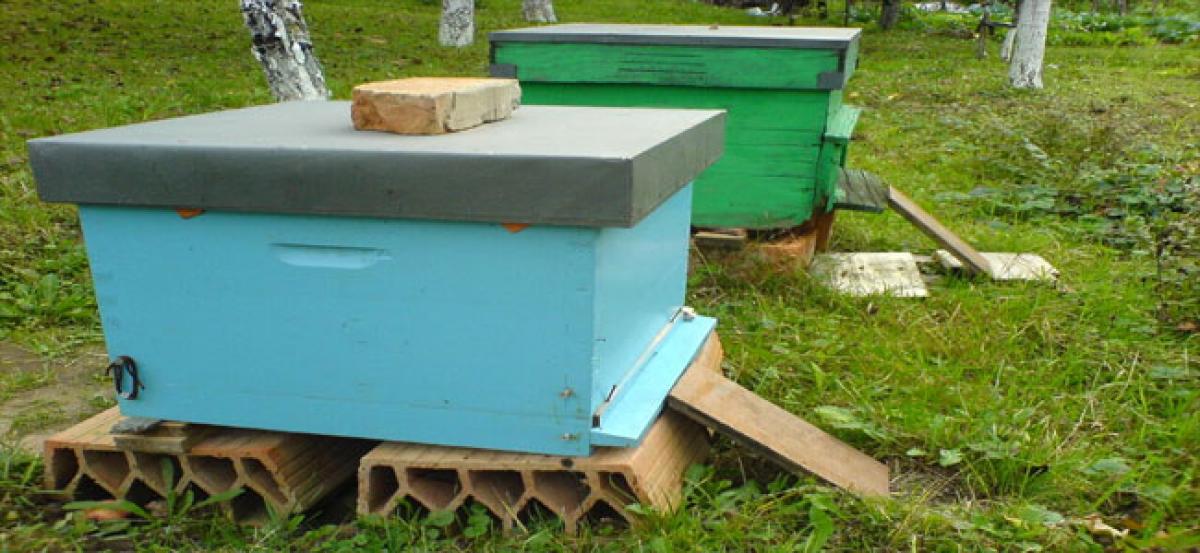 Highlights
The green pastures and nurseries on either side of the State Highway – 42 that passes through Sathupally and Aswaraopet of erstwhile Khammam district before it enters Andhra Pradesh is a perfect host to the honeybees. Endowed with friendly agro-climatic conditions for raising oil palm, cashew, mango etc, the region is known as hub of horticultural crops. Besides, it is also known as the seed bowl
Khammam: The green pastures and nurseries on either side of the State Highway – 42 that passes through Sathupally and Aswaraopet of erstwhile Khammam district before it enters Andhra Pradesh is a perfect host to the honeybees. Endowed with friendly agro-climatic conditions for raising oil palm, cashew, mango etc, the region is known as hub of horticultural crops. Besides, it is also known as the seed bowl of Telangana.
As the region is best suited for taking up apiculture (commercial production of honey), the ITDA, Bhadrachalam, in association with Girijan Vikas had launched the Bee Keeping & Honey Cultivation Project for the sake of tribal farmers so that they can earn additional income.
To start with, the ITDA had provided units to five beneficiaries living in Pusukunta tribal village under Dammapet mandal. While the Girijana Vikas had taken the responsibility of imparting training and providing technical support to the beneficiaries, the ITDA had extended financial support for the units. It may be mentioned here that each unit costs around Rs 72,500.
Each unit consists of honey bee colony of eight frames, eight bee hives, honey extractor, food grade container, bee smoker, gloves, knife cap, etc.Movable wooden frames with boxes are fixed at locations where human activities are minimal.
These boxes are filled with honey spice to attract large number of honey-bees. These bees leave fresh honey sucked from flowers in the cells of honey-comb provided in the boxes to eat the bee feed. When these cells are full of honey, they are hermetically sealed by capping with wax and then honey is extracted from these cells.
Freshly extracted honey is warm and easy to bottle. Speaking to The Hans India here on Wednesday, Kothagudem Assistant Director of Horticulture J Marianna said: "Several mandals in the erstwhile Khammam district where the forest cover and horticultural crops are in abundance are ideal for beekeeping.
The region is ideal to rear Asiatic sub-species honey bee – Apis cerana indica. Primary focus of the government is to extend the benefits of the project to the primitive tribal groups (PTGs). On an experimental basis, we have brought five Kondareddi families under the ambit of the project."
Marianna said that the investment was very low when compared to other farm enterprises. Beekeeping not only helps tribals earn additional income, but it also plays a key role in bio-diversity. As bees are good pollinators, the activity helps in the improvement of crop yields by 40 per cent, he added. The demand for pure honey is huge due to its medicinal properties and general consumption.
Speaking to the media, Yetla Raji Reddy of Kondareddi clan of Pusukunta, one of the beneficiaries of the project, said that beekeeping has helped him earn an additional income of Rs 15,000 after the first harvest without meddling with his farming occupation.
Sathupally, VM Banjara, Vemsoor, Enkoor, Errupalem, Madhira (of Khammam district), Aswaraopet, Dammapet, Mulkalapally, Chandrugonda, Annapureddipalli, Julurpadu, Yellandu, Tekulapally, a Gundala (of Bhadradri-Kothagudem district) mandals are ideal for beekeeping due to the abundance of either forest cover or horticultural crops or both.
By Adepu Mahender