Rising fuel costs set to bleed farmers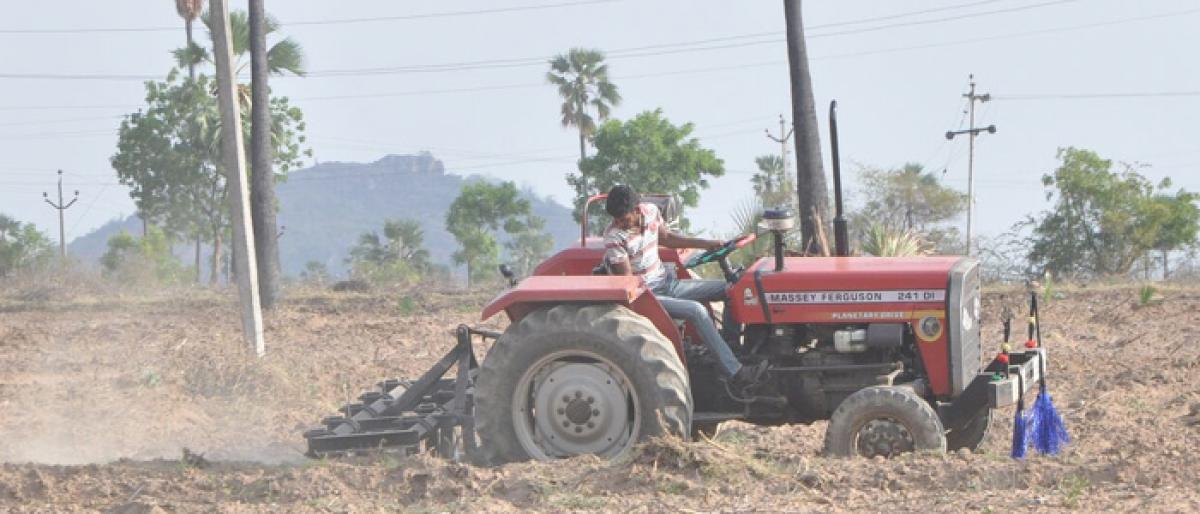 Highlights
Contrary to the crazy claims of being pro-farmer by the governments, agriculture locked into a high-cost economy is staring at a substantial increase in input costs of production, compared to last year. With the onset of the southwest monsoon hitting Kerala a couple of days ago, farmers looking forward for yet another season of hope. However, the worrying factor ahead of them was steep rise input
​Warangal: Contrary to the crazy claims of being pro-farmer by the governments, agriculture locked into a high-cost economy is staring at a substantial increase in input costs of production, compared to last year. With the onset of the southwest monsoon hitting Kerala a couple of days ago, farmers looking forward for yet another season of hope. However, the worrying factor ahead of them was steep rise input costs.
Diesel, the transport fuel, which hovered around Rs 60 a litre exactly a year ago, is now retailed at around Rs 76 a litre in the State is likely to hurt the farmers. From tilling to transportation of farm produces, spiralling diesel prices to have its huge impact on input costs. It may be noted here that farmers of Adilabad have to bear more brunt of fuel costs as diesel price in that district is highest at Rs 76.91 per litre.
Notwithstanding the State government's crop investment support scheme Rythu Bandhu, which provides Rs 4,000 per acre, farmers invariably to end up in a state of high and dry considering the rising input costs.
Given the increasing dependency on farm mechanisation, cultivators, who were already bearing the brunt of hike in the prices of fertilisers, pests, labour charges etc, have to face the spiral effect of constantly increasing diesel price.
By no means, increase of Rs 15 a litre is a small amount in just one year. From ploughing to harvesting, cultivators have to engage tractors and harvesters. Thereafter, they need transport vehicles to shift their produce to market yards.
"Hiring a tractor this kharif to cost more than Rs 5,000 per acre from last year's Rs 4,000. The price differs based on the use of tractor blades. While some lands need deeper tilling, the others don't," G Ravi, farmer of Bathinavaripally in Warangal Urban district, told The Hans India.
Engaging harvester will also to become dearer unless the diesel prices come down. As of now, it costs us anywhere Rs 1,800 per hour. Cotton, sugarcane and maize farmers, who need rotavator services, will have to cough up more. Last year, rotavator operators charged Rs 3,000 per acre.
It may be noted here that rotavator is used to break up and mix hard top soil and uproot stubble ahead of a new sowing season.
Rythu Sangham State Joint Secretary Peddarapu Ramesh said: "There is no respite for the farmer. Although the government is offering financial assistance under Rythu Bandhu scheme, the rising input costs are taking toll on farmers.
Even though the oil companies are increasing the diesel prices, the State government can reduce by slashing its share of pie." According to the State government report submitted to the Commission for Agricultural Costs and Prices (CACP), input expenses increased to Rs 32,103 from Rs 28,066 per acre for the cultivation of paddy compared to last year. Likewise, cotton cultivation costs also witnessed a hike from Rs 29,107 to Rs 32,020 per acre.