Over subscription of Amaravati bonds reflect trust of people and investors on AP: Naidu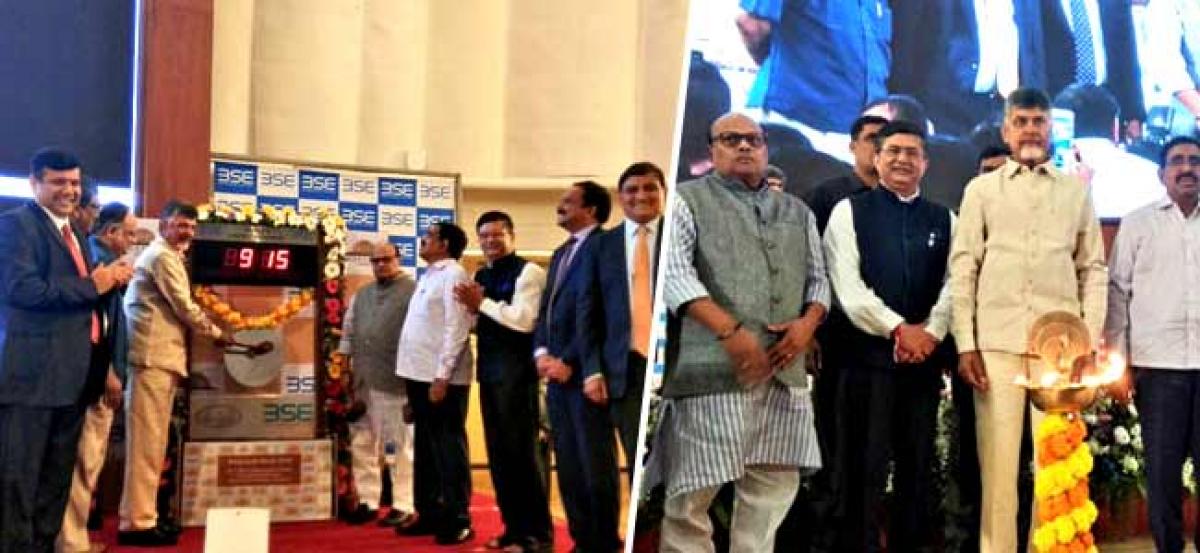 Highlights
Chief Minister N Chandrababu Naidu said the oversubscription of Amaravti bonds 2018 reflect the trust of people and industrialists on Andhra Pradesh Govt The Chief Minister rang the bell at Sir Dinshaw Petit International convention hall of Bombay stock exchange here at 915 am on Monday to mark the listing of Amaravati bonds
Mumbai: Chief Minister N Chandrababu Naidu said the oversubscription of Amaravti bonds 2018 reflect the trust of people and industrialists on Andhra Pradesh Govt. The Chief Minister rang the bell at Sir Dinshaw Petit International convention hall of Bombay stock exchange here at 9.15 a.m on Monday to mark the listing of Amaravati bonds.
Addressing investors on this occasion the Chief Minister said earlier he built Hyderabad and now he want to build Amaravati as top five best cities in the world.
Stating that it is a rare opportunity to develop a capital, he said it would be developed as a green field city.
He stated that the growth rate of AP stands at 10.5 per cent for the past three years and now it went upto 11.2 per cent at present.
Inviting the investors, the Chief minister said it is the right time to invest in AP, which has been emerging as Number one in Ease of Doing business. He said the vision of Amaravati development include to develop Happiest city using data input, knowledge and innovation. He said renewable energy including solar and wind power would be promoted to prevent pollution.
The Chief Minister invited the BSE to set up it's innovation centre in Andhra Pradesh. Stating that the future is for innovation, the Chief Minister said AP is ahead in technology and innovation.
He explained on real time governance, Comprehensive finance management system, e-Office, content corporation. He said 9 cities would be developed in Amravati capital with international standards.
Referring to overwhelming response to Amaravati Bonds, the Chief Minister said it indicates the trust of people especially investors on Andhra Pradesh.
He appealed to the investors to become active partners of development.
Minister for Finance Yanamala Ramakrishnudu, Minister for Urban development P Narayana, Special chief secretary Satish Chandra, principal secretaries Ajay Jain, G Sai Prasad, AP planning board vice-chairman C Kutumba Rao, Economic Development board CEO J Krishna Kishore, RTG CEO Babu A, CRDA commissioner Ch Sridhar and other officials were present.