KCR announces 105 party candidate names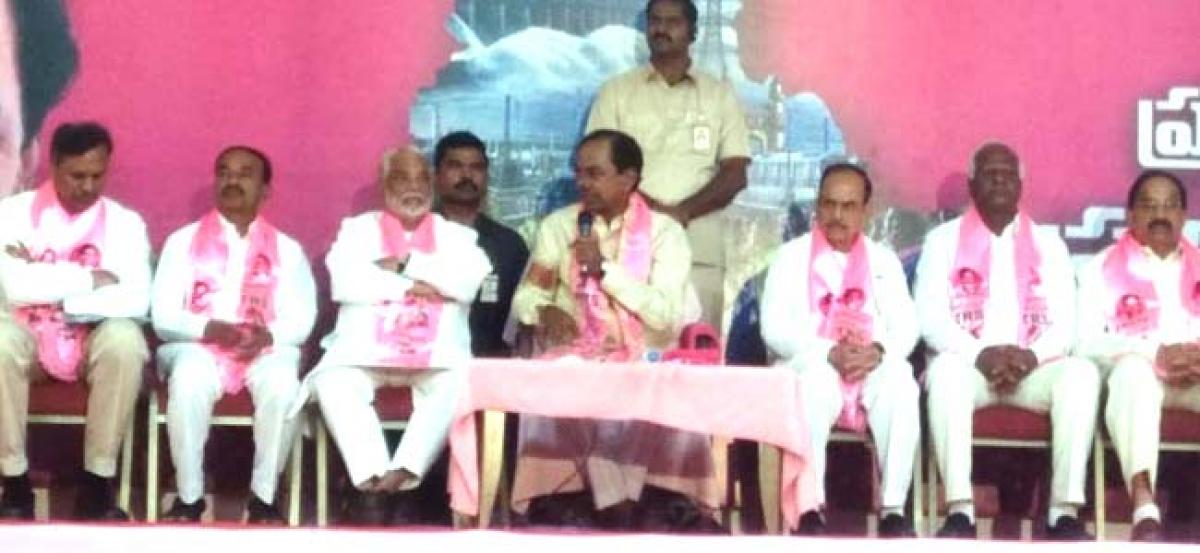 Highlights
The Telangana caretaker chief minister K Chandrasekhar Rao has announced the names of 105 party candidates for the next elections
The Telangana caretaker chief minister K Chandrasekhar Rao has announced the names of 105 party candidates for the next elections.
Speaking at a press conference, KCR said that they have given party tickets to all the sitting MLAs except two adding that the election campaign would be started with the Husnabad public meeting. Mancherial and Andole MLAs were not given tickets. He also said that election date will be announced soon.
"The Prime Minister Narendra Modi and chief ministers of other states have lauded the development of the state in a short span of time," KCR said. He also said that the opposition parties have tried to stop the works of Mission Kakatiya and Mission Bhagiratha by levelling baseless allegations against them.
The caretaker chief minister has dissolved the assembly today afternoon and also presented a resolution of the council of ministers recommendation to the governor ESL Narasimhan.
TELANGANA RASHTRA SAMITHI
List of MLA Candidates
Bhadradri Kothagudem
1. Bhadrachalam: Dr.Thellam Venkat Rao
2. Pinapaka : Payam Venkateshwarlu
3. Ashwaraopet: Thati Venkateshwarlu
4. Yellendu : Koram Kanakaiah
5. Kothagudem: Jalagam Venkat Rao
Khammam
6. Khammam : Puvvada Ajay Kumar
7. Paleru : Tummala Nageshwar Rao
8. Wyra: Banoth Madan Lal
9. Madhira : Lingala Kamalraj
10.Sathupalli : Pidamarthi Ravi
Mahabubabad
11.Mahabubabad: Banoth Shanker Naik
12.Dornakal : D S Redya Naik
Warangal(Rural)
13.Parkala : Challa Dharma Reddy
14.Narsampet : Peddi Sudershan Reddy
15.Wardhannapet: Aroori Ramesh
Warangal(Urban)
16.Warangal West: Dasyam Vinay Bhasker
Jayashankar Bhupalapalli
17.Bhupalapalli : S.Madhusudhana Chary
18.Mulugu : Ajmira Chandulal
Jangoan
19.Jangaon : Muthireddy Yadagiri Reddy
20.Station Ghanpur: Dr.Thatikonda Rajaiah
21.Palakurthi : Errabelly Dayakar Rao
Nalgonda
22.Nalgonda : Kancharla Bhupal Reddy
23.Miryalaguda : N.Bhasker Rao
24.Nagarjuna Sagar: Nomula Narsimaiah
25.Devrakonda : Ramavath Ravindra Kumar
26.Munugodu : Kusukuntla Prabhaker Reddy
27.Nakrekal : Vemula Veeresham
Suryapet
28.Suryapet : Gunthakandla Jagadeesh Reddy
29.Tungaturthi : Gyadari Kishore Kumar
Yadadri Bhuvanagiri
30.Aleru: Smt.Gongidi Sunitha
31.Bhuvanagiri : Pylla Sekhar Reddy
Nizamabad
32.Nizamabad Urban: Ganesh Bigala
33.Nizamabad Rural: Bajireddy Goverdhan
34.Armoor : Ashannagari Jeevan Reddy
35.Balkonda : Vemula Prashanth Reddy
36.Bodhan : Shakeel Ahmed
Kamareddy
37.Banswada : Pocharam Srinivas Reddy
38.Kamareddy : Gampa Govardhan
39.Jukkal: Hanumanthu Shinde
40.Yellareddy : Enugu Ravinder Reddy
Adilabad
41.Adilabad : Jogu Ramanna
42.Boath: Rathod Babu Rao
43.Khanapur : Smt.Rekha Naik
Asifabad
44.Asifabad : Smt.Kova Laxmi
45.Sirpur Kagaz Nagar: Koneru Konappa
Nirmal
46.Nirmal : Allola Indra Karan Reddy
47.Mudhole : G.Vittal Reddy
Mancheryal
48.Mancheryal : Nadipelli Diwakar Rao
49.Bellampally : Durgam Chinnaiah
50.Chennur : Balka Suman
Karimnagar
51.Karimnagar : Gangula Kamalakar
52.Huzurabad : Eetala Rajender
53.Manakondur: Rasamai Balakishan
Siricilla
54.Siricilla : K T Rama Rao
55.Vemulawada: Chennamaneni Ramesh
Jagityal
56.Jagityal : Dr M.Sanjay Kumar
57.Korutla : Kalavakuntla Vidyasagar Rao
58.Dharmapuri : Koppula Eeshwar
Peddapally
59.Peddapally : Dasari Manohar Reddy
60.Manthani : Putta Madhukar
61.Ramagundam: Somarapu Sathyanarayana
Siddipet
62.Siddipet : Tanneru Harish Rao
63.Dubbaka : Solipeta Ramalinga Reddy
64.Gajwel : Kalvakuntla Chandrasekhar Rao
65.Husnabad : Vodithela Satish Kumar
Medak
66.Medak : Smt.M.Padma Devender Reddy
67.Narsapur : Chilumula Madan Reddy
Sangareddy
68.Sangareddy : Chintha Prabhakar
69.Narayankhed: M.Bhupal Reddy
70.Andhole : Chanti Kranthi Kiran
71.Patancheruvu: Gudem Mahipal Reddy
Mahaboobngar
72.Mahaboobngar: V.Srinivas Goud
73.Jadcherla : Dr Chernakola Laxma Reddy
74.Devarakadra : Ale Venkateshwar Reddy
75.Narayanpet : S.Rajender Reddy
76.Makthal : Chittem Ram Mohan Reddy
Nagarkurnool
77.Nagarkurnool: Marri Janardhan Reddy
78.Kollapur : Jupally Krishna Rao
79.Achampet : Guvvala Bal Raj
80.Kalwakurthy : G.Jaipal Yadav
Wanaparthy
81.Wanaparthy : Singi Reddy Niranjan Reddy
Gadwal
82.Gadwal : Bandla Krishna Mohan Reddy
83.Alampur : Vallur Mallepogu Abraham
Vikarabad
84.Parigi: Koppula Mahesh Reddy
85.Thandur : Patnam Mahender Reddy
86.Kodangal : Patnam Narender Reddy
Rangareddy
87.Shadnagar : Y.Anjaiah Yadav
88.Rajendra Nagar: T.Prakash Goud
89.Maheshwaram: Teegala Krishna Reddy
90.Ibrahimpatnam: Manchireddy Kishan Reddy
91.Serilingam Pally: Arekapudi Gandhi
92.L B Nagar : Muddagoni Rammohan Goud
93.Chevella : Kale Yadaiah
Malkajgiri-Medchal
94.Quthbullapur: K P Vivekananda
95.Kukatpally : Madavaram Krishna Rao
96.Uppal: Bethi Subhash Reddy
Hyderabad
97.Secunderabad: T.Padma Rao Goud
98.Sanath Nagar: Talasani Srinivas Yadav
99.Cantonment : G.Sayanna
100. Jubilee Hills: Maganti Gopinath
101. Yakathpura : Sama Sundar Reddy
102. Chandrayana Gutta : M.Seetharam Reddy
103. Karwan : T.Jeevan Singh
104. Bahdurpura : Inayath Ali Baqri
105. Nampally : Munukuntla Anand Goud