TJS, CPI may exit 'Mahakutami'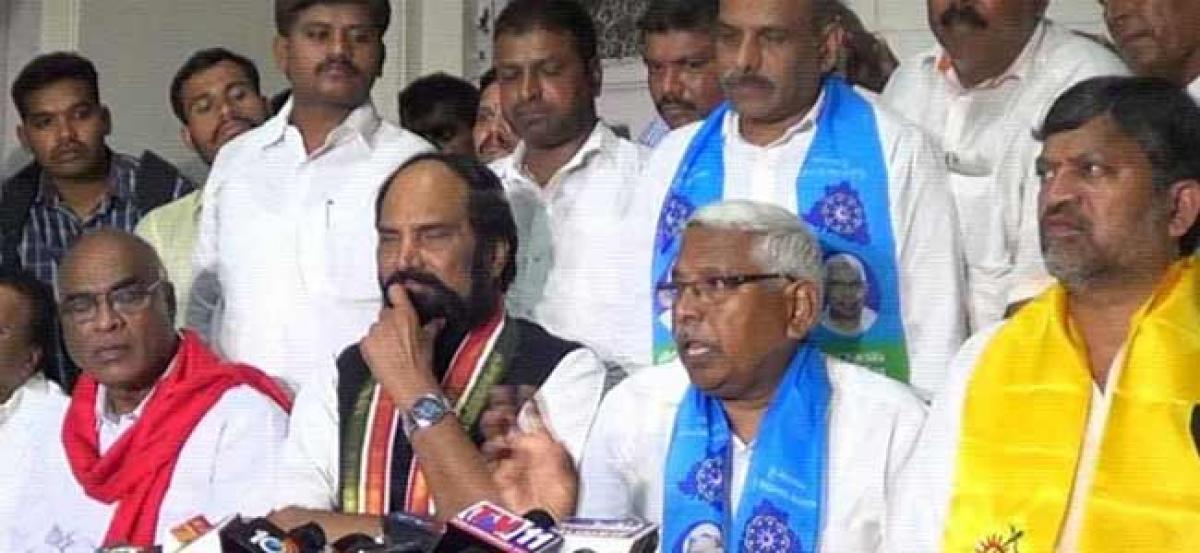 Highlights
The Mahakutami Grand Alliance of Congress, TDP, TJS and CPI is not likely to shape with two parties openly threatening to pull out due to disputes over seat sharing
Hyderabad: The 'Mahakutami' (Grand Alliance) of Congress, TDP, TJS and CPI is not likely to shape with two parties openly threatening to pull out due to disputes over seat sharing.

Telangana Jana Samithi president Prof. Kodandaram has expressed serious doubts over the outcome of discussion going on with other partners of Mahakutami. Speaking to media persons after launching his party symbol 'Matchbox with stick' here on Monday, Kodandaram said that the TJS had earlier asked for 10 seats and now it wants the Congress to concede 2-3 more seats.

On the other hand, the Communist Party of India, which was reportedly allotted 4 seats in the Mahakutami, has declared candidates for nine seats on Monday. CPI State Secretary Chada Venkat Reddy said that there was inordinate delay in the finalisation of seats by the alliance. Therefore, he said that the CPI had no option but to declare the seats. The CPI has released the list of candidates for Kothagudem, Wyra, Husnabad, Bellampally, Alair, Munugodu, Pinapaka, Manchiryala and Devarakonda.

Meanwhile, the meeting of 'Mahakutami' leaders held at a star hotel in the city on Monday remained inconclusive on seat sharing. According to sources, the Congress party has reportedly offered 5 more seats to the TJS and CPI. Therefore, the Congress party would now contest from only 90 seats while leaving 29 seats for the alliance partners.

However, both TJS and CPI are keen on contesting on more number of seats than being offered by the alliance partners. Therefore, it is more likely that instead of a 'Grand Alliance', it will only be an 'Alliance' of Congress-TDP that would take on TRS in next Assembly elections with TJS and CPI contesting independently.