Karnataka mining baron Gali Janardhana Reddy denies role in Ponzi case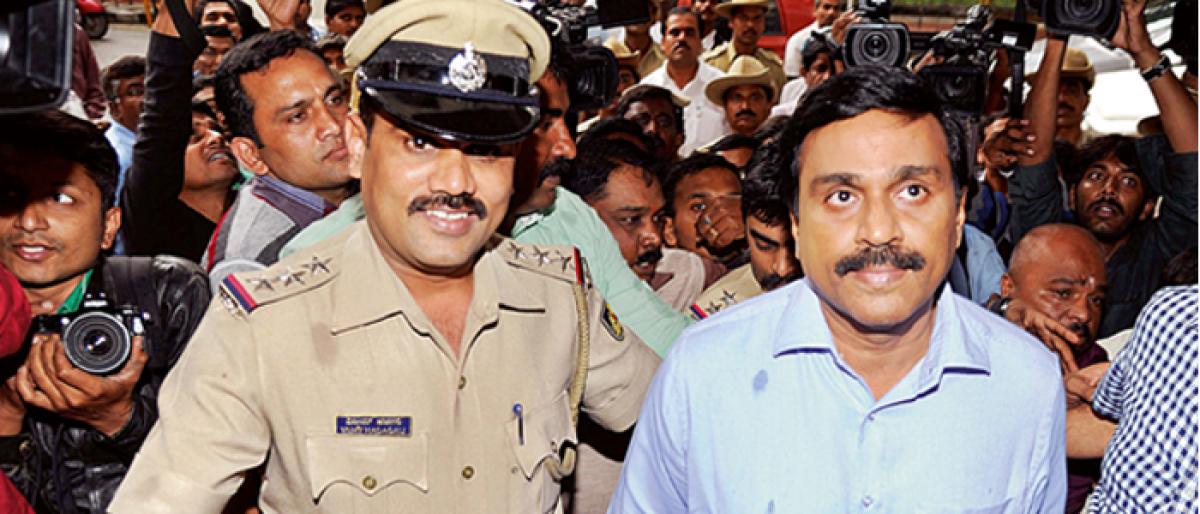 Highlights
Karnatakas mining baron Gali Janardhana Reddy on Saturday denied involvement in the multicrore Ponzi scheme and alleged political conspiracy against him by vested interests
Bengaluru:Karnataka's mining baron Gali Janardhana Reddy on Saturday denied involvement in the multi-crore Ponzi scheme and alleged political conspiracy against him by vested interests.

"I have no role in the Ponzi scheme. The police have no evidence to prove my involvement in it. They (police) are misleading the media and the public," claimed Reddy in a video clip to local news channels, which aired it an hour before he drove in the evening to the state's Central Crime Branch (CCB) for interrogation in the case.

Reddy, 51, was quizzed by CCB sleuths led by Additional Commissioner of Police (crime) Alok Kumar, Deputy Commissioner of Police (DCP) S. Girish and Assistant Commissioner of Police (ACP) Venkatesh Prasanna.

Reddy's appearance at the CCB office came a day after a city court on Friday declined to grant him anticipatory bail in the case and adjourned the hearing to Monday.

The CCB charged Reddy with shielding a father and son, accused in the Rs 954-crore Ponzi scheme from being investigated by the Enforcement Directorate (ED) for alleged money laundering in violation of the Foreign Exchange Management Act (FEMA).

Reddy, a former BJP Minister in the state (2008-11), is on conditional bail since January 2015 in the multi-crore mining scam that rocked Karnataka for a decade (2002-2012).

In the video clip, Reddy also denied speculation that he was absconding or hiding in Hyderabad in the neigbouring Telangana state.

"I am going to the CCB office in the city with my lawyer (Chandrashekar) in response to its summons to appear on Sunday. But I chose to appear today (Saturday) on my lawyer's advice." said Reddy in the video he made to let people know the truth.

The CCB was also on the lookout for Reddy's aide, Ali Khan, who had allegedly struck Rs 18-crore deal with the accused duo -- Syed Ahmed Fareed and his son Syed Afaq Ahmed of Ambident Marketing Ltd, a city-based company that ran the Ponzi scheme and duped about 15,000 investors by laundering their money from Dubai.

The ED on Thursday charged the duo with running a potential Ponzi scheme offering huge interest to investors in the name of a 'Islamic banking'.

"Investigation revealed that Ambidant has been operating a potential Ponzi scheme and duping thousands of investors in the name of Islamic banking and a 'Halal' investment," said ED in a statement here.

Since inception on December 20, 2016, the company received cumulatively a whopping Rs 954 crore as investments under Haj/Umrah and Ultimate plans.

"We have written to the Reserve Bank of India (RBI) to have a re-look into the scheme to protect the interests of investors/depositors being duped by the company," said an ED official in the statement.

In a Ponzi scheme, an investment firm fraudulently collects huge money from depositors promising high interest rate but uses it to pay heavy interest on deposits raised earlier from another set of investors.

"In a Ponzi scheme, investors are made to believe that they earn high interest on their deposits from profits the company makes through lucrative business than from their own deposits, which are recycled," said the official.