'Constructive force': AIADMK launches 'News J' TV channel to take on rivals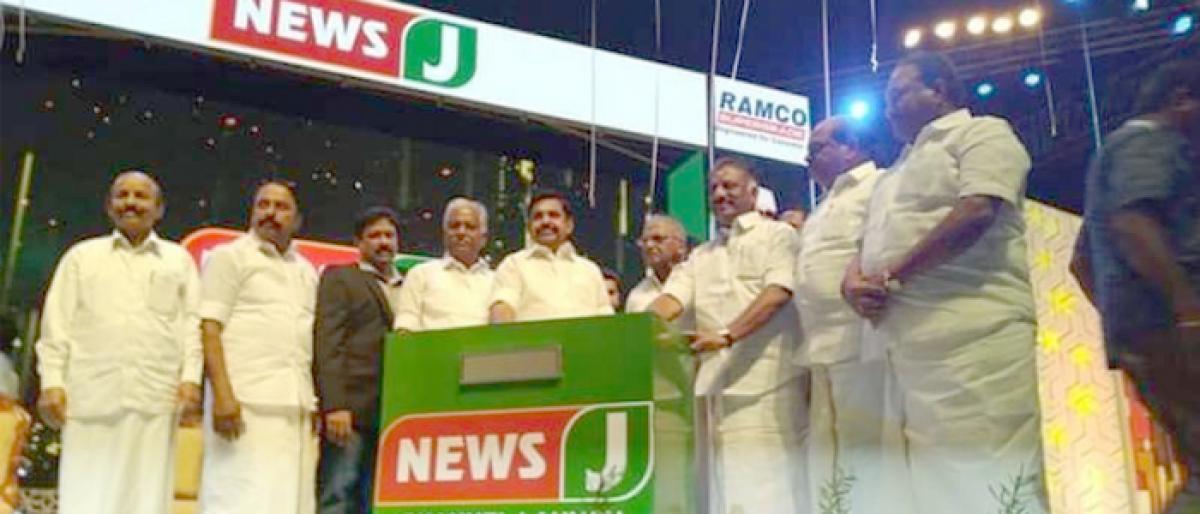 Highlights
The ruling AIADMKs Tamil TV channel News J was launched on Wednesday, to take on propaganda against it by rivals in the wake of JAYA TV, which used to be the channel for the party cadre, siding with ousted leader T T V Dhinakaran
Chennai: The ruling AIADMK's Tamil TV channel "News J" was launched on Wednesday, to take on propaganda against it by rivals in the wake of "JAYA TV", which used to be the channel for the party cadre, siding with ousted leader T T V Dhinakaran.
Tamil Nadu Chief Minister K Palanisamy and his deputy O Panneerselvam launched the mouthpiece of AIADMK in Chennai, two months after the logo, website and app for News J were unveiled.
Palanisamy said News J would toe the ideals set out by Dravidian icon C N Annadurai and late Chief Ministers M G Ramachandran, AIADMK founder, and J Jayalalithaa and telecast "true news."
AIADMK was prompted to launch a TV channel of its own to take on propaganda against it by rivals since Jaya TV began backing Jayalalithaa's aide V K Sasikala and her nephew T T V Dhinakaran after her demise.
Also, 'Dr Namadhu MGR,' a Tamil daily launched by Jayalalithaa in 1988, is under the control of the Dhinakaran camp led Amma Makkal Munnetra Kazhagam.
This prompted the AIADMK to start its own Tamil daily "Namadhu Puratchi Thalaivi Amma" in February.
Lashing out at Sasikala and Dhinakaran as "selfish," without naming them, Palanisamy quoted Arujuna's victory from epic Mahabharata and said people's 'shakti' and cadres were on their side since they had the blessings of "Amma (Jayalalithaa)".
Palanisamy lamented that a television channel that was launched due to Jayalalithaa's efforts to propagate the ideals of the party and disseminate government's welfare schemes was now not with them.
He said sections of media gave importance only to coverage of "negative news" which also downplayed welfare initiatives of the government.
"Broadcasting welfare measures of the government need not be construed as pro-government," he said.
Telecast of news about the state's welfare schemes will help poor people understand it and become beneficiaries which would, in turn, improve their standard of living as well, he said.
Panneerselvam said the letter J in News J television represented "Jayam" which meant victory.
He said the channel will always be a "constructive force, a true voice of democracy that would beat money power...the soul of Amma will guide us to victory."