72-year-old mother donates kidney to 42-year-old son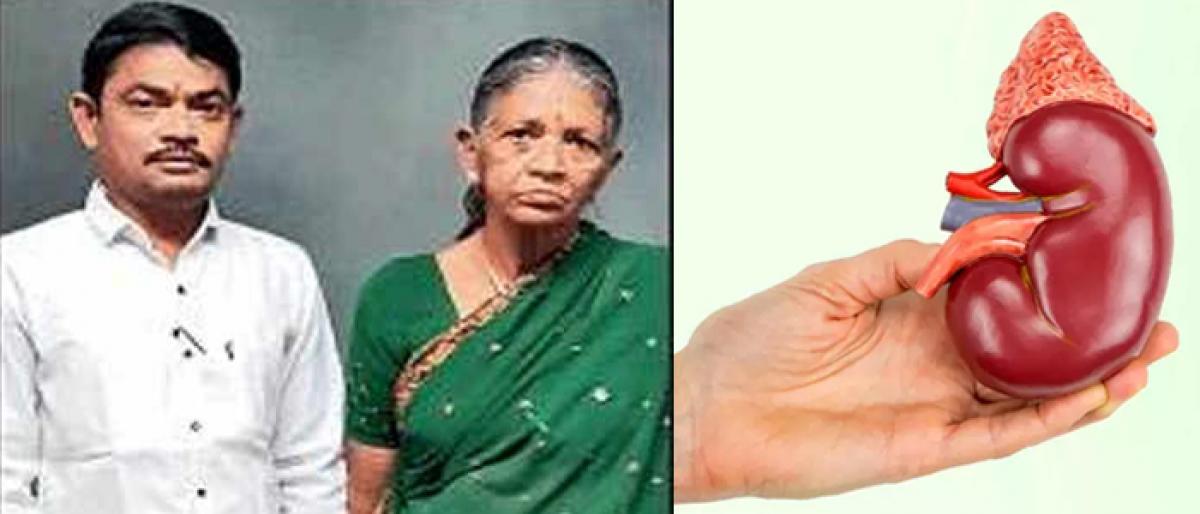 Highlights
In Chitradurga district a 72yearold woman from Hiriyur has granted a new life to her 42yearold son by donating one of her kidneys Usually , the people who are above the age of 65 are not considered to be potential organ donors, because of the age related risk factors
BENGALURU: In Chitradurga district a 72-year-old woman from Hiriyur has granted a new life to her 42-year-old son by donating one of her kidneys. Usually , the people who are above the age of 65 are not considered to be potential organ donors, because of the age related risk factors.
But the day had decided to go ahead with the transplant as Bhadrakali Amma, the mother, who was healthy and both her kidneys were seen to be functioning fine. Her son Satyanarayanachi HL, a businessman, was suffering from renal disorder.
As the doctors had suggested an organ transplant with a relative donor, the blood group of Satyanarayana Shari's wife didn't match with his blood group and he had no sibling.
That's when his mother stepped up to help. The transplant had taken place at the Columbia Asia Hospital in Bangalore in April. The mother-son duo were on observation for long and they underwent regular health check-ups.
The family that had been worried because of the health condition of its only breadwinner is all smiles now. "We were concerned about his health. My grandmother learnt about organ donation when doctors said my mother's blood group was not matching and hence she could not be a donor.
While my grandmother said she wants to donate her kidney, we thought she would not be considered because of her age. But after conducting certain medical evaluations, doctors said we could go ahead with the procedure. Now, both my father and grandmother are fine and happy for each other," said Manjula S, Satyanarachari's daughter.
Satyanarayanachi says that he feels like his mother has given rebirth to him. "For over two years I could not work and that affected us financially too. I had lost interest in life. That's when a local doctor suggested that we go for a transplant. My mother has given me an another opportunity at life," he said.
"Both me and my son are surviving with one functional kidney each. We are doing fine. What would I have done with an extra kidney when my son was suffering and was in need of one," asked Bhadrachalam.
Dr Deepak Kumar, a consultant nephrologist and the transplant physician, at the Columbia Asia Referral Hospital, in Yeshwanthpur, who had treated the duo, said that Bhadrachalam has set an example by not just being a donor, but also by being physically fit at her age. "It was very courageous of her to come forward and donate her kidney," he added.