Lord Ganesh bid adieu by millions in Maharashtra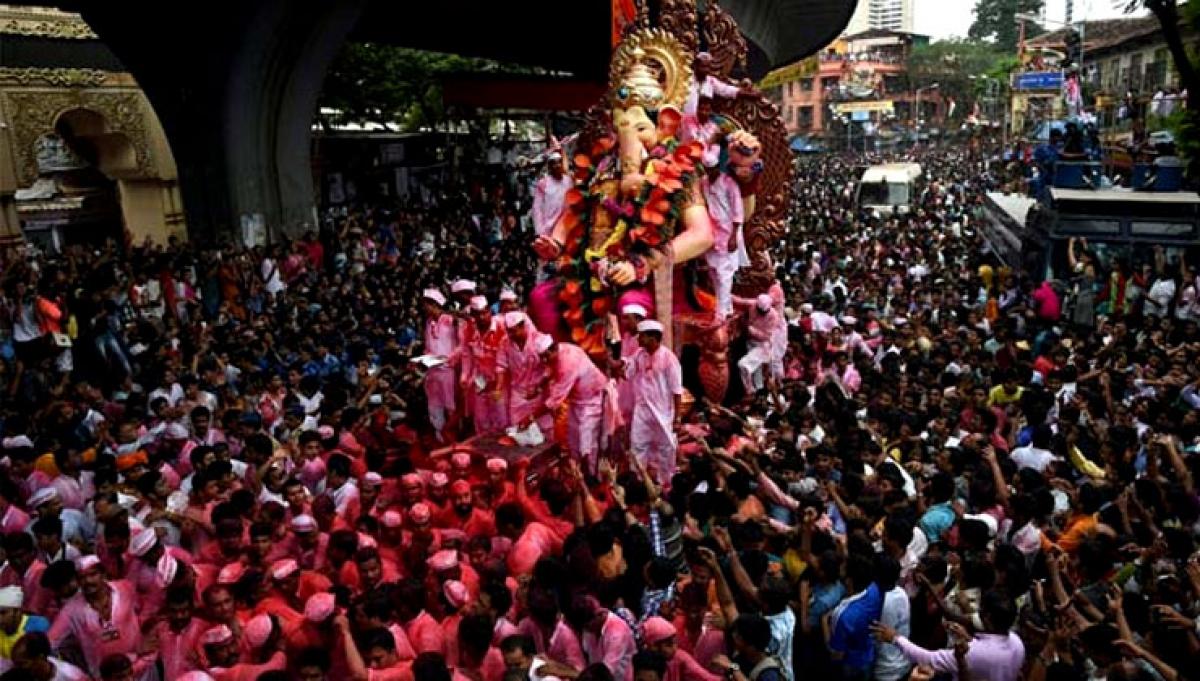 Highlights
Lord Ganesh Bid Adieu By Millions In Maharashtra, Millions of people in Mumbai and the rest of Maharashtra bid a tearful adieu to elephant-headed Lord Ganesh whose thousands of big and small idols were taken
Mumbai: Millions of people in Mumbai and the rest of Maharashtra bid a tearful adieu to elephant-headed Lord Ganesh whose thousands of big and small idols were taken out in colourful processions for immersion, marking the end of the 10-day long Ganeshotsav festival here on Sunday.

Since daybreak, people began trooping out in large numbers, singing bhajans, dancing, performing prayers before over 110,000 idols of Lord Ganesh before taking them in processions to various immersion points around the metropolis and other parts of the state in the fifth and final phase of immersion on Sunday.
The skies reverberated to the cries of 'Ganpati Bappa Moraya, Pudhachya Varshi Lavkar Ya', as long processions wound their way through main roads, highways, internal and arterial roads amidst tight security and elaborate traffic arrangements.
In the 121st year of Ganeshotsav, the public and joint celebration of the festival, while Mumbai will witness the immersions of around 110,000 idols on Sunday, this figure could touch the half-million mark in rest of Maharashtra.
The festival that witnesses massive public participation was revived by 'Lokmanya' Bal Gangadhar Tilak in 1894 in Pune, as a subtle challenge to the British empire that frowned on any kind of mass gatherings during the pre-Independence era.
The processions began slowly with over six million locals and tourists expected to throng the roads and hundreds of immersion spots, both natural and artificial, including beaches, creeks, ponds, lakes, wells, specially created artificial sites, big and small rivers in the city and state.
In Mumbai, the traditionally popular immersion sites are Girgaum Chowpatty, famed for immersion of some of the most gigantic idols that are around 20 feet tall, Shivaji Park, Worli, Juhu, Versova, Marve, Madh Island, Manori, Gorai, Thane Creek, Bassein Creek, Bhayander Creek, a lake inside Sanjay Gandhi National Park and scores of artificial immersion sites set up by the BrihanMumbai Municipal Corporation (BMC).
The Mumbai and state police made elaborate arrangements for security, traffic regulations and safety of the devotees everywhere, with other state and central agencies on stand-by to tackle any emergencies.
In Mumbai, besides the police, State Reserve Police Force and Rapid Action Force were deployed, while helicopters of the Indian Navy and Coast Guard conducted regular sorties to keep an eye from the sky.
Personnel of the BrihanMumbai Municipal Corporation (BMC), Home Guards and trained volunteers of the 11,000-plus Ganeshotsav organisations help the official agencies to maintain security and order.
Immersion ceremonies began simultaneously in Thane, Pune, Nagpur, Aurangabad, Kolhapur, Nashik, the coastal Konkan districts and others parts of the state.
The 2015 Ganeshotsav began on September 17 with phase-wise immersions on the second, third, fifth, seventh and the final 10th day (Sunday).