Eastern Railways presses first Swarna Rajdhani rake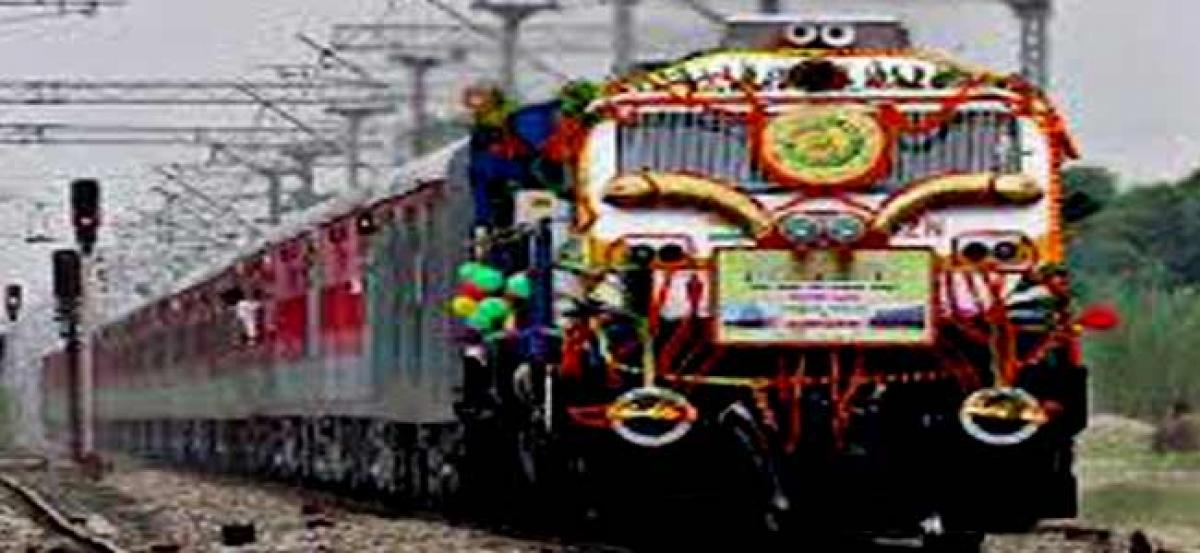 Highlights
The Eastern Railways has pressed India-'s first Swarna Rajdhani rake.
New Delhi : The Eastern Railways has pressed India's first Swarna Rajdhani rake.
Indian Railways decided to upgrade Premium Rajdhani and Shatabdi trains under Project 'Swarna'. Zonal Railways were given a free hand to develop and innovate to create aesthetic and passenger friendly coach interiors on running rakes to establish new standards in passengers comfort. A target budget of Rs. 50 lakh per rake was allowed for this purpose.
The Eastern Railway runs two Rajdhani Express trains and one Shatabdi train which were identified for upgradation to 'Swarna' standard.
The first rake of Sealdah - New Delhi Rajdhani with improved features has been pressed into service on November 28, 2017. Expenditure of about Rs. 35 lakhs has gone into this rake, which translates into less than Rs.2 lakh per coach.
The Eastern Railway has conceptualised the improvement to be sustainable, ergonomic and user friendly. Features were introduced on three pilot coaches in service to gather passenger feedback and assess journey worthiness.
The few new features are: complete interior painting to an aesthetic International colour scheme and LED lighting to improve illumination, better hygiene by providing 'auto janitor' system in toilets, night signage for easy identifications of berth numbers for enroute entraining passengers, built in ladders for First AC passengers for easy access to upper berth, CCTV cameras in doorway area and aisles to monitor any suspect activity with data storage.
The added features in toilets are: vinyl wrapping of toilet doors for improved aesthetics, poxy coating, provisioning of extra mats to improve hygienic standards and to give a dry toilet to the passengers with improved cleanliness, and polished commodes and basins to make them odour free in every trip.
This passenger initiative will be extended to another three rakes of Howrah_New Delhi Rajdhani, two rakes of Sealdah- New Delhi Rajdhani and one rake of Howrah-Ranchi Shatabdi express.
Subscribed Failed...
Subscribed Successfully...