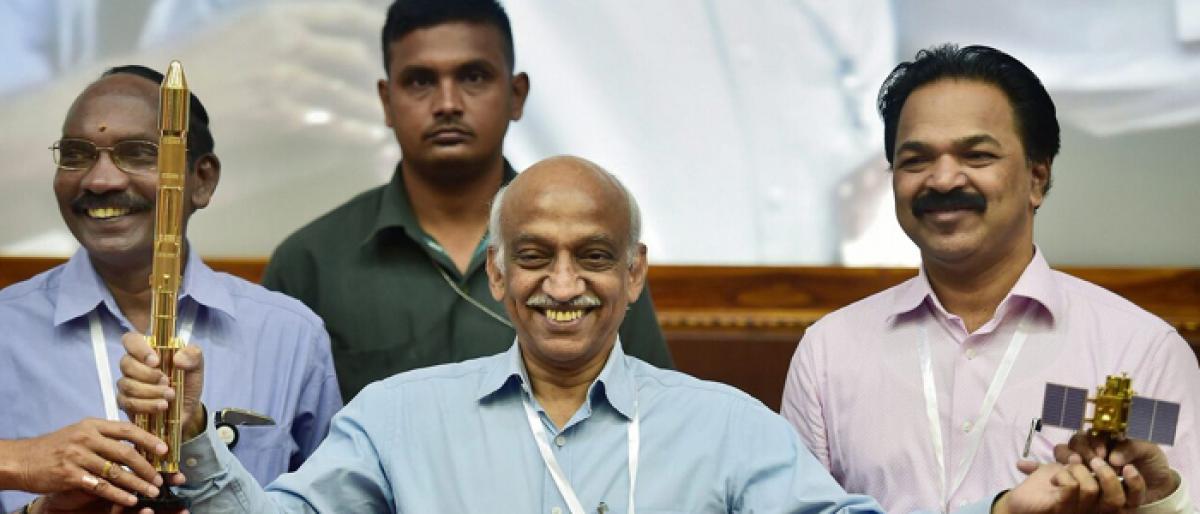 Highlights
The Indian Space Research Organisation has said that the Chandrayaan-2 mission is on schedule and flight models are going through various tests. In Chandrayan-2,
Sriharikota/New Delhi: The Indian Space Research Organisation has said that the Chandrayaan-2 mission is on schedule and flight models are going through various tests. In Chandrayan-2, the country's second mission to the Moon, ISRO is planning to rover to explore the lunar surface. "It is on schedule. We have to find out whether it is in March or not," ISRO Chairman A S Kiran Kumar told reporters at Sriharikota on Friday.
Speaking after the successful orbiting of 31 satellites, including weather observation Cartosat-2 Series craft, by the PSLV-C40, Kumar said the Chandrayan-II satellite was getting ready at the ISRO Satellite Centre. The flight models were going through various levels of tests, he added.
ISRO's workhorse PSLV has successfully launched 31 Satellites in a Single Flight ISRO's Polar Satellite Launch Vehicle, in its 42nd flight. The flight, designated as PSLV-C40, successfully lifted off at 9.29 am from the First Launch Pad of Sriharikota space port on Friday with the 710 kg Cartosat-2 along with 30 co-passenger satellites.
After a flight lasting 16 minutes 37 seconds, the satellites achieved the Polar Sun Synchronous Orbit of 503 km inclined at an angle of 97.55 degree to the equator. In the succeeding seven minutes, Cartosat-2 series satellite, INS-1C and 28 customer satellites successfully separated from the PSLV in a predetermined sequence. The fourth stage of PSLV-C40 fired twice for short durations to achieve a polar orbit of 365 km height in which India's Microsat successfully separated.
After separation, the two solar arrays of Cartosat-2 series satellite were deployed automatically and ISRO's Telemetry, Tracking and Command Network (ISTRAC) at Bengaluru took over the control of the satellite. So far, PSLV has successfully launched 51 Indian satellites and 237 customer satellites from abroad.
Kumar said, "ISRO is starting 2018 with the successful launch of Cartosat-2, which he says is ISRO's New Year gift to the country. The launch was satisfactory, and a few important launches are to be followed during the year."
ISRO's chairman-designate K Sivan said the launch is a green flag for some of the important launches including Chandrayaan-2, GSLV Mk-II among others in 2018. Director of ISRO's Liquid Propulsion Systems Centre at Mahendragiri in Tamil Nadu S Somanath said tests related to Chandrayan-II were underway at the centre also.
"What we are trying to do is to prove the ability to do a soft landing (the rover). Tests are on to demonstrate soft landing in a simulated way," he said. Terming it as a "wonderful task", he said "we are trying to complete it in a short span of time and that is going on right now".
To a query on whether there was possibility of ISRO carrying out manned space mission, Kumar said, "The possibility was always there for taking up such a mission, but the government has to decide by giving resources." On the future launches to be taken up by ISRO in 2018, Kumar said the next launch will be a communication satellite. The GSLV-MkII first stage had been assembled and already completed integration.
"They are going through process and it is targeted sometime next month (for launch)," he said. Beyond that, there would be MkIII and another PSLV which will carry navigation satellite IRNSS-1I. "We also have a number of launches almost every month one launch and we are going to work towards that", Kumar, who is retiring later this month, said.
Referring to the unsuccessful launch of IRNSS-1H on 31 August last year, he said it was a peculiar case. "Very marginal deviation created a problem. Notwithstanding, that what we did is we went through a rigorous process of analysing and have made the system more robust", the ISRO chief said.  Kumar said to identify the cause of the incident, a team was formed which carried out various simulations and review process were taken up by the scientists.