Maratha reservation stir continues in Aurangabad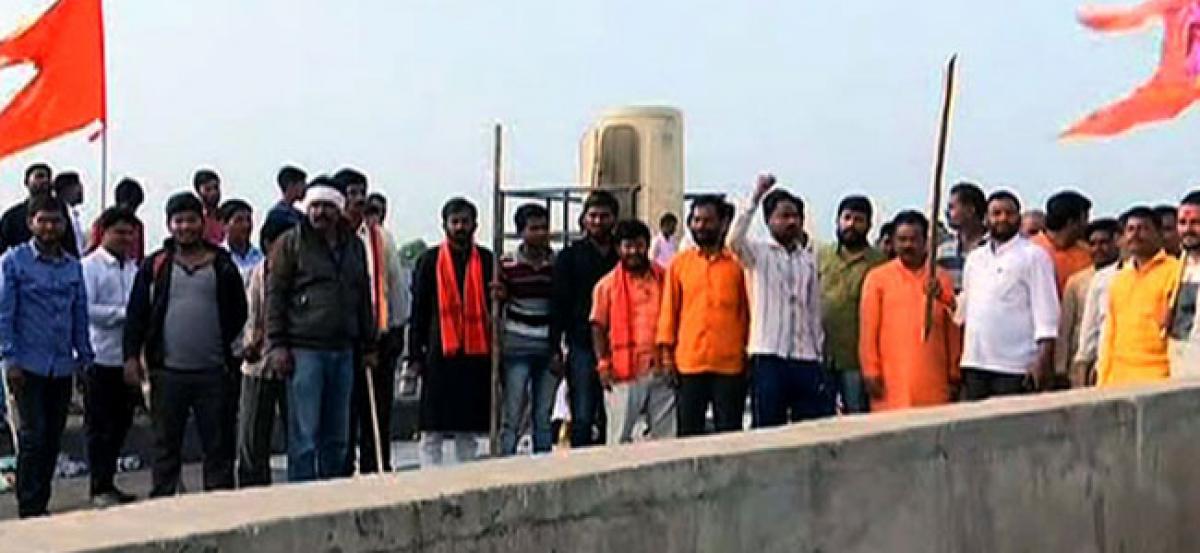 Highlights
The Maratha community has continued their protest for reservation in government jobs and education in Gangapur tehsil of Aurangabad district on Tuesday
Aurangabad (Maharashtra) : The Maratha community has continued their protest for reservation in government jobs and education in Gangapur tehsil of Aurangabad district on Tuesday.
The protestors have also blocked the Aurangabad-Pune highway since yesterday, making it difficult for the vehicles to pass through.
The agitation, turned tragic on Monday after a protestor, Kakasaheb Shinde, a resident of Kaygaon village jumped to his death in Godavari river.
Following the death of the youth, Maratha Kranti Morcha workers vandalised a bus on the Aurangabad-Pune highway and also blocked the Mumbai-Pune highway.
Yogesh Shirke, a protestor alleged that the police provoked the youth to take the extreme step.
"When we came to take 'Jal Samadhi', the police started provoking us and challenged us to take samadhi "if we actually have Maratha blood running through our veins"," said Shirke.
He further threatened that all of them would take 'Jal Samadhi' if their demands are not met.
"Our brothers were carrying out a peaceful protest as the government hasn't fulfilled even a single of our 30 demands. All of us would take 'Jal Samadhi' if the Chief Minister (Devendra Fadnavis) does not answer and our demands are not met," he added.
Another protestor said that the government is not taking their protest or the Maratha reservation seriously.
"The government didn't take a reservation for Maratha community seriously; I want the Chief Minister to resign," said Ganesh Rao.
"The government has only made fun of these protests," said Gyaneshwar Balkrishna Rawande.
Besides reservation for the Maratha community, loan waiver, Kopardi rape, unemployment are some of the other issues against which the community is protesting.