Epic struggle re-enacted; Ramlila is back in town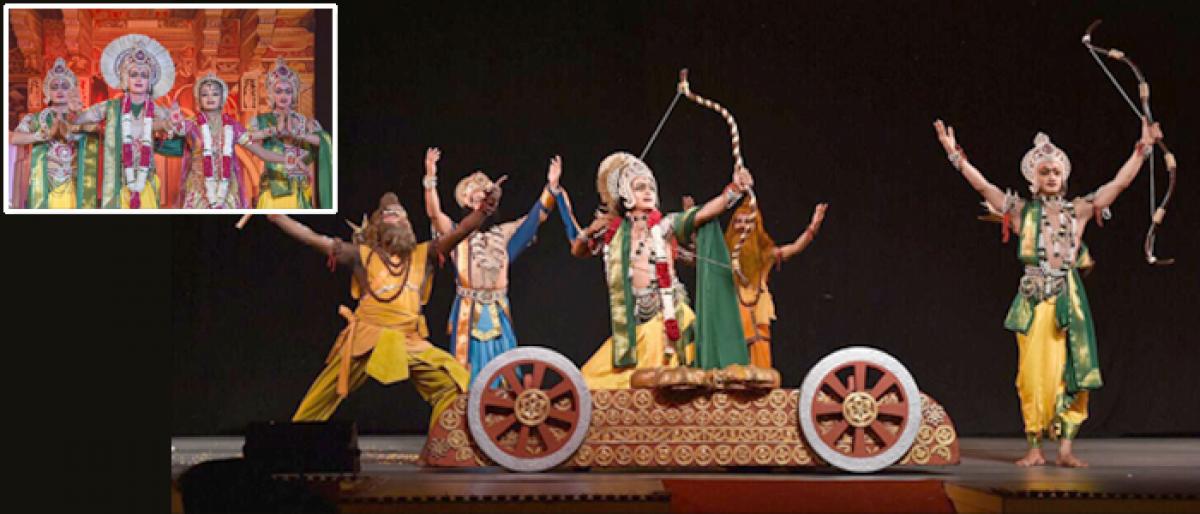 Highlights
As a distressed Sita awaits her husband Rama and brotherinlaw Lakshman, who have gone to hunt the golden deer, ominous music fills the air, lights flash, casting dark shadows over the forest, and Ravana, the mighty demon king, emerges from the gloom
New Delhi: As a distressed Sita awaits her husband Rama and brother-in-law Lakshman, who have gone to hunt the golden deer, ominous music fills the air, lights flash, casting dark shadows over the forest, and Ravana, the mighty demon king, emerges from the gloom.
The age-old epic struggle, of Ravana abducting Sita, plays out for a rapt audience, with lights strobing in rhythm to the music adding to the atmosphere of dread and drama.
The atmosphere is electric - a rewind to centuries-old tradition of the Ramayana being enacted in the run-up to Dussehra and also an acknowledgment of modern times where technology is used to bring the epic to life.
The stage, the sets, the music and the lights for the great Hindu epic may have changed over the years, but the story of the Hindu lord Rama's pursuit to save his wife from the clutches of Ravana and a recall to the glorious age of Ram Rajya has not.
The Ramlila is being played out across the country, in villages and towns, in venues big and small, plush and makeshift.
The national capital is also readying itself for Dussehra with an estimated 100 Ramlilas being staged with the same adulation for Rama's righteousness, Lakshman's hot-blooded heroics and Hanuman's loyalty.
The admiration for the mythological drama packed with action and emotions every year reaches a fervent crescendo on Dussehra when Ravana, the symbol of evil, goes down in flames.
Neha Singh, a media professional, looks agape as the story unfolds scene by scene in front of her.
"I have watched Ramlila several times, but each time the finesse of their act, their calculated movements in front of a live audience leave me asking for more," she said.
It's as much an experience for the artistes, who get under the skin of their characters every day, some for a month, and others for a week, imbibing life lessons and more.
Swapan Majumdar, who plays Ravana in Sriram Bharatiya Kala Kendra's (SBKK) "Sampoorna Ramlila", said the demon king is symbolic of all things bad but is also the most learned person in the Ramayana.
"You cannot forget he is the most learned person and there is a sanctity to his character that one cannot undermine.
It is one thing to play a character and another to live a character, and that makes all the difference. To maintain his dignity is a learning lesson in itself," Majumdar told as he prepared to go out and abduct Sita.
When Majumdar is not dressed in his colourful Ravana costume, he works as a teacher at Bal Bharati Public School, Noida.
Majumdar, who has been a part of SBKK's "Sampoorn Ramlila" for over 23 years, has done several roles, including Lakshman and Shatrughan.
Another grey character from the epic is Kaikeyi, one of the three wives of King Dashratha, who is instrumental in Rama being sent to exile.
But for Jyoti Singh Chandel, who plays Kaikeyi for SBKK, here is a woman who is also a mother.
She thinks of doing good for her son Bharat, who is crowned king but rules Ayodhya with his brother's slippers by his side.
"Usually people think of Kaikeyi as a negative character. But I believe she was a good woman who thought about her son's future.
When I was first given this character, I told them I couldn't do it as it is so negative and challenging.
But then director Shobha ji believed in me," Chandel, who wants to become a Kathak professor, said.
Shobha Deepak Singh, director of the show, said the team tries to add something different every year and there are changes almost every day.
SBKK's Ramlila incorporates different dance-forms, including Bharatnatyam, Chhau, and Kathak, to offer a "new experience" every year to the audience.
"There are more than 100 Ramlila in Delhi, but the people we have with us prepare for it throughout the year with total dedication. Somebody told me that one lakh people have watched the show.
"The number doesn't matter to us. We make sure that even if just 100 people come to watch, they leave with satisfaction," said Singh, who has been directing the show for 49 years from the SBKK's premises in Mandi House.
Some 20 kilometres away, in west Delhi's Pitampura, Aryan Heritage Foundation portrayed the grand tale of love and valour with a "dash of Broadway".
As the voice of Bollywood singer Udit Narayan filled the stage and the ground in front of it, over 120 artistes, spread on a vast stage of 180 feet, danced dressed in colourful festive costumes to mark the beginning of the show.
While all the characters in the story come with their own challenges, Arjun Dev Malik, who plays Rama here, said the role of "maryadapurshottam" comes as a personal challenge.
"Rama is the essence of Ramayana. He is righteousness personified. Despite knowing he is the most powerful being, he lives the life of a common man. It is a challenge to act as that person," Malik said.
The tale of Ramayana will be told again next year, and the year after that, but the lesson, according to director Shashidharan Nair, will remain that of "victory of good over evil, something the newer generation should not forget".
Recalling her village square, Nayanika Sharma, a college student, remembers sitting side by side with other children gaping at demons dressed in dark, furry costumes.
"When you look at it from a different perspective, things haven't changed much. The story is the same, the characters too.
All you need to do is find that same child inside of you that looked at everything with great amusement," she said with a faint smile, lost in the thoughts of the yesteryear.