Electric fences gobbling farmers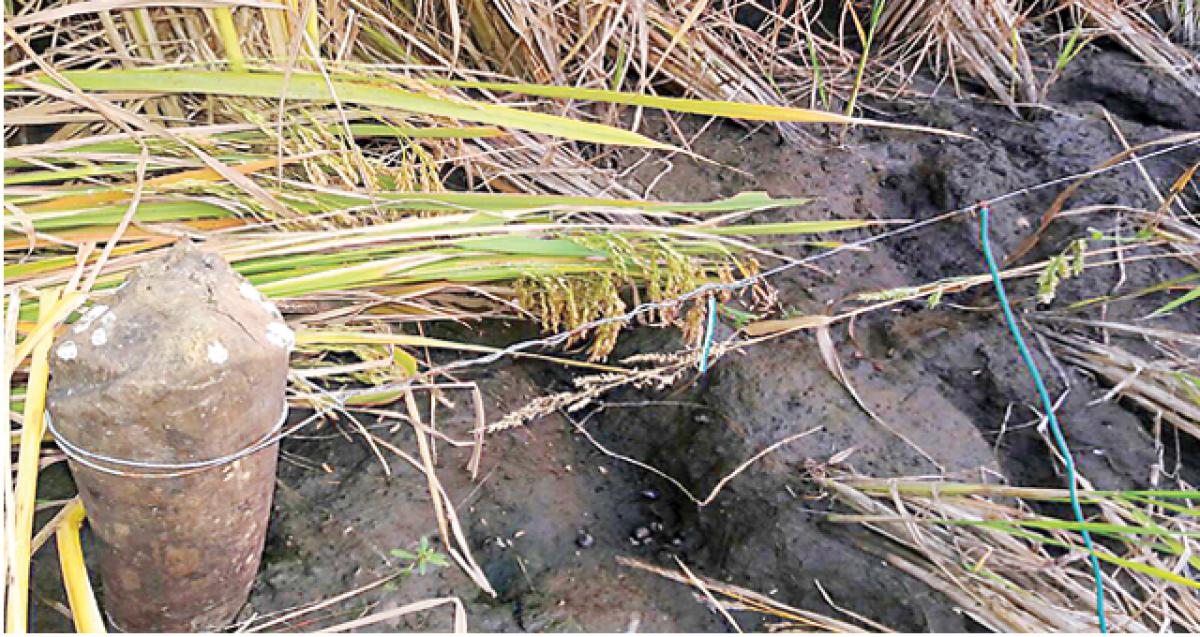 Highlights
It is not an easy task to undertake cultivation on hilly regions and on the periphery of the forests. A number of wild beasts including wild boars,...
Adilabad: Farmers, who have been setting up electric fences to protect their crop from wild beasts, are inadvertently falling prey to them leaving their families in the lurch.
It is not an easy task to undertake cultivation on hilly regions and on the periphery of the forests. A number of wild beasts including wild boars, antelopes, monkeys, deer and foxes raid the crops and cause immense damage to all types of crops other than maize, wheat, paddy, Sajja and cotton crops.
Sizable number of Girijans cultivates a variety of crops in the hilly areas in the mandals of Indravelli, Utnoor, Boathe, Narnoor, Gudi Hatnoor, Bazaar Hatnoor, Icchoda, Jainath of Adilabad district.
Likewise, a number of farmers cultivate on the periphery of forest in the mandals of Kotapalli, Vemanapalli, Tandur, Nennela, Lakshitpet, Dandepalli, Jannaram, mandals in Mancherial district and Khanapur, Kadem, Mamada, Sarangapur, Tanur, Kuntala, Lakshmana Chanda mandals in Nirmal district.
Adivasi farmers cultivate in Kerimeri, Jainoor, Vankidi, Tiryani, Bejjuru, Sirpur T, Sirpur U, Dahegam mandals in Asifabad district.
All these farmers have been striving hard to protect their crops from wild beasts by making fires and erecting electric fences.
Borranna, farmer and president of Ryot Swaraj Vedika, said that the farmers are erecting electric fencing to ward off the beasts. However, more often than not they are falling prey to these electric fences. After farmers, cattle herdsmen were electrocuted at these fences.
In spite of the repeated appeals, the forest officials do not take action to ward off the animals from damaging the crops. Monkeys and wild boars in hundreds raid the crops in Mamada, Lakshman Chanda, Khanapur mandals severely damaging the yield.
The farmers who undertake cultivation by raising loans are suffering due to the damage caused by the wild beasts and the Forest officials fail to compensate the loss of crop.

At least 35 persons were electrocuted in the four districts due to the electric fences which were actually set up to protect the crops. The Electricity department is supposed to pay compensation to the families of the deceased at the rate of Rs 4 lakh.
Electricity department official Jayant Rao Chauhan said that 12 persons in Adilabad district, ten persons in Nirmal, nine persons in Mancherial and eleven persons in Asifabad district died due to electric shock. He said that compensation has so far been paid to two of the families and efforts were being made to pay compensation to others also.
Farmers urged the government to pay compensation for the crop loss due to wild beasts in the forest area. They also appeal to the government to provide subsidies to erect solar fences to protect the crops.
Subscribed Failed...
Subscribed Successfully...