Pawan Kalyan and his trigger-happy Twitter handle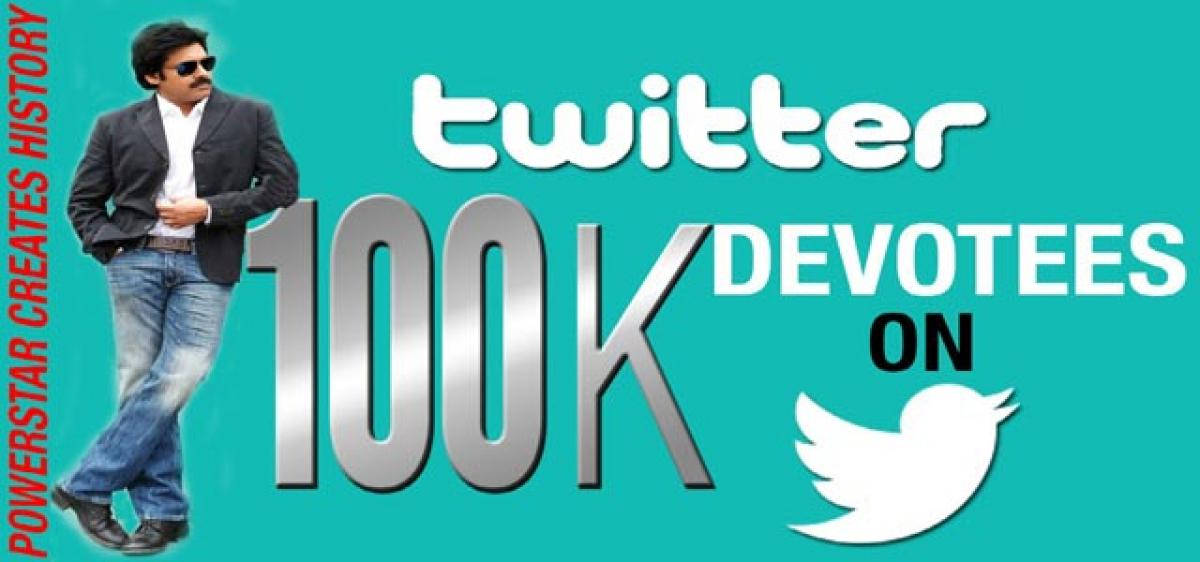 Highlights
As an innovation that has caught up with the masses, both Gen Next and the seasoned campaigners, given its resourcefulness, Twitter comes across as...
As an innovation that has caught up with the masses, both Gen Next and the seasoned campaigners, given its resourcefulness, Twitter comes across as the most potent communication tool.
An individual has the ability to reach out to millions of people, including those he may never have met or would ever meet. With Twitter becoming a tool for gaining contemporaneous information, its usefulness as a channel for sharing information widely has had a corresponding upward explosion.
It is but natural that Twitter handle is being used for other purposes also, particularly by those coming under categories of celebrities, socialites and politicos. What is worse is that, in addition to sending congratulatory messages to achievers and newsmakers, it has become a powerful weapon to settle scores as evidenced by the bitter Twitter war between filmmaker Ramgopal Varma and the kin of Chiranjeevi.
It was ditto during the Jallikattu agitation that wreaked havoc in Tamil Nadu. If politicians would normally use media for trading charges and counter-charges against one another, the new vendetta platform is the Twitter, which can be used even while one is on the move!
The latest to create a flutter with Twitter is actor-politician Pavan Kalyan, who has been using it to launch scathing attacks against the TDP government in Andhra Pradesh, Chief Minister N Chandababu Naidu, Prime Minister Narendra Modi and Union ministers like M Venkaiah Naidu, Sujana Chowdary and some MPs like Rayapati Sambasiva Rao.
It is easy for anyone to post a comment on twitter. Of course, every individual is entitled to express his views. But taking advantage of the powerful technological innovation to launch personal attacks is in poor taste and rather uncalled for.
It is widely believed in political circles that the latest Twitter salvos being fired by the Power Star are either at the behest of some disgruntled and frustrated BJP leaders from Andhra Pradesh, who fear that they are being denied their share of the credit or those from YSRCP or Left parties. Another section states that the actor was preparing the ground to jump onto the electoral bandwagon.
However, the TDP leadership is rather oblivious of the developments or so it seems. Chandrababu Naidu has been insisting that Jana Sena is with the ruling combination. What he did not specify was whether Pavan is a friend or a political rival.
The only adverse comment was by Union Minister Sujana Chowdary, who, without taking the name of Pavan, said that Jallikattu should be an inspiration to go about cockfights and pig-fights that are symbolic of the State and not for seeking the elusive special status.
But the BJP does not seem to have taken it so lightly. It took strong exception to the comments made by Pavan that he would not let BJP go back on its poll promise of special category status.
"The promised special category status became special package. And special package is nothing but an eye-wash. Andhras will never forget the loss of 400 plus young lives lost in Jai Andhra agitation.
We swear on the lives of 400 students who were shot dead in Jai Andhra movement and that we are not going to let BJP go unanswered for going back on what was promised," he added.
Stung by such comments which have the tendency to rake up passions but achieve nothing, Venkaiah Naidu, who was in the forefront of the Jai Andhra agitation, sought to make a mockery of the tweets being posted by Jana Sena chief. Not surprisingly, he joined the Twitter war.
He said, "PM Modi has become No 1 in the world even on Twitter as he is witnessing enormous following on the social networking site. But, there are some people who do not have any work except taking to Twitter."
Irrespective of how one views the actor-politician, the fact remains that Pavan needs to mature a lot as a politician. Fighting on issues, cornering the State or Union Government is a good and bold move but how he goes about it matters a lot. The upcoming 'politician' needs to learn the tricks of the trade because this is not the world of celluloid.
Pitted against political stalwarts, he ought to remember that unlike in reel life, there is no scope for rehearsals or retakes to deliver a punchy dialogue or give the perfect shot in the real world.
By V RAMU SARMA
Subscribed Failed...
Subscribed Successfully...