India can lead on global stage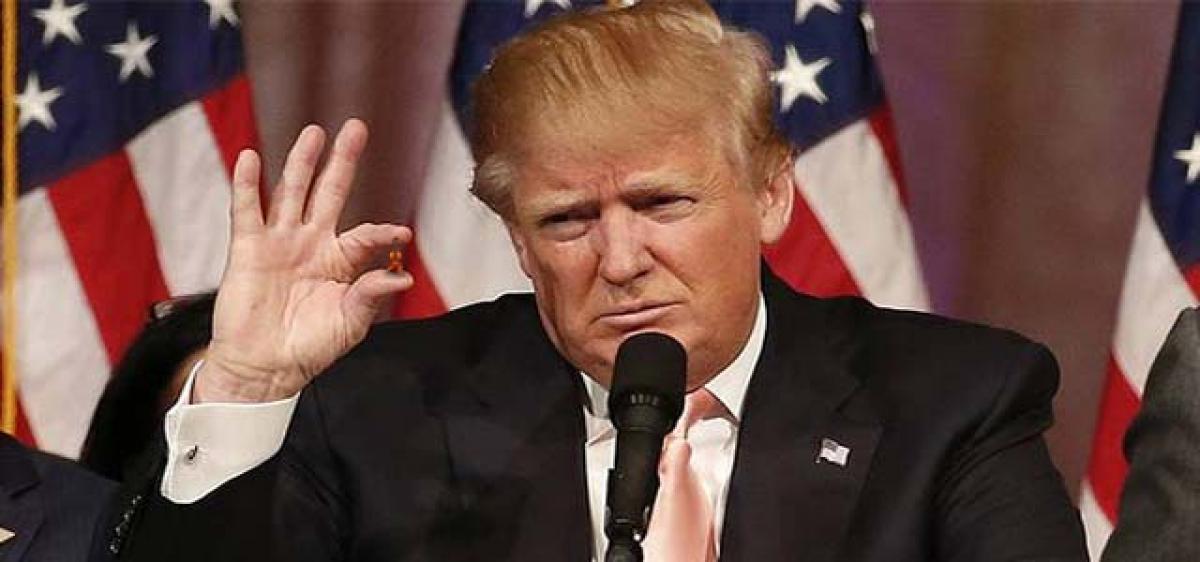 Highlights
It is unprecedented that an American President causes worldwide turmoil before taking office and thereafter, pushes his agenda to widespread...
It is unprecedented that an American President causes worldwide turmoil before taking office and thereafter, pushes his agenda to widespread consternation, not just for the foreign governments that must deal with him, but also for students, job-seekers, migrants and many who may just want to visit his country.
A ground report from the United States says it with a sigh: It's been four weeks since Donald Trump has taken office, but it seems like four years! Another calls it a rocking-horse presidency with no movement – only farce and chaos. But four weeks it is, and "dealing with Donald" is going to be fraught with anxieties for four years – unless, as is speculated, he gets into a jam at home and is impeached.
Taking a sober look, however, Trump represents a thought process. "It's not a momentary expression," Foreign Secretary S Jaishankar has rightly said, of the global trend that is emerging of inward-looking nationalistic regimes in many countries.
After Britain's Brexit and recent changes in Poland, Hungary and Trump and closer home Rodrigo Duterte of the Philippines, see the most shocking narrowing of the presidential contenders in the history of the French Fifth Republic.
Already two presidents and one prime minister are out of the race. Another former premier, Francois Fillon, is handicapped by allegations that he paid his family huge sums of money for doing next to no work. The race may be confined to Emanuel Macron, who briefly held ministerial office under Francois Hollande and the ultra-rightwing Front National's Marine Le Pen.
To some, it is revolt against the power elites that have dominated the globe so far. They are avowedly right-wing and populist. This revolt against elites won't stop any time soon. It is far from over. And right-wing it will be since the left-wing that was the alternative way for the world has lost much of its lustre.
In much of the Muslim world, Trump's name is anathema since he has singled them out for terrorism, even as he has shut the doors to West Asian refugees.
On refugees, let's face it, there is much hypocrisy going. Of the seven countries named by Trump administration for visa denial/restrictions, six do not recognise or connect with Israel because there are Jews. But they are critical of the US for restricting them because they are Muslims.
Most of the refugees from Iraq, Syria, Somalia, Yemen and other countries seeking to flee to safety in Europe are Muslims. However, their Arab brethren in relatively safe countries are unwilling to absorb any. All that Saudi Arabia, richest of them all, has offered to Germany, one of the larger, and willing, European nations to host the refugees, is to build 200 mosques for them.
In this chaotic scenario, it is instructive to see how the US' immediate southern neighbour Mexico, more targeted than a distant West Asia, is trying to deal with Trump's resolve to build a wall along the 3,000 km border and worse, making the Mexicans pay for that wall. The American estimated cost of the wall is $ 21 billion.
The Mexican president had to call off his Washington visit when things became too hot, to be hopefully taken up when tensions subside. It is a complicated relationship with a historical baggage. But only option for the two neighbours is to negotiate.
It is instructive for India, being a large country surrounded by smaller ones, all of them dependent in more or less degrees, but also in relationships that vary from benign to friendly to belligerent and outright hostile. Being good neighbours is never easy anyway, and gets tense and tricky when either the big guy flexes muscles and/or the smaller one becomes recalcitrant. South Asia has all these elements.
Although the small-country-big-neighbour syndrome exists between the US and Mexico, there are numerous areas where the two are extremely inter-dependent. Melba Pria, Mexico's ambassador to India, Sri Lanka, Nepal, Bangladesh and the Maldives cautions against attempts at unilateral changes without talks.
The two trade at a million-dollars-a-minute and $1.5 billion daily. That trade is in Mexico's favour. The American trade deficit is 12 per cent compared to 60 per cent with China, as per American statistics. Mexico is the US' second-largest buyer and buys more from the US than Japan and China combine. It is also the second largest sender of tourists to the US.
The historical fact (too old to be harped on) is that California, Texas and Arizona were once part of Mexico. A huge Latino population has lived in the US for generations. Acknowledging the issue of migration, Pria argues that 80 per cent of them are non-Mexicans, but may have used the Mexican route to enter the US.
Two-third of the 34 million Mexican origin people are US-born. To deny them or their children American citizenship as Trump has declared, would, besides causing misery, open floodgates of litigation.
The Mexicans have significant presence, especially in America's service sector. One out of four Mexicans who has done a Ph.D. is in the US. Indeed, eight percent of America's GDP depends upon people of Mexican origin. India's concern stems from its visa-seeking students, businessmen and job aspirants who are seen as job-hijacking villains. For close to two decades now, the Indo-US ties have burgeoned as never before and both would like continuity.
Among the worst-hit Indians are the techies. A positive signal has emanated from top industry honcho Mukesh Ambani who is even prepared to see Trump's advent as "a blessing in disguise." It can – and should – help the Indian talent and IT industry to focus on solving problems within by improving quality of work and productivity.
The approach has been positive. "Don't demonise Donald Trump, analyse him," Jaishankar has counseled. He means well and it will be taken as such provided the country is not pushed too close to the US. Strategic autonomy, as stressed by many of Jaishankar's peers in diplomacy, should remain at the core of India's foreign policy. Creative diplomacy is required to sustain the Indo-US relationship but much more of it to see that India stays purposefully engaged with others as well.
India's plus point is that many of its cold war era notions shed, it engages with everyone. As Jaishankar said multilateral engagement is not just good "for branding purposes but it also works in India's interest." The world is getting multi-polar where "everyone is playing everybody."
The outcomes of these engagements are varying, but then none of these is one-off affair. Take even the widely perceived setbacks vis-a-vis Pakistan and fluctuating ties with China, the task is to stay engaged. Instant results are rare in diplomacy.
There is sunshine amidst gloom if India can really take up the challenge. Jaishankar visualises a greater role for India on international scene. The time has come for the country to take a lead on global stage.
"At a time when horizons of a lot of major countries are getting narrower...If the major (countries) are pulling back there is a space out there and it is in our interest to use that space. In my views, we should be looking at more powered position in international forum," he said.
To get anywhere near playing a role globally, India needs to get its domestic act together as an inclusive democracy, as an economic power that is willing to give, especially to the smaller and deserving, as a military power that can defend itself and maintain a diplomatic presence, both hard and soft. Its immediate task remains one of dealing with China without getting overawed and with Pakistan without getting distracted. This is a real challenge.
Subscribed Failed...
Subscribed Successfully...