President Trump and World Trade War1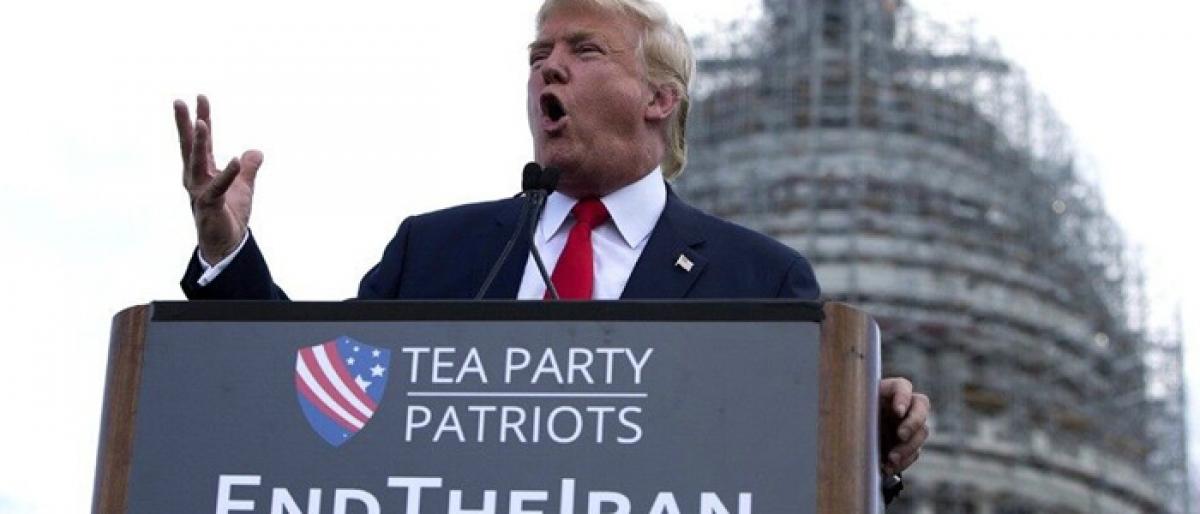 Highlights
US President Donald Trump has declared unilateral withdrawal from JCPOA (Joint Comprehensive Plan of Action) popularly called 'The Iran nuclear deal'...
Welcome to President Trump's very own World Trade War#1.
US President Donald Trump has declared unilateral withdrawal from JCPOA (Joint Comprehensive Plan of Action) popularly called 'The Iran nuclear deal' with immediate effect on the 8th May 2018. President Trump is not giving many reasons; he is going by his electoral promise of scrapping this deal, as he strongly believes it was not in the interest of the USA. However, Israel has raised issues in the recent past that Iran has not reported its covert nuclear weapons programme to IAEA (International Atomic Energy Agency) and thereby in violation of the JCPOA agreement.
Now, the questions are being raised on the unilateral fashion in which USA has pulled out of this deal, leaving the signatories and E3 members UK, France & Germany literally stupefied. Other signatories of the agreement, China and Russia, might have seen it coming, by seeing the pace at which President Trump was scrapping deals and agreements of his predecessor Barack Obama. Now that USA is out of JCPOA, it's just a matter of time before tough sanctions are brought all over again on Iran and inadvertently on anyone dealing with Iran. UK, France and Germany have already made statements of condemnation and their intent not to toe Trump's path.
Russia and China are fuming over Trump's provocative overtures to create a trade storm in central, east and west Asia. India is stunned to silence too. The implications of this massive decision will alter the global geopolitical and geoeconomic scenario. Economic turbulence leading to recession cannot be ruled out with huge trade wars between the Asian, Western and Eastern nations. Demand and supply gaps for oil and natural gas will spike rates of the crude multi fold leading to imminent inflation and external payment pressures for many oil-dependent nations across the world, including India.
While on the face of it, President Trump's decision looks focused on his electoral promises and his local conservative constituents, the strategy behind this decision seems quite intricate and premeditated. It seems to have intent to target and alter the geoeconomic trade patterns across the world with the USA.
President Trump seems to be targeting more than a few outcomes with this historic withdrawal from the Iran nuclear deal. His decision to purge the Iran deal could also put an end to the age-old OPEC agreement. In the aftermath of President Trump's decision to withdraw from the Iran nuclear deal, the return of sanctions on Iran could disrupt oil shipments, with estimates ranging from one million barrels per day from the Iranian supply going offline.
While there are many victims apart from Iran with the return of US sanctions, Saudi Arabia and Israel could be the biggest beneficiaries of Trump's decision, not just from a geopolitical perspective but also that any decline in Iranian supply will push up prices, resulting in a financial windfall to Riyadh without sweating it.
In fact, there seems to be some sort of an arrangement between the US and Saudi Arabia that if Washington takes the fight to Iran, Saudi Arabia would step in to prevent a crude oil price spike, a perennial problem which haunts US politicians at home. China's dependence on oil and natural gas is humongous and any steep rise in the prices can negatively impact their manufacturing costs, especially at a time when US trade tariffs are tilting the trade deficits already in a few trade categories.
While Russia can derive some benefit out of the whole deal by increasing its oil production capacities, the increasing military focus of US on Syria to ensure displacement of Asad's regime can be a bad news for it. Iran's incumbent liberal government is already facing the heat from the hardliners within their nation. Any political instability in Iran with the return of the economic curbs can stifle their recently rising GDP and its economy can nosedive in no time. Political turmoil and economic distress is a dangerous concoction which can lead to massive unrest and implosion within a nation.
India is at the receiving end with this sudden development. The implications for India are both geopolitical and geoeconomic. We are an oil-dependent nation and import around 75% of our oil and natural gas needs from Saudi Arabia, Iraq, Iran and other oil-producing nations. Iran is also a key player geopolitically. While being the third largest supplier of oil to India, it's also a vital bridge to Afghanistan and Central Asia. Indian initiative to build Chabahar Port in south-east Iran is a strategic counter to China's tactical incursions through Pakistan and Pakistan Occupied Kashmir in the name of building economic corridors.
Rise in petrol and diesel prices in the election year can be challenging for any government. One has to wait and watch how the Indian government will negotiate with USA on possible exemptions for its much-needed economic and political engagements with Iran. The rise of crude in just a month from $34 a barrel to a sudden spike immediately after US scrapping the Iran nuclear deal to a whopping $77 highlights the future course of crude prices. For a nation like India, the petrol and diesel prices directly impact inflation negatively and unsettle the balance we recently gained under the effective governance of the incumbent government. It's no exaggeration to foresee a backlash from Iran leading to disturbances in the geopolitical and geoeconomic ecosystem in the near future.
Degeneration of relationships between USA and its allies UK, France and Germany can lead to Russia and China leveraging the same globally against USA. Israel and Saudi Arabia gaining both politically and economically from this decision can unsettle many other nations in the Gulf region and Central Asia. If push comes to shove, the possibility of increased military engagements in Syria, Iran and Iraq can result in massive political instability leading up to a possible global recession.
A full blown global trade war#1 is a possibility with a broken European Union, USA and its friends divided on global economic agendas with one imposing sanctions and others opposing them. China and Russia will have to deal with their own economic woes, while Central and West Asia nations might end up fighting bitter trade wars amongst themselves.
Subscribed Failed...
Subscribed Successfully...