Intolerance of different kind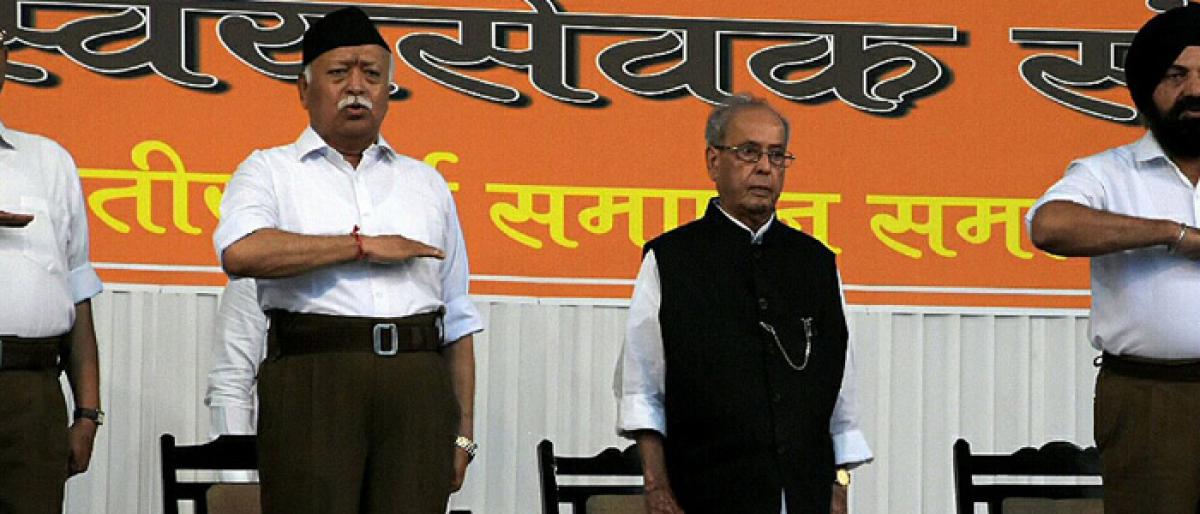 Highlights
On Thursday last the print and electronic media of the whole country reacted to an event, as if it was a grave sacrilege had been committed. All that...
On Thursday last the print and electronic media of the whole country reacted to an event, as if it was a grave sacrilege had been committed. All that had happened, matter of fact, was that Pranab Mukherjee, former president of India, attended a meeting of the Rashtriya Swayamsevak Sangh (RSS) as a guest!
Everyone, including his daughter, behaved as though the legacy bequeathed by generations of secularism has been consigned to the flames. Whether he ought to have gone or not, or having gone, ought to have spoken or not, et cetera became subjects of a nationwide debate. Verbose resolutions followed, not to mention free advice, in generous proportions.
In the event, what did happen was that the former president had attended, upon invitation, a meeting of the RSS where he spoke about the secularism and tolerance that are the hallmarks of India's soul. Secularism, he said, was a matter of faith and belief.
He went on to add that the 'One nation-one religion' and the Hindutva calls the RSS gives do not quite fit into the concept of India in the contemporary context. Those who have known Mukherjee will know that he said nothing new. His words flowed out of the principles and practices he has been committed to all his life.
Merely because he reiterated them from a platform created by the RSS did not colour his feelings saffron. Similarly, the RSS leaders, agreeing to disagree as it were, did not resort to debate on that platform. They heard him patiently and saw him off with due regard.
An episode that concluded in such a simple fashion, however, continues to engage interest in some quarters. While some complained that Gandhi's assassination was not mentioned in the speech, others felt Mukherjee praised the founder Hegdewar. The point is, should such a ruckus follow merely because a person agrees to attend a gathering of people of different school of thought? Do we have to have a tribal mentality of "if you are not with me, then you are against me"? Our culture has never found fault with two people engaging in an argument.
It will be recalled that, in 2007, the former Chief of Air Staff Tipnis had attended a similar meeting of the RSS and aired his views. Sudershan the then Chief of RSS also spoke, differing with what Tipnis had said. Heavens did not fall.
It has never been part of the Indian culture for an individual to pretend to be all knowing and want his or her views alone to be treated as the ultimate in wisdom. The Rig Vedic mantra 'Aano bhadra kratvo yantu viswatah' meaning 'let noble thoughts come to me from all directions' has guided generations in our country. Adi Sankara prostrated himself at the feet of a 'Chandala' for removing his ignorance about the physical body. During those times many mutually conflicting Hindu abounded in India apart from Jainism and Buddhism.
All the philosophers believed that the search for truth will fructify through discussion and debate only. Such debates took place in an organised and systematic manner, with facilitators following certain procedures and ultimately declaring whose views prevailed. Adi Sankara or Ramanuja undertook countrywide tours to convince doubting people about their theories through debate and discussion.
A human being, after all, is not inert matter; wisdom grows with age as does rational thought. Beliefs and faiths change and convictions get strengthened, or weakened over time. This is the law of evolution of the human psyche. If, contrary to this natural process, one starts thinking "I am a born Communist and will get corrupted if I listen to the views of RSS" or, contrarily, "I belong to the RSS family and Communist preaching will pollute my soul" one sounds funny. It merely reveals that one's convictions are shallow and that one is vulnerable to peripheral propaganda.
With its rich cultural and religious diversity, India has always been home to harmony and peaceful coexistence. It has remained pluralistic in religious as well as political beliefs. History records instances where a Telugu Hindu King married a Jain and a Moghul Emperor took a Hindu for a wife, and both maintained their individual religions.
Neelam Rajasekhar Reddy, the brother of Neelam Sanjiva Reddy, a die-hard Congress leader was a moderate Leftist, while Nagi Reddy the brother-in-law of these two was a Naxalite. Similarly, Acharya Kripalani was a Socialist while his wife was a member of the Congress party and Jyoti Basu was a communist, and his son a capitalist.
Why, my own grandfather, on the maternal side, served as the Chairman of the Municipal Council of Kakinada, as a Congressman, my parents had close connections with the Congress party, my sister still works for the All India Women's Congress (which is an adjunct of the Congress party), while my nephew Sitaram Yechury is a celebrated leader of the Communist Party of India (M). While all of us have differing persuasions and views on matters political or economic, we listen with respect and attention to what the others have to say and, in fact, get benefitted by such interactions.
Political debate is an important aspect of a vibrant democracy. In United States, debates are organised between the contestants in the run up to elections. But in India, poll meetings are one-sided and unilateral. Leave alone opposing candidate, even the public are not given scope to raise questions, TV debates among 4/5 representatives of different parties often degenerates into a farce since no one listens to what the others say. The best answer one can expect, is something like "Why only ask us? Did you not do this yourself when you were in power?"
Those who possess the courage of their conviction will not be content to remain in the company of those who follow them blindly. They would much rather confront their antagonists and participate in debates with them; and from such debates, extract the good points made by the people on the other side, and use them to revise their own opinions.
This precisely was what Hegel meant by his 'dialectical materialism' – there is always an antithesis to a thesis and, when both are amalgamated, a synthesis emerges. Then, again, after some time the synthesis becomes the thesis and together with changes brought in by the passage of time, produces its own new antithesis. Then comes about another new synthesis!
The essence of this process should be grasped not merely by the hardcore RSS followers but also the Communists who have chosen to get trapped in the time warp of the original Marxism. Leaving their dogma and blinkers behind, they should invite each other to conferences and get-togethers where opinions can be exchanged and the benefit of the other persons' point of you can be had.
It is not as though seemingly opposite political parties do not come together due to political compulsions. After all, when it was felt that the Congress should be kept out of power, was not VP Singh's government propped up, on the one hand by leftists, and the other by rightists? Even now, merely in order to keep BJP out of power, parties which, in normal circumstances, would not even look at each other are not merely joining hands, but raising them together for the sake of photographs.
Such a phenomenon is not limited to our country alone. In many parts of the world, political parties belonging to the extreme left as well as extreme right are getting together and forming coalition. New government in Spain is the latest example. When that is the case, what cataclysmic consequences can follow if a person attends a conference of an organisation of different ideology? And that, in a pluralistic society such as ours, as rightly pointed out by Pranab da?
A country which boasts of having done away with untouchability will do well not to have anything to do with appearing to promote another variety of that evil.
Subscribed Failed...
Subscribed Successfully...