Ayats from the Holy Quran regarding the month of Ramadan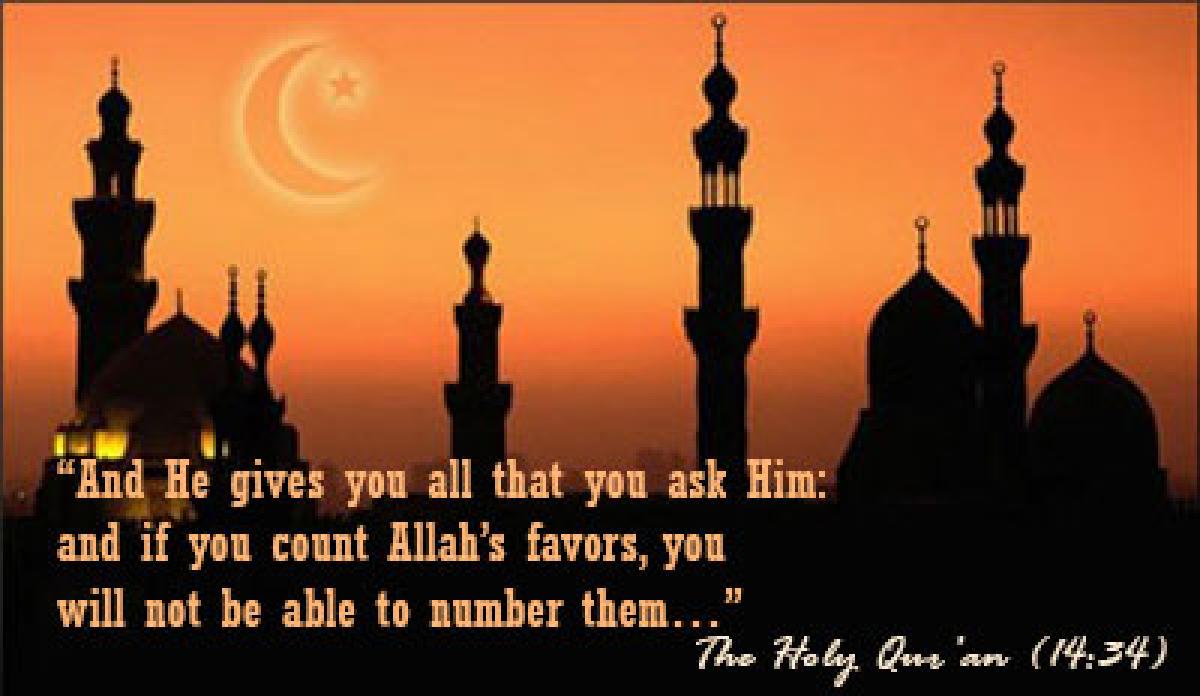 Highlights
\"Ramadan is the (month) in which the Quran was sent down, as a guide to mankind and a clear guidance and judgment (so that mankind will distinguish from right and wrong)..\" (Q 2:183)
"Ramadan is the (month) in which the Quran was sent down, as a guide to mankind and a clear guidance and judgment (so that mankind will distinguish from right and wrong).." (Q 2:183)
Oh you who believe! Fasting is prescribed to you as it was prescribed to those before you, that you many learn piety and righteousness" (Q 2:183)
Fasting is prescribed for you as it was prescribed for those before you, that you may attain taqwaa." (Q2:183)
The most honored by Allah amongst you are those best in taqwaa."(Q 49:13)
..And it is better for you that ye fast, if ye only knew." (Q 2:184)
Hadith regarding Ramadan and its piousness.
"Indeed We have revealed it (Qur'an) in the night of Power. And what will explain to you what the night of Power is? The night of Power is better than a thousand months. Therein descends the Angels and the Spirit (Jibreel) by Allah's permission, on every errand: (they say) "Peace" (continuously) till the rise of Morning!" (Q 97:1-5)
We sent it (this Qur'an) down on a blessed Night. Verily, We are ever warning (mankind of Our Torment). Therein (that Night) is decreed every matter of ordainment. Amran (i.e. a command or this Qur'an or His Decree of every matter) from Us. Verily, We are ever sending (the Messenger). (As) a Mercy from your Lord. Verily! He is the All-Hearer, the All-Knower." (Ad-Dukhaan 44: 3-6)
The Messenger of Allah (saw) said, "When the month of Ramadan starts, the gates of the heaven are opened and the gates of Hell are closed and the devils are chained." (Imam Bukhari)
Narrated Abu Huraira(r.a): The Messenger of Allah (saw) said:"... whoever fasts during Ramadan out of sincere faith and hoping to attain Allah's rewards, then all his past sins will be forgiven." (Imam Bukhari).
Sahl ibn Sa'd reported that the Messenger of Allah (saw): "There is a gate to Paradise that is called ar-Rayyan. On the Day of Resurrection it will say: 'Where are those who fasted?' When the last [one] has passed through the gate, it will be locked." [Imam Bukhari and Imam Muslim].
He who is amongst those who pray will be called from the gate of the prayer (in Paradise) and he who is from the people of Jihad will be called from the gate of Jihad, and he who is from those' who give in charity (i.e. Zakat) will be called from the gate of charity, and he who is amongst those who observe fast will be called from the gate of fasting, the gate of Raiyan." Abu Bakr said, "He who is called from all those gates will need nothing," He added, "Will anyone be called from all those gates, O Allah's Apostle?" He said, "Yes, and I hope you will be among those, O Abu Bakr." [Imam Bukhari]
Abu Hurairah reported that the Messenger of Allah (saw) said : "The time between the five prayers, two consecutive Friday Prayers, and two consecutive Ramadans are expiations for all that has happened during that period, provided that one has avoided the grave (major) sins." [Imam Muslim]