Beijing bids for FIFA World Cup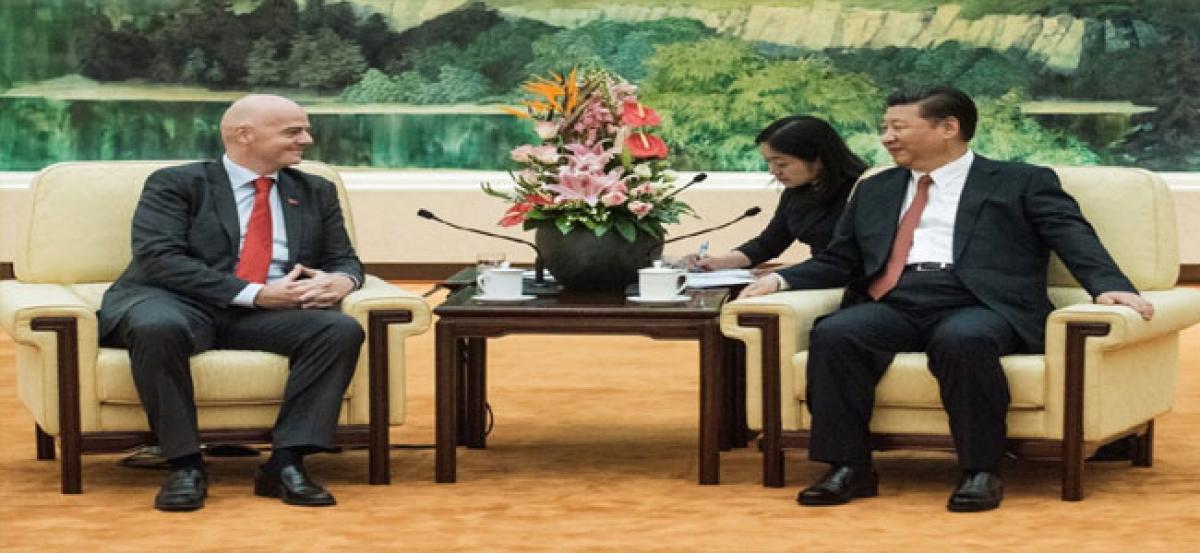 Highlights
Chinese President Xi Jinping has urged FIFA boss Gianni Infantino that the country he hopes to host a World Cup \"in the future\".This follows a high-level meeting between the two late Wednesday.Xi, an avid soccer fan, has launched an ambitious drive to improve Chinese football from the ground up and spoken of his wish for the country to qualify for another World Cup, host the tournament and eventu
Beijing: Chinese President Xi Jinping has urged FIFA boss Gianni Infantino that the country he hopes to host a World Cup "in the future".This follows a high-level meeting between the two late Wednesday.Xi, an avid soccer fan, has launched an ambitious drive to improve Chinese football from the ground up and spoken of his wish for the country to qualify for another World Cup, host the tournament and eventually win it.
China has invested heavily in the sport in recent years, boosting its domestic league by signing a number of high-profile, international players and coaches.In a statement released late on Wednesday, FIFA said Xi and president Infantino's meeting centred on soccer's popularity in China and the government's commitment to improving access to the game.
"In addition, the Chinese President expressed his hope, and the dream of many Chinese people, that the country would have the opportunity to host a FIFA Men's World Cup at some stage in the future," it said.Speculation has grown that China wishes to launch a bid for either the 2030 or 2034 tournaments.
China's 82nd-ranked national team has qualified only once for the World Cup, losing all three matches and failing to score a goal in the 2002 tournament in South Korea and Japan.Their failure to return to the finals has long frustrated local soccer fans.China are all but certain to miss out on qualifying for next year's tournament in Russia after a late goal by Syria in their 2-2 draw on Tuesday.
"Today marks the kick-off of a new and closer cooperation between China and FIFA for the future of football," Infantino said in the FIFA statement.
Subscribed Failed...
Subscribed Successfully...